Inside Faraday Future offices, a startup comes to life
Updated April 3, 2017 - 10:54 am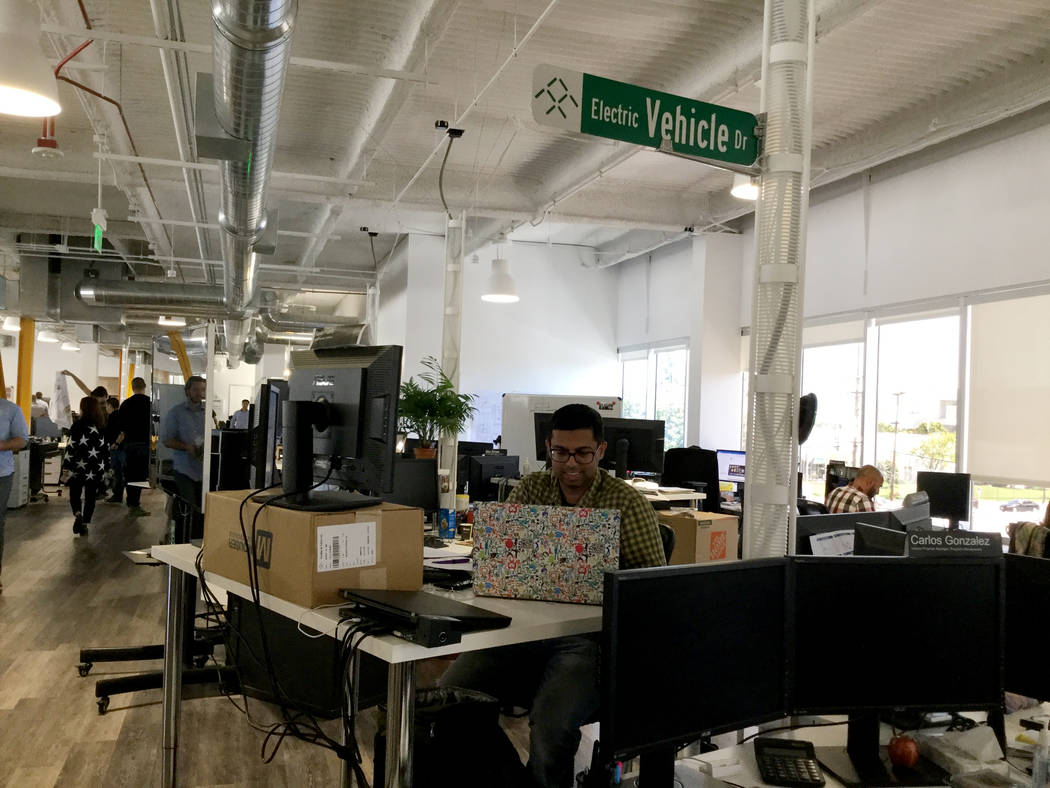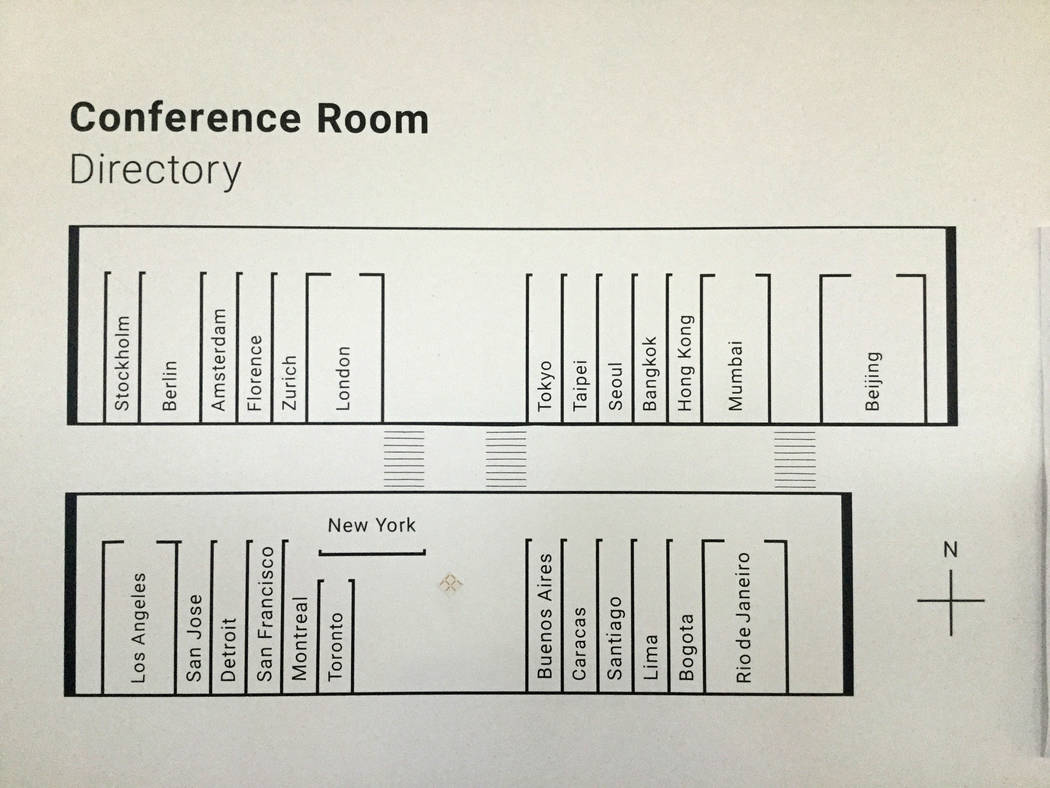 GARDENA, Calif. — Developers, researchers and engineers wearing cotton T-shirts and jeans roam the hallways of Faraday Future's headquarters in Gardena, California, and sit in rows along the open office space.
Some are working with 3-D modeling software to tweak engine design, while others are working on ergonomic rear seats. Meetings take place in hallways and in conference rooms named after 25 cities from Mumbai to San Jose.
A variety of car parts, such as battery cells, models of exterior vehicle lighting, and material options for the interior of the vehicle, lay on desks and are stapled onto presentation posters throughout Faraday's main, 145,000-square-foot facility.
It's a scene surprising to company skeptics, like Sam Abuelsamid, a senior analyst for the market research firm Navigant.
"That's exactly what I would hope to see in an operating company," Abuelsamid said. "It wouldn't have surprised me if the level of activity was significantly scaled back, based on their financial situation. I'm glad that it apparently hasn't been."
Faraday Future spokesmen — who Faraday insisted not be identified by name — say the company is working as fast as it can in Gardena to bring its first autonomous electric vehicle to production in North Las Vegas, where it's a starkly different scene of mostly stagnant dirt.
"We have a (43,000-square-foot) mock factory (in Gardena) where production is being refined," a Faraday spokesman said. "We are in constant research and development, getting the process done here first so we can install it in North Las Vegas quickly."
Faraday says it will build cars in North Las Vegas by 2018.
They acknowledged that "seeing is believing."
The Faraday car
Faraday spokesmen say the company is building a car "engineered to allow for an autonomous future, today."
The car resembles a luxury four- or five-seat sedan, slated to be equipped with zoned climate control, seats that heat, cool and massage, and rear zero-gravity reclining seats.
"The FF 91 has four main components: Variable Platform Architecture, propulsion engineering, the Internet of Vehicles, and autonomous technology," a Faraday spokesman said, adding that the car will be equipped with facial recognition to determine who the driver is and what preferences the driver has such as temperature, mirror and seat adjustments.
Faraday spokesmen said the company is speaking with carriers to ensure each vehicle is connected to the internet. The car is slated to have multiple modems and two Wi-Fi antennas, which will make it possible to stream content.
The FF 91 will be the first production vehicle, they said, to combine ultrasonic sensors, HD cameras, radio frequency mapping, and Lidar sensors, which use lasers to measure the distance to objects.
Navigant analyst Abuelsamid is unimpressed.
"It's marketing mumbo jumbo," he said. "With the distinct exception of Tesla, who doesn't want to use Lidar, virtually every other manufacturer that I've seen is working on combining those four sensors."
Until Faraday manufactures its first production vehicle, it's too early to lay claim to that title, he said.
"It's important to develop electrical vehicles and build that market," Abuelsamid said. "But if you look at what they're doing versus, for example, what Lucid is doing, or even Tesla for that matter, it's nothing all that different."
Faraday spokesmen said they understand that sentiment when the car is described on paper, but they say there is more to the story and "as an entire package, the vehicle moves the game forward in terms of electric mobility."
'It's coming'
Faraday has adjusted its timeline and strategy for building its manufacturing facility in North Las Vegas.
When Faraday broke ground on its 3 million-square-foot manufacturing facility in April 2016, company executives at the time said the goal was to start building cars as early as 2017.
By December of that year, the goal was moved to 2018.
Construction began in 2016, but after grading work was completed at the site, the work stopped.
The abrupt stop with no voluntary explanation from the company fed into rumors that Faraday is running low on funds. Faraday has missed payments to suppliers while the Nevada state treasurer, Dan Schwartz, has accused the company of fraud.
A Faraday spokesman said, both then and now, that the company temporarily stopped work at the site to focus on bringing a prototype to fruition for CES.
"CES was an awesome opportunity for us," he said. "Now that that's over, we are refocusing on getting this product on the road as soon as possible."
To make it happen Faraday says it is focused on constructing a 650,000-square-foot manufacturing facility in North Las Vegas to allow the company to "put the first batch of orders into production" within 2018. Faraday says it will still build the 3 million-square-foot manufacturing facility, but construction on that facility is no longer the company's immediate priority.
"The commitment to Nevada is 100 percent there, and we are in daily communication with the Governor's Office of Economic Development," a Faraday spokesman said.
Rumor has it
Faraday spokesmen say they acknowledge that there is skepticism surrounding their company and that they have had some financial trouble.
The company said it's ending negotiations with the Bay Area city of Vallejo to buy land for an additional assembly plant.
"We're a startup," a spokesman said, adding that attrition and adjusting strategies and timetables area all part of that.
A spokeswoman said the company is in a round of fundraising that will end in "a few months."
"We are building up new financial streams with the leadership of our new Chief Financial Officer (Stefan Krause, former Deutsche Bank executive and BMW Global CFO)," she said. "Bringing in this new CFO will help to create a more sustainable path. He knows investors and he has extensive automotive knowledge."
Faraday is owned by Chinese billionaire Jia Yueting, 44. Though he is the only public investor, Faraday spokesmen say he is not the only one.
"We can't share who the investors are until after the Round A of funding is over," a spokeswoman said.
The Faraday spokesmen said they are confident in the company and that it's time for action.
"I guess we'll just have to wait and see," Abuelsamid said.
Contact Nicole Raz at nraz@reviewjournal.com or 702-380-4512. Follow @JournalistNikki on Twitter.
ESTIMATED ECONOMIC IMPACT
In December 2015, Nevada lawmakers approved $215.9 million in tax incentives for Faraday Future.
According to an economic impact study completed at the time, Faraday Future's original plan would generate:
■ Approximately $85 billion in economic impact over 20 years
■ 9,000 indirect jobs in the community
■ 4,500 direct jobs on-site with an average wage of more than $22 per hour and full benefits package
■ More than $1 billion initial investment on the site within the first 10 years
■ Increase in Clark County manufacturing employment by more than 20 percent
VEHICLE RESERVATIONS AND DEPOSITS
Faraday spokesmen say they have received more than 64,000 reservations for their first production vehicle, the FF 91. Some reservations require a fully refundable initial payment of $5,000, while others do not.
Faraday representatives said they are not releasing information on the number of deposits the company received or the number or reservations made for different models "to protect user privacy."
Faraday spokesmen confirmed that the reservations will help to finalize a price point for the vehicle. They confirmed starting prices will range between $120,000 and $150,000.
WHAT HAS FARADAY FUTURE BEEN UP TO?
The company reports its activities to the Governor's Office of Economic Development on a quarterly basis.
During the second quarter of 2016, Faraday reported it:
■ Invested more than $6 million for infrastructure design work for the project area
■ Set up an interim office site in North Las Vegas
■ Set early third quarter as a timetable for the start of demolition and grading work
During the third quarter of 2016, Faraday reported it:
■ Began demolition and grading
During the fourth quarter of 2016, Faraday reported it:
■ Made a capital investment of more than $160 million
■ Completed all site demolition work
■ Graded and moved more than 2.5 million cubic yards of earth on-site
■ Completed installation of the underground sewer
■ Completed grading, with the exception of the north and south channels
■ Certified that the pad for the factory building is at grade and ready for the start of foundations
■ Established on-site offices for both Faraday Future employees and the general contractor
■ Leased additional interim office and meeting space in the city of North Las Vegas