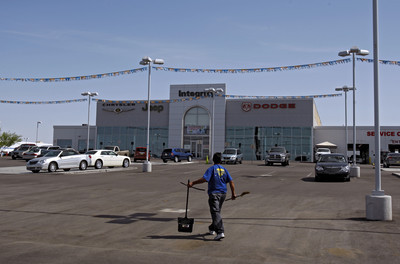 Burdened with a massive inventory of cars, Integrity Chrysler Jeep Dodge confirmed Wednesday that it is closing its dealership at 6770 Redwood St. in southwest Las Vegas, laying off 118 workers.
The service department will close on Saturday, said Dave Wick, general manager and corporate treasurer. The company said it will keep the dealership open until May 29 so it can complete pending sales and service transactions.
The company said it tried to keep the business in operation. "Unfortunately, circumstances both at the local and national level prevented identification of such a solution," the company said.
"We understand that the loss of a job, especially in this economic climate, is a traumatic event, and we want to do all within our ability to help our people manage through the difficult circumstances," Wick said in a statement.
The local new-car dealership sector began to shrink in September when Bill Heard Chevrolet and Heard's Vista Chevrolet closed along with other Heard dealerships around the country. A Kansas auto dealer in December reopened Vista, changing the name to Ed Bozarth Nevada #1 Chevrolet. Since then, Desert Dodge and Centennial Hyundai have shut their doors, too.
Longtime Chrysler dealer Tom Saitta sold the Integrity dealership to partner Greg Bashant in 2006. Bashant remains president of the Integrity Chrysler corporation, according to corporate records with the Nevada secretary of state.
The Saitta Family Trust, which has Thomas and Alice Saitta as trustees, owns the 11.4-acre dealer site, according to records at the Clark County Assessor's office. The dealership, on the south frontage road of the Las Vegas Beltway near Rainbow Boulevard, has a taxable value of $18.4 million, with personal property such as furnishings and equipment worth $532,000.
That excludes cars in the showroom and on the lot. Until a few weeks ago, Integrity Chrysler had an estimated 1,200 new cars, including some dating back to 2007, and 300 used vehicles, the largest inventory of any new-car dealer in Southern Nevada, one industry insider said.
Although it may have been profitable during the boom years, Integrity Chrysler probably faced crushing interest expenses as the economy crashed and car sales slowed. Financing for the inventory alone probably ran $250,000 a month, the source said. Integrity Chrysler's announcement cited "dramatic decreases in sales and difficulties in the credit markets."
Industry executives expect Chrysler LLC, which filed for Chapter 11 bankruptcy protection April 30, to ship many of the dealership's vehicles to other areas of the country for sale, rather than creating a glut in the local market.
The closing of Integrity had been rumored for weeks. Some insurance companies stopped sending cars to Integrity Chrysler for repairs because of fears the dealer might close before work was completed, an industry source said.
A week ago, Chapman Dodge ran a commercial on KKLZ-FM (96.3), offering to serve customers of Integrity Chrysler. General Manager Don Hamrick said Integrity Chrysler had advised Chapman Dodge that it was closing. When Hamrick learned that the closing was delayed, Hamrick said Chapman Dodge pulled the radio spots.
"It's disappointing to have anybody close up business," Hamrick said. "Nobody really benefits from circumstances like this."
Hamrick and others mentioned the damage caused to the public's perception of the auto industry.
Meanwhile, Chrysler LLC and General Motors Corp. are expected to start sending closing notices to 3,000 dealers today. Hamrick said he doesn't expect many closings in Las Vegas, saying that old, large cities have the biggest oversupply of dealers.
The auto industry seems to be going through an evolution with only the fittest surviving. Hamrick concluded: "This is Darwinism at its finest."
Contact reporter John G. Edwards at jedwards@reviewjournal.com or 702-383-0420.