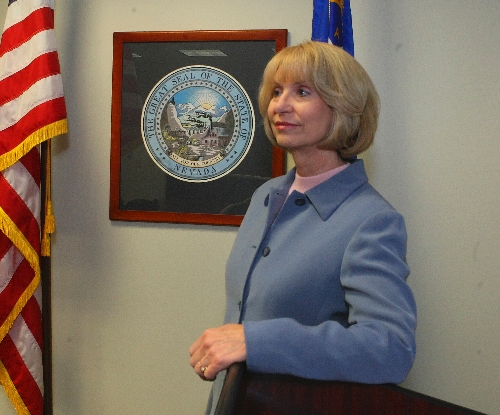 Lynden "Lee" Beffort, a 72-year-old retired casino supervisor, a few years ago made an investment somewhat akin to betting most of his money on the red seven and one spin of the roulette wheel.
Like an unlucky roulette player, it looked as if Beffort had lost most of his money. Now, he has a chance to recover the money, based on arguments that his broker should never have sold him the investment.
A Chicago law firm is representing Beffort and 11 others in an arbitration case against CM Securities, a brokerage that sold them shares of Henderson-based Desert Capital Real Estate Investment Trust.
Daxton White, an attorney with the White Law Group, hopes to recover all of the $2.7 million his 12 clients invested plus interest, attorneys' fees and punitive damages through arbitration. He filed the case with the Financial Industry Regulatory Authority, an independent financial regulator also known as FINRA.
Arbitration cases over unsuitability are one of the last resorts for investors who lose money with an investment sold through a stock or securities broker.
White's arbitration case is typical of these legal actions. In the arbitration papers, White claims that the investment was unsuitable for his clients.
Desert Capital, a real estate investment trust, made short-term loans to homebuilders and commercial developers and earned double-digit interest rates for investors.
Like other hard-money lenders, Desert Capital did OK for a while but hit the wall a few years ago when Southern Nevada's real estate market crashed.
Also, Desert Capital has disclosed that it received a subpoena in October for information on payments and transactions with its affiliate CM Capital.
Many observers would argue that investors should realize that investments aren't guaranteed and can lose money. However, stockbrokers are required to know their clients and to sell them only suitable investments. For example, a broker shouldn't sell risky investments to retirees who cannot afford to lose money.
Many of White's clients invested a large portion of their assets in Desert Capital, he said.
"All of them were retired," White said. "Some are in their 90s."
White filed for arbitration because he wasn't allowed to sue.
Stock brokerages typically require new clients to waive their rights to sue and rely on arbitration to settle disputes. However, arbitration may be a good venue for investor complaints. Arbitration panels usually resolve disputes faster than a federal court would decide a lawsuit, White said.
Arbitrators awarded damages to investors in 43 percent of the arbitration decisions in 2009, FINRA reported.
FINRA reported that the number of arbitration cases filed jumped 43 percent to 7,137 in 2009, compared with 4,982 in the previous year. During the first 11 months of 2010, the number of case filings slowed to 5,241.
The organization registered a big increase in the number of individuals served with notice of arbitration case filings that alleged the broker sold a client an unsuitable investment. The number more than doubled between 2008 and 2009 when 2,473 respondents were served with notices of arbitration claims.
Activity slowed during the first 11 months of 2010 when 1,185 respondents were served.
Recovering money through arbitration, however, is not a slam dunk. Brokerages can challenge claims based on unsuitability.
Todd Parriott, president and chief executive officer of Desert Capital and of CM Securities, which sold the Desert Capital shares, rejects the arguments that White makes on behalf of investors.
"I don't think the (arbitration) has merit," Parriott said. "I feel bad for the clients."
The front page of the prospectus for Desert Capital warned potential investors that they could lose their entire investment, Parriott said.
Arbitration isn't the only way to try to get compensation for losses. The secretary of state's securities division assisted an elderly Nevada couple who were sold a real estate investment trust, a company that holds real estate or real estate loans.
The husband and wife, who are not identified in a securities division order, were 85 and 76 years old in 2007. They had $16,000 in annual income and $400,000 in net worth.
Royal Alliance Associates of New York sold the couple shares in an illiquid company that was only suitable for wealthy investors who have long-term objectives, according to the securities division document. The elderly couple needed liquidity and weren't investing for the long-term because of their age.
The couple invested $71,000 but the division subtracted $12,000 in distributions to the couple and awarded them the balance of $59,000. The brokerage also paid $5,000 to the division for investigation expenses.
"We wouldn't discourage people from going to arbitration by any means," securities administrator Carolyn Ellsworth said. "We would encourage them to file complaints as well (with the securities division)."
Beffort decided to seek arbitration over the Desert Capital investment. He recalls meeting a CM Securities broker in his home 2004 and hearing about the benefits of investing in Desert Capital.
"She told me it was safe," Beffort said recently. "It was very safe, because it was backed by the real estate."
He said he invested most of his money and all of his mother's savings in Desert Capital but declined to disclose the sums.
For a while, money from Desert Capital holdings paid enough dividends to cover living expenses for Beffort's mother. He received dividend checks until 2008, about the time the once-sizzling Southern Nevada real estate investments went cold.
Pulling money out of the REIT proved difficult, Beffort said. Although Desert Capital files public reports with the Securities and Exchange Commission, its shares don't trade on any stock exchange.
After his mother died, Beffort said he twice asked Desert Capital to liquidate investments in the REIT, but the company said it was unable to do so immediately. He wanted to distribute cash from the sale of his mother's Desert Capital shares to three sisters, one brother, the heirs of another brother who has died, and himself.
More recently, Desert Capital has reported that its shares are probably worthless because of losses on real estate loans.
Beffort now relies solely on Social Security for income. He planned to travel in a recreational vehicle during retirement but that's impossible now, given his limited income, he said.
"I've got to keep a positive attitude. I'm not a victim. Don't make me a victim," he said. "The way I looked it, it was a gift. My mother worked her butt off all her life into her 80s. I loved my mom. She loved working."
Contact reporter John G. Edwards at
jedwards@reviewjournal.com or 702-383-0420.