Investor seeks ouster of independent director on Allegiant parent company's board
January 25, 2016 - 7:48 pm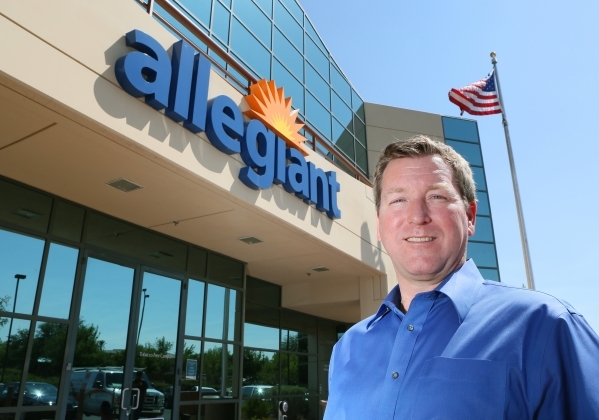 An institutional investor in Allegiant Travel Co. is continuing his fight to oust an independent board member he believes is too close to the company's executives and has sent a letter to the company's board.
Michael Pryce-Jones, director of corporate governance for CtW Investment Group, which works with pension funds sponsored by a federation of unions representing nearly 5.5 million members, will be working in the coming months to convince the board of directors that board member Linda Marvin, a former chief financial officer for the company, should be ousted.
The pension funds invest more than $250 billion in global capital markets and are investors in Allegiant.
Allegiant Chairman and CEO Maurice Gallagher said he wasn't surprised by CtW's comments because of the group's affiliation with the Teamsters union, which is in contract talks on behalf of the airline's pilots.
"Allegiant is currently involved in negotiations for a first contract with the International Brotherhood of Teamsters, so it is no coincidence that these allegations have come from CtW, a firm widely known to have close ties to the Teamsters," Gallagher said in a statement issued Monday.
"In fact, James Hoffa serves as both the president of IBT and chair of CtW's Leadership Council. This is yet another tactic that the Teamsters have employed to apply pressure to the company through unfounded public allegations, circumventing our mediated negotiations. Allegiant continues to be committed to negotiating in good faith toward an agreement that benefits our pilots, our company and our customers."
Pryce-Jones has sent a letter to the board of Allegiant Travel, parent company of Las Vegas-based Allegiant Air, urging Marvin's removal.
He said Marvin, considered an independent board member, is a close associate of Gallagher.
Pryce-Jones also is advocating that the board engage an outside search firm to recruit new independent directors to replace Marvin and to expand the board and establish a new standalone safety committee of the board in the wake of numerous operational issues Allegiant has experienced in the past nine months.
The actions of the dissident investor are playing out amid a period of upheaval for Allegiant. Earlier this month, Steve Harfst, the company's chief operating officer since December 2014, abruptly resigned and was replaced last week by Jude Bricker, Allegiant senior vice president of planning.
Bricker also will take on the oversight of flight operations, maintenance and safety in addition to his current role of leading network and fleet strategy. He'll also be Allegiant's lead negotiator in contract talks with the International Brotherhood of Teamsters Local 1224 pilots union for what would be the airline's first union contract.
Talks with the Teamsters have dragged on for more than three years.
Harfst hasn't spoken publicly about his decision to leave the airline. The resignation came within weeks of a scathing article in the Tampa Bay Times in which a former Allegiant mechanic chronicled the two weeks he worked at the company's Orlando maintenance facility.
Mechanic Greg Marino told the Tampa paper that he quit two weeks into his new job at Allegiant because he felt the company allowed dangerous maintenance practices.
The maintenance issues are among the problems Pryce-Jones is citing in his effort to have Marvin ousted.
"The past few months have seen a string of prominent safety incidents involving Allegiant flights, prompting several (Federal Aviation Administration) investigations and a wave of negative publicity for our company, including landing Allegiant in the Wall Street Journal's 'Crisis of the Week' column," Pryce-Jones said.
He was referring to five emergency landings involving Allegiant flights to and from Florida airports on the East Coast last month.
The airline had its own string of emergency landings, inflight incidents and negative publicity in Las Vegas last year with at least 17 documented reports, including a serious incident that experts said could have led to a catastrophe.
That incident occurred Aug. 17 when the nose of a twin-engine MD-80 jet on its takeoff roll began rising prematurely, defying the flight crew's attempts to keep it down. When the plane reached 138 mph, the pilot aborted the takeoff, bringing the jet to a halt, according to a report filed with the FAA.
A preliminary FAA investigation found that a nut on a component that moves the left elevator had fallen off, causing the control surface to become jammed in the up position. A similar circumstance led to the crash of an Alaska Airlines MD-80 over the Pacific Ocean on Jan. 31, 2000.
"With a key responsibility of the audit committee being to ensure that management has established and maintained processes to assure compliance with key regulations impacting the company, particularly those that could have significant impact on the company's financials, these developments heighten the urgency for bolstering the committee's independence from CEO Gallagher," Pryce-Jones says in a Jan. 26 letter to the board.
Allegiant officials have yet to receive the letter.
"They also underscore the need to establish a board safety committee. Almost all of Allegiant's U.S. peers have standalone committees to oversee management's internal control processes and other activities regarding operational safety and compliance with applicable laws and regulations, rather than subsume the responsibility under the general mandate of the audit committee, which has other significant responsibilities," he said.
"Indeed, considering that a key element of Allegiant's business model is the reliance on older aircraft, which require more extensive maintenance, a board committee that focuses exclusively on safety would appear long overdue."
Pryce-Jones said that while Marvin's experience as chief financial officer until 2007 is a valuable asset to the board, she doesn't have the objectivity and independence to chair the audit committee.
He cited two of Allegiant's marketing tactics as examples.
"Particularly troubling is the apparently superfluous, tangential nature of many of these transactions to Allegiant's business — indeed, the company refers to several of these as 'noncore special projects' — and yet they are potentially valuable personal benefits to CEO Gallagher," Pryce-Jones said.
The biggest concern to Pryce-Jones is Gallagher's decision to sponsor GMS Racing, formerly known as Gallagher Motorsports, a NASCAR racing team that competes in the NASCAR Camping World Truck Series and the ARCA Racing Series.
Gallagher's son, Spencer, drives for the team.
Allegiant's lead sponsorship of GMS Racing started at $250,000 in 2011 when the team first entered ARCA competition, but was increased to 2014 to $2.5 million when the team entered the NASCAR series.
"Even if NASCAR sponsorship makes business sense, it is difficult to view the sponsorship of this team and the CEO's son as anything but a clear case of favoritism," Pryce-Jones said.
The airline also spent $2.8 million to produce and syndicate 40 episodes of an inflight game show called "The Game Plane." Passengers play games on some of Allegiant's longer flights that are taped by Alpine Labs — a video production company co-founded and 25 percent owned by Gallagher, according to Pryce-Jones.
Citing a Los Angeles Times article, Pryce-Jones said Allegiant executives said that while the game show was enjoyed by passengers, there was no indication it had any direct role in boosting the carrier's popularity or profit.
The car sponsorship and the production of "The Game Plane" spent 88 percent of Allegiant's advertising budget.
An Allegiant spokeswoman said Monday that the company no longer sponsors GMS Racing and no longer produces "The Game Plane."
Pryce-Jones attempted to convince Allegiant board members last year to oust Marvin, and that effort resulted in 47 percent of shareholders opposing her re-election to the board at last year's annual meeting. Pryce-Jones views the result as a vote of no confidence considering that executives and insiders control the majority of the shares.
This week's letter to the board is arriving days before Allegiant is to announce its fourth-quarter earnings and in advance of the company's 2016 shareholders meeting.
It also comes on the heels of Harft's unexplained departure and the Tampa Bay Times story on Marino, the mechanic who accused the company of failing to follow proper procedures in analyzing problems and fixing planes.
The article appeared after five Allegiant mechanical issues involving Florida flights. Marino, of Ocala, Florida, who retired from US Airways in 2011 and had a 35-year career repairing aircraft, decided to take a job at Allegiant's Orlando operation at Sanford International Airport.
The article detailed Marino's two weeks on the job and the operational issues he observed. Marino's money quote from the Times article: "I fired Allegiant as my employer. I didn't give them two weeks' notice. I wasn't going to spend 10 more minutes there. The bottom line for me was that they were operating a dangerous safety culture. I don't stay where this kind of nonsense goes on."
Contacted by phone earlier this month, Marino said he is still angry at Allegiant and will continue to pressure the airline any way he can to change the safety culture.
Allegiant has been reluctant to comment directly about Marino or the article because it involves personnel matters.
However, the company did issue a statement about safety at its Orlando operation:
"Allegiant maintenance practices in all of our bases are part of an FAA-approved program. Maintenance is performed in accordance with all aircraft and engine manufacturer recommendations and in accordance with all standards of the airline industry. In addition, our maintenance programs are subject to regular internal and external audits to ensure that we are consistently meeting or exceeding standards of excellence."
Contact reporter Richard N. Velotta at rvelotta@reviewjournal.com or 702-477-3893. Follow @RickVelotta on Twitter.