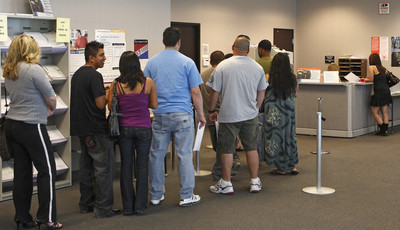 Need some scratch, jack, gelt, bucks, dinero, greenbacks or dough?
Whatever you call it, the Internal Revenue Service may have some for you.
The average income tax refund is running $2,740 per return for individuals, 11 percent more than last year, IRS spokesman Raphael Tulino said.
Want your refund fast? File electronically over the Internet and direct the IRS to make a deposit directly to your bank account, Tulino recommended.
People who file electronically and choose direct deposit can expect payment within seven to 10 days, according to the IRS.
For many, that eliminates the need to pay a commercial tax preparer for a high-interest loan on the expected refund, said Gil Yanuck, senior district coordinator for AARP's Tax Aid Program and a retired aerospace manufacturer from Los Angeles.
A lot of Nevadans need cash fast, Yanuck said.
He and other volunteers help low- to middle-income taxpayers prepare tax returns, but many people are telling his team that they cannot afford necessities, such as utilities, food and medicine. Many, who are seeking government assistance for the first time, do not know where to go to apply for food stamps and welfare programs, Yanuck said.
Yanuck said his team in Carson City continues to help many return clients, but this year the team also has seen a 20 percent increase in tax assistance requests. Most of the new clients relied on paid tax preparation services last year.
Here are some things to consider while preparing tax returns for the April 15 deadline:
•The government has a new service called IRS Free-File for taxpayers with less than $56,000 in adjusted gross income. Visit irs.gov and use the portal to pick one of several tax preparation services to file your return.
Tulino warns that the company may charge a fee if the taxpayer does not access the service through the IRS Web site.
So far, 16,500 Nevada taxpayers have used Free-File this year. About 635,000 returns have been filed electronically. Tulino expects the number of returns filed over the Internet will increase from 62 percent of the 1.3 million total taxpayers in Nevada last year.
• Taxpayers with simple returns and less than $42,000 in income may get assistance through the IRS Volunteer Income Tax Assistance program. Yanuck coordinates a similar free, tax assistance program that doesn't have an income limit but his assistants typically recommend people with complicated returns get help from paid tax preparers. Call 1-800-829-1040 to find tax preparation centers near your home.
• Tax stimulus payments received in 2008 are not taxable, but Yanuck said his associates often can help taxpayers with changed circumstances, such as reduced income or more dependents, get additional stimulus payments.
• Low-income taxpayers may be eligible for the Earned Income Tax Credit.
• Full-time teachers may deduct money they spent on the classroom.
• Do not forget to claim a deduction for sales taxes if you itemize.
• Individuals who are unable to complete their tax return by April 15 may take an automatic extension until Oct. 15 with Form 4868.
Here are some factors to consider regarding income taxes for 2009:
• First-time home buyers who buy before Dec. 1 can get a 10 percent credit up to a maximum of $8,000. First-time homebuyers are taxpayers who have not owned their main residence any time over the last three years.
The government outlines provisions under which some taxpayers can apply the credit to 2008 taxes although the home was purchased this year. Individuals who bought homes last year after April 8 are entitled to a 10 percent credit, up to a maximum $7,500, but this amount must be paid back to the government at $500 a year for 15 years without interest. Income limits apply to the 2008 and 2009 homebuyer credits
• Taxpayers who buy new cars from Feb. 17 through year-end 2009 can deduct sales and excise taxes even if they do not itemize and if the purchase price is less than $49,500. The deduction is phased out for individual taxpayers with adjusted gross incomes of $125,000 to $135,000 and joint filers with $250,000 to $260,000 in income. Alternatively, taxpayers who itemize can take an added sales tax deduction if they buy a new or used car. The second way for deducting sales taxes on car purchases also applies to purchases last year.
• Employers are reducing tax withholdings for workers under the Making Work Pay Credit. The credit is $400 yearly for single taxpayers and $800 for married couples filing jointly.
Contact reporter John G. Edwards at jedwards@reviewjournal.com or 702-383-0420.