Jersey Mike's plans major Las Vegas expansion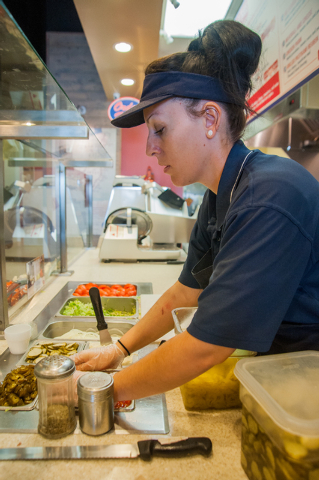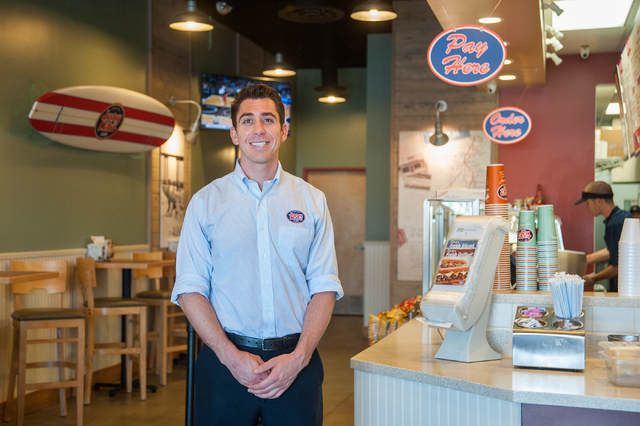 A Phoenix family that owns 11 Jersey Mike's Subs shops in Arizona is planning a major expansion into the Las Vegas market, revealing plans to own as many as 13 Jersey Mike's shops in the valley.
Bill Mapes, his wife and three sons already have bought and remodeled three Jersey Mike's stores in Las Vegas in the past 2½ years, opened a fourth Jersey Mike's shop near Las Vegas South Premium Outlets earlier this year and plans to develop three more shops in the next year, including sites in Henderson and Green Valley.
Ultimately, the Mapeses want to own a baker's dozen in Nevada. The family owns 11 in the Phoenix area and plans to open a 12th, said Sean Mapes, one of three brothers who help manage the Jersey Mike's stores. The family began owning Jersey Mike's stores six years ago, debuting in Tempe, Ariz.
Besides the Mapes family owning and running its Las Vegas area stores, Bill Mapes said he also will franchise out at least another 12 stores.
"There's a lot of potential in the market," Bill Mapes said. "No. 1, the college (UNLV) is expanding. That dynamic excites us. We do extremely well in college towns. It's also almost identical to Arizona in demographics like household incomes. In our mind, it was a perfect fit."
Mapes said his product fits the Las Vegas reputation of quality and great service in the food industry.
"A great example are the high-end chefs in the casinos," Bill Mapes said. "People come from all over the world to Vegas. It's a world destination. Our feeling is that people find us in Las Vegas, they will bring the Jersey Mikes's name back with them."
Bill Mapes and wife, Leslie, along with sons Sean, Corey and Ryan, make the Jersey Mike's operation a family-run affair. Bill Mapes interviews and approves potential franchisees in Arizona and Nevada. Franchise costs range from $214,117 to $640,509, depending on issues such as site improvements, taxes, rents and exterior signs, according to the company's website.
The Mapes family "was looking for additional opportunities. The (Las Vegas) market is robust and coming back pretty strong, and now is the time to aggressively open some stores in there," said Hoyt Jones, president of Jersey Mike's.
"It's not rocket science. It's a matter of finding the right people and it's all about the timing, and Bill has three sons in the business who are strong in operations, marketing and people development," Jones said.
There are also three Jersey Mike's stores not owned by the Mapes family in Las Vegas.
The Jersey Mike's chain, based in Manasquan, N.J, has 800 stores and another 500 in development. Jersey Mike's competes against fast-casual sub brands such as Firehouse Subs, Jimmy John's and Subway.
Firehouse Subs has 12 stores in the Las Vegas area and plans to open one in 2014, said Ressa Tomkiewicz, a company spokeswoman. The company has more than 770 stores in 41 states.
The Nation's Restaurant News, the trade publication that covers the restaurant industry in the U.S., named Jersey Mike's as the fastest-growing chain in the magazine's 2014 Top 100.
Jersey Mike's prepares its bread, bacon, cookies and roast beef at its stores and doesn't pre-slice meats and breads. Its sandwich costs are slightly higher than Subway's, for example, which promotes a $5, foot-long product. Jersey Mike's subs range from $6.75 to $11.95, Sean Mapes said.
The most recent Jersey Mike's store sits along a row of national brands such as Outback Steakhouse, Chipotle and Buffalo Wild Wings in front of the Las Vegas South Premium Outlets. It's a good location for tourist business, as Jersey Mike's is known in New Jersey, the northeast U.S. and California, Sean Mapes said.
Jones added, "We love being in the mix. We're looking for those tenants to be near."
Sean Mapes is in Las Vegas about 10 days a month, overseeing training classes. He said each of the stores employs 11 to 15 workers. Decor reflects a Jersey Shore theme. Jersey Mike's was founded in Point Pleasant, N.J., in 1956.
Contact reporter Alan Snel at asnel@reviewjournal.com or 702-387-5273. Follow @BicycleManSnel on Twitter.