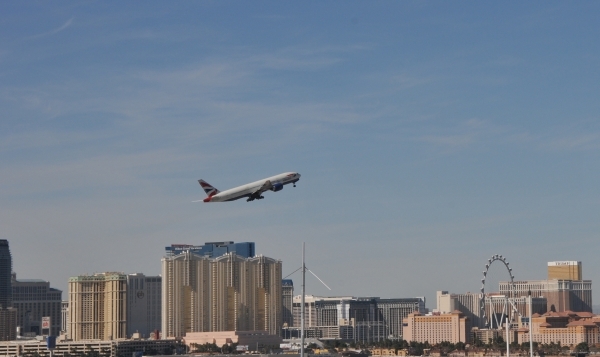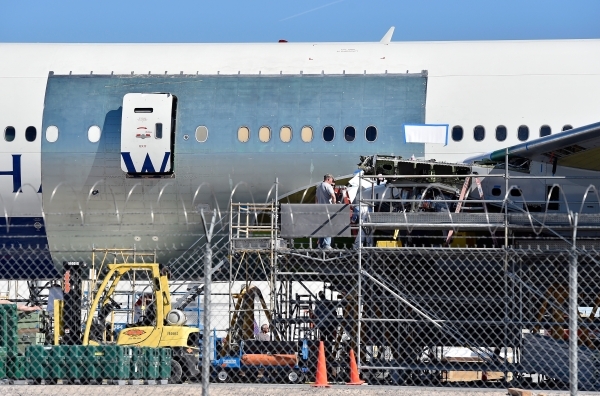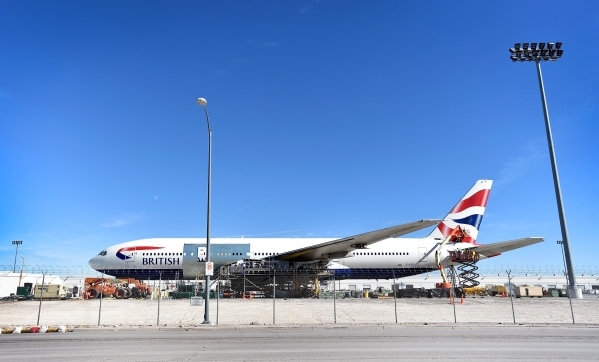 The British Airways Boeing 777 that caught fire on a McCarran International Airport runway in September and has been parked ever since for inspections and repairs has left Las Vegas.
McCarran and British Airways officials confirmed that the twin-engine jet departed McCarran at 1:33 p.m., landing at Southern California Logistics Airport in Victorville, Calif., at 3:06 p.m.
Repair crews replaced the jet's left engine and tested it Thursday night. Workers also patched a section of the aircraft's port-side hull as part of the repair process.
According to FlightAware, which tracks flights worldwide, the aircraft flew southeast over the Phoenix area before turning west, then northwest to land at the Victorville airport where the plane is expected to be painted before being flown to the United Kingdom.
Southern California Logistics Airport was formerly George Air Force Base and has more maintenance capabilities than McCarran.
Crews took advantage of Runway 25R/7L — McCarran's longest — being closed for repairs to put the replaced engine through a series of high-performance tests before the plane was flown. McCarran officials had warned people on social media that controlled aircraft engine testing could cause "intermittent noise, smoke and activity on the airfield" Thursday night, but didn't specify that it was the British Airways plane.
The departure ends the jet's 171-day stay in Las Vegas, during which British Airways paid $375 a day in parking fees.
The jet, a Boeing 777-200ER, was scheduled to fly as British Airways Flight 2276 from McCarran to London's Gatwick International Airport on Sept. 8.
Midway through its takeoff run, before the plane lifted off the ground, the jet's left engine experienced an uncontained failure that started a fire. Debris spewed out of the engine and onto the runway.
The pilot shut down the engine and aborted the takeoff and while McCarran's emergency response crews sped to the burning plane, the plane's 157 passengers and 13 crew members began evacuating on emergency slides.
Officials reported 14 people suffered minor injuries, most of them as a result of a rough escape down the emergency slides. The runway was closed for four hours.
— Contact reporter Richard N. Velotta at rvelotta@reviewjournal.com or 702-477-3893. Find @RickVelotta on Twitter.