JobFest 2021 seeks to fill 16K positions
Updated December 7, 2021 - 8:22 pm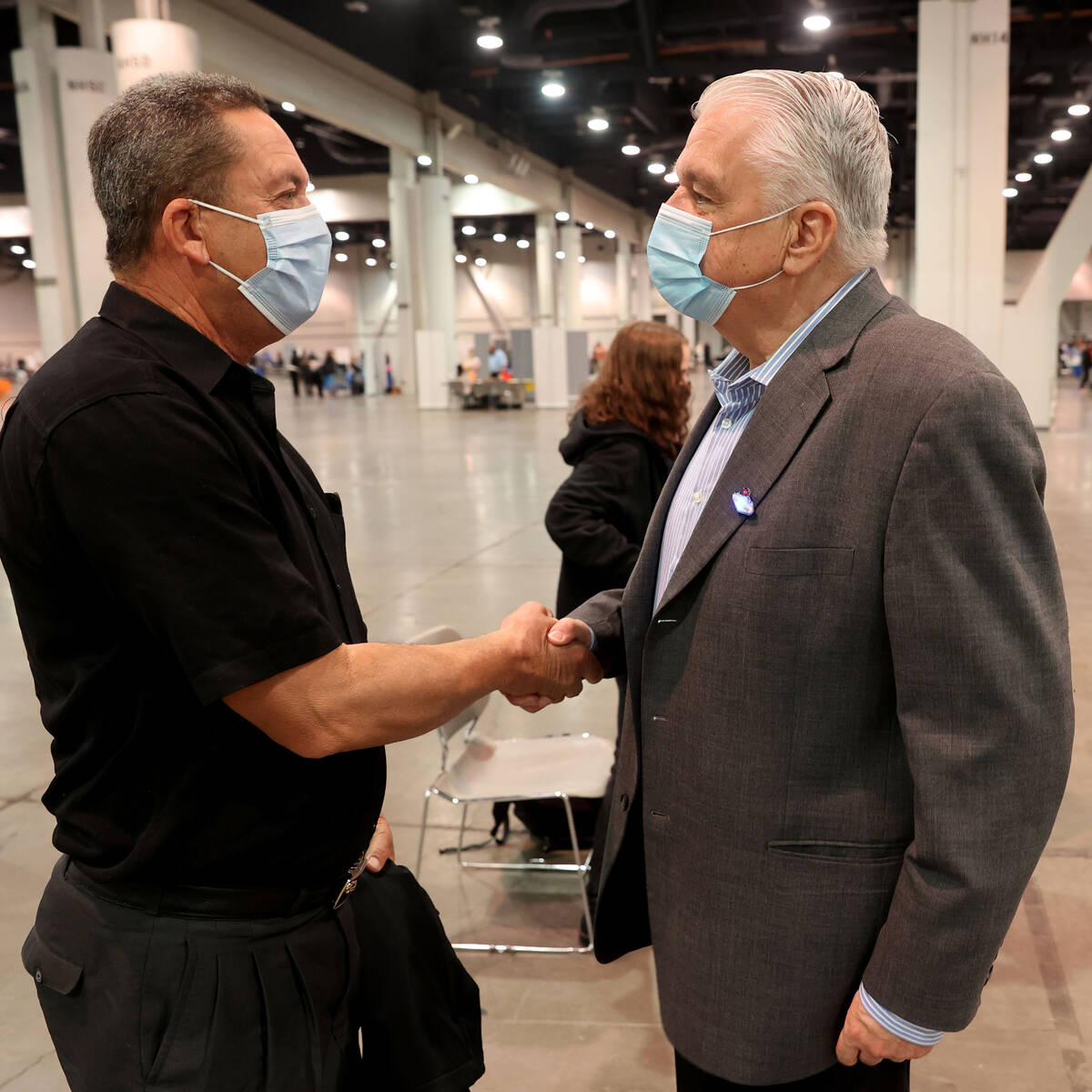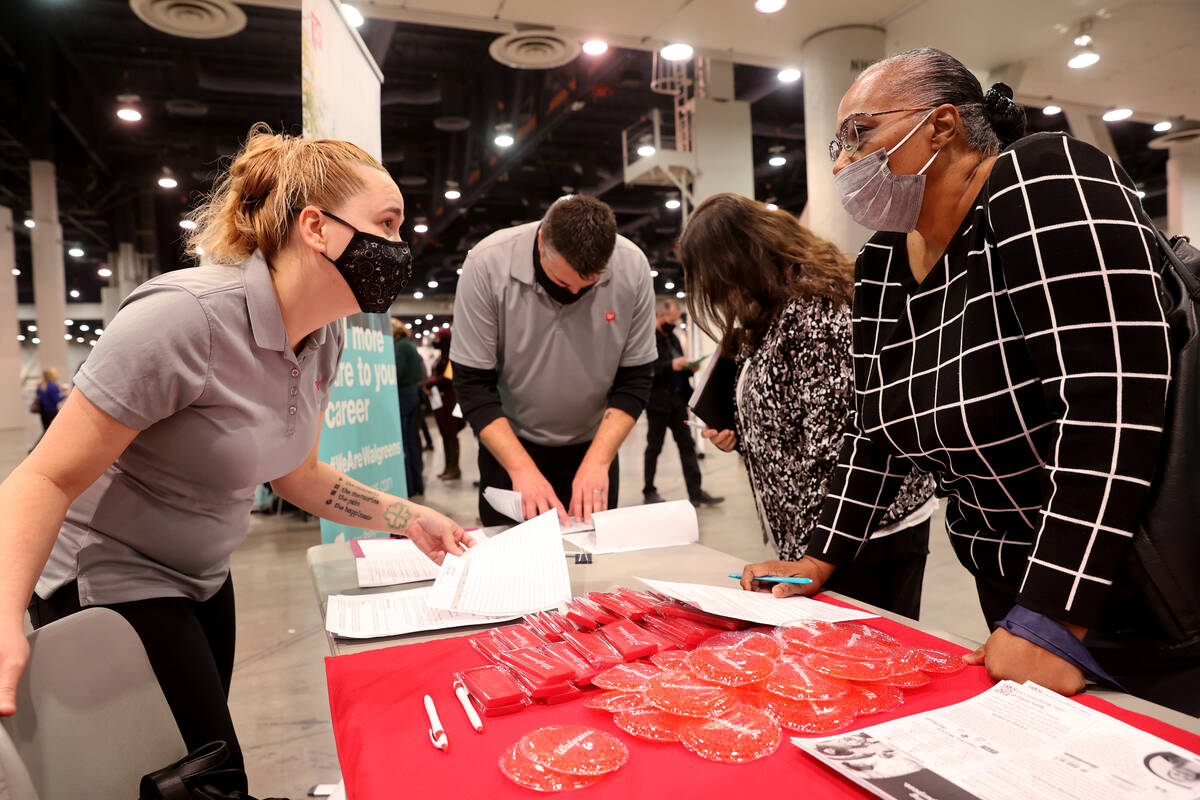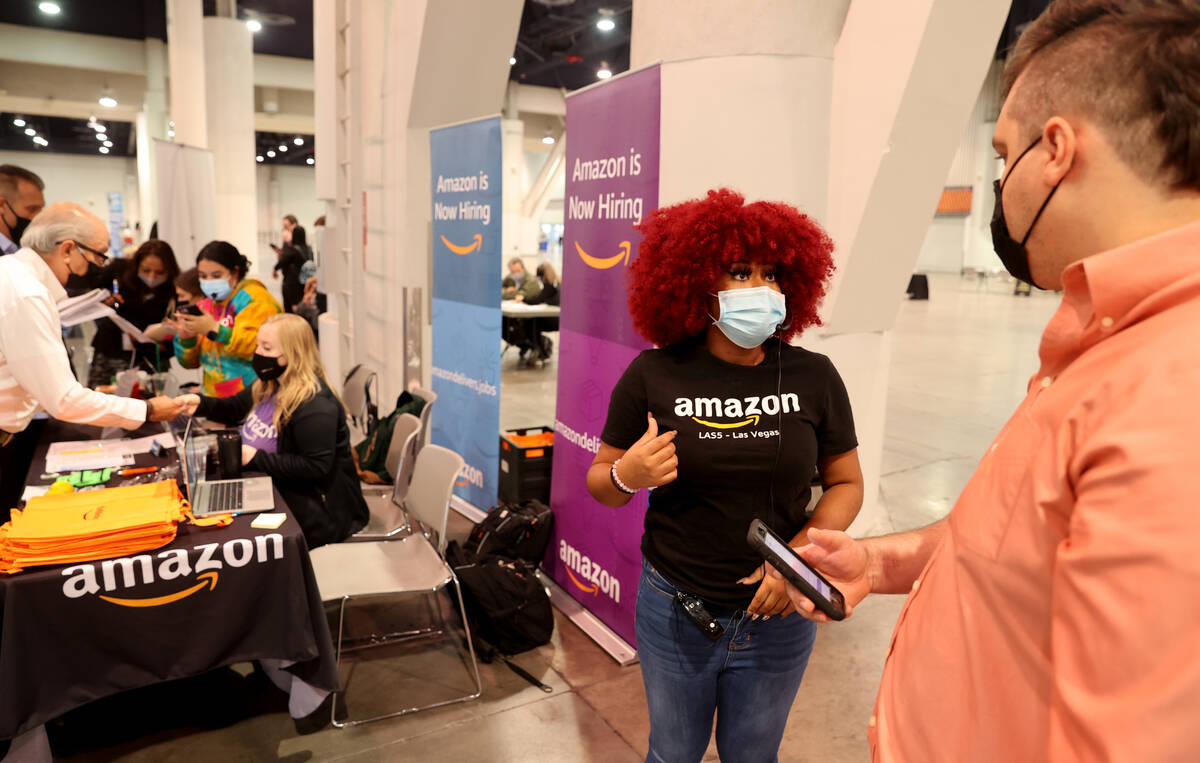 In a sea of suited and jacketed job seekers, Samantha Givens was hard to miss.
Her neon-yellow vest and accompanying pom-pom beanie signaled her presence and offered a clue to her most recent previous location. Givens, 55, had come straight to JobFest 2021 — touted as the largest job fair ever held in Nevada — from her crossing guard duties near 28th Street and Stewart Avenue.
It hardly mattered to Givens which of the more than 16,000 open positions at Tuesday's event would be hers so long as she left the Las Vegas Convention Center's North Hall with a job that provided pay stability and an ability to retire from her current job.
"I ain't leaving yet until I find something," Givens said, a hint of a smile visible from underneath her mask.
Givens was among the throngs of people who packed the North Hall on Tuesday and perused potential employment opportunities. Roughly 2,100 job seekers attended the five-hour hire-a-thon, the governor's office reported Tuesday evening.
The Las Vegas resident has worked as a crossing guard for 13 years, along with some part-time security work. Her crossing guard gig pays $15 an hour, but it lacks benefits and totals just two hours each school day. That money temporarily dried up during the pandemic when schools shifted to virtual learning.
Givens said she's been actively looking for jobs for four or five months. She's gotten other jobs, though they didn't pay well or provide her enough hours to cover rent and bills, Givens said.
Employers at the job fair included Amazon, Arizona Charlie's, Boyd Gaming Corp., Caesars Entertainment Inc., Clark County, the state of Nevada, MGM Resorts International, Clark County School District, Las Vegas Urban League, University Medical Center and Vegas PBS.
Gov. Steve Sisolak, the state Department of Employment, Training and Rehabilitation and the Governor's Office of Economic Development put on the job fair, which included skills training as well as COVID-19 and flu vaccinations. The employment department determined it was the state's largest job fair by number of employers and open positions.
'Hopefully there'll be some happy people'
The job market has changed in Nevada, and certain industry jobs lost due to the COVID-19 pandemic may not return, Sisolak said in a Monday interview. JobFest presented seekers with options they may not have previously considered and removed the hassle of individually seeking jobs and sending out applications, he said.
Nevada, during the pandemic, has consistently had one of the highest unemployment rates in the country, and Clark County has the highest unemployment rate in the state.
The state economy, particularly in Southern Nevada, continues to rely on the hospitality, gaming and tourism industries, all of which were hit hard at the beginning of the pandemic. Gaming has rebounded to post record win totals in 2021 while the hospitality and tourism industries — as well as their staffing — have been slower to recover.
"Hopefully, there'll be some happy people walking out of there tomorrow with a new job," Sisolak said Monday.
At one point Tuesday, Sisolak made his way over to the MGM Resorts International area and met with people who had received job offers. He shook hands with and congratulated the prospective employees, while one woman with tears in her eyes jumped up from her seat to hug the governor.
MGM occupied a large section of the convention hall floor. Hopeful employees started at the company's booth and were then directed to one of 15 hiring managers at tables set up in a cordoned-off chunk of the floor. If they were offered the job, the prospective new hires would walk over to another table to fill out employee entry paperwork.
The resort company hoped to hire for at least 300 positions on the spot at the job fair, talent acquisition manager Lorena Cabrera said.
Lillian Prince, 18, was one of the people who shook Sisolak's hand after she'd received an offer to work at a Starbucks inside an MGM property.
She said she felt lucky to have found a job in the food service industry that pays $16.43 an hour. She's held two jobs that weren't providing her enough hours or pay to support her living on her own, Prince said. Medical issues kept her out of work for a month, and she said a new, well-paying full-time job would ease her stress about bills.
"I'm very glad I came and I'm glad I came early," Prince said. "I was gonna sleep in but, you know, first-come, first-served, right?"
In search of a fresh start
Nevada JobConnect and other agencies were there to connect job seekers with resources to learn new skills and find new careers.
Kim Nguyen sat down at the JobConnect booth to learn more about available jobs that suited her skillset. The 51-year-old woman moved to Las Vegas from the Bay Area just over a year ago in search of a fresh start. She continues to work remotely from her San Jose-based job in the medical device industry with monthly trips back to the Bay Area for work.
Her job will soon require her to again live near her workplace, as COVID-19 vaccinations are widely available. Nguyen just closed on a house two months ago, so she's not going anywhere, she said.
Instead, Nguyen on Tuesday said she sought jobs that could use her years of experience in quality control, auditing and compliance. Booths with pharmacy technician and cannabis compliance jobs appealed to Nguyen, she said.
She loves living in Las Vegas, anyway.
"The lifestyle is so mellow — so chill. People are not rushing everywhere," Nguyen said.
Contact Mike Shoro at mshoro@reviewjournal.com. Follow @mike_shoro on Twitter.