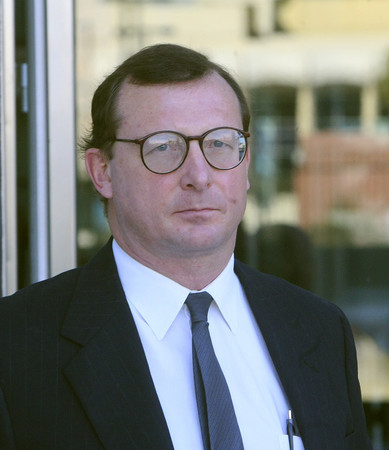 Chief U.S. District Judge Roger Hunt Friday said he expects to reject the guilty plea agreement that calls for an eight- to 12-year prison sentence for Joseph Milanowski, 48, president of failed USA Capital.
Hunt said federal sentencing guidelines and a report from the probation department indicates a longer sentence would be appropriate for the wire fraud case against Milanowski.
Defense attorney Dayvid Figler said Milanowski could be sentenced to 20 years or potentially longer, but Figler said he hopes the probation department will amend its report to include facts that would support the shorter sentence recommended by the U.S. Attorney's office.
"Nobody is discussing 20 years for Mr. Milanowski," Figler said. "If the court wanted to impose a sentence of 20 years which would be going with the guidelines theoretically without taking anything else into consideration, Mr. Milanowski would be allowed to withdraw his guilty plea and the government would be forced to go to trial."
USA Capital solicited money from individual investors, many of them retired, and used the money to make short-term loans secured by real estate.
The private lender filed for bankruptcy in 2006 while managing $962 million in investments for about 6,000 investors around the country.
The amount of money taken by fraud was between $50 million and $100 million, only a fraction of the total losses at USA Capital, said Assistant United States Attorney Daniel Schies.
Milanowski is the only one who has been charged with a crime related to the USA Capital failure.
During the hearing Friday, attorneys and Hunt discussed the level of cooperation that Milanowski has provided prosecutors and other attorneys seeking to recover money for investors.
Partly because of Milanowski's cooperation, the prosecution recommended that Hunt sentence Milanowski to 12 years with the provision that prosecutors could recommend lowering the sentence to eight years if Milanowski continues to be helpful.
"The court currently is not inclined to follow the recommendation but (acceptance of the recommendation) is not precluded," Hunt said.
The judge said Milanowski could withdraw his guilty plea if he, Hunt, sentences Milanowski to more than 12 years in prison.
Hunt sat next to a 11/2-foot stack of letters from investors in USA Capital. Some wrote that they believed losses at USA Capital led to their parents' suicide, the judge said.
"It's highly unlikely the court will follow the sentencing recommendations in the plea agreement," Hunt said.
Schiess said the prosecution agreed to the eight- to 12-year sentence in part because of cooperation Milanowski is providing to recover money for investors.
"He told us he would do whatever it took to obtain money for investors," Schiess said. The prosecutor also was impressed that Milanowski didn't have a "lavish lifestyle" with foreign vacations or expensive sports cars.
Figler said that Milanowski moved investor money inside USA Capital, but Milanowski did not put investor money in his own pocket.
Donald Pensler, a retired police officer and television broadcast engineer, suggested that the prosecution was taking positions favorable to Milanowski.
"I don't have any faith in your office, Mr. Schiess," Pensler said.
Hunt said he was "offended" that victims of fraud at USA Capital accused him and other judges of protecting Milanowski and delaying Milanowski's sentencing.
Most investors in USA Capital focused their anger on Milanowski.
Karen Allison, 68, said she wanted to "look into the eyes of someone who could coolly steal millions of dollars from retirees who trusted him."
She said she lost most of the $175,000 she invested with USA Capital.
"All I can see ahead of me," Allison said, "is more hard work without the opportunity ever to rebuild what was stolen from me by Mr. Milanowski and friends."
Ronald Sharpe said his 85-year-old father, a wounded veteran of Gen. George Patton's 4th Armored Division in World War II, lost $50,000 at USA Capital.
"That's all the money he had in the world," Sharpe said, "and that money is now gone."
Another investor, Eva Gehle, 74, said her only surviving son has cancer. "I cannot return to work. I will never recover the money I lost."
Contact reporter John G. Edwards at jedwards @reviewjournal.com or 702-383-0420.