Judge orders thousands of TitleMax contracts be voided
August 15, 2016 - 3:43 pm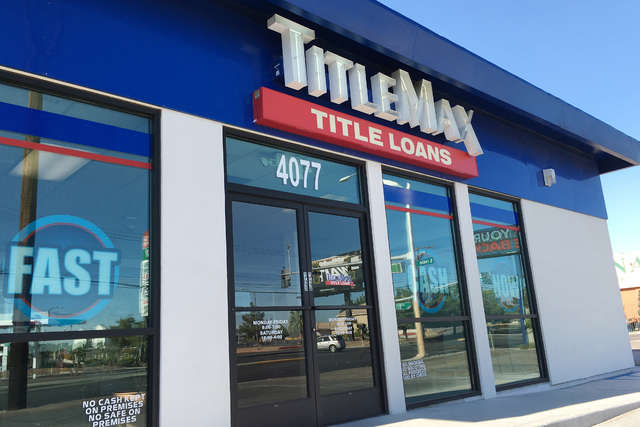 A Nevada judge has delivered a blow to TitleMax, ordering an estimated 6,140 contracts to be voided with principal and interest refunded to customers.
Clerks at its title loan locations in Nevada had offered borrowers a grace period payment deferment, which charged pure interest on the principal for several months before the customer began paying down the debt. In one case, where the borrowed amount was $5,800, the difference between payments for the customer increased from $8,613 to $10,262, or 19 percent more.
Affected customers will be entitled to a refund of principal and interest, according to the ruling. It's still too early for an estimate on how much the company will be required to refund until TitleMax conducts a full accounting, said Teri Williams, spokesperson for the state's Financial Institutions Division, which licenses and regulates lenders.
Contracts, which entered into the grace period payment deferment after Dec. 18, 2014, will be voided. A cease-and-desist order was also issued, but TitleMax had already stopped offering the product in "good faith" in December.
The hearing took place before administrative law judge Denise S. McKay in Las Vegas. After it concluded on July 20, the ruling was issued Friday. As long as TitleMax remains in compliance, the judge has suspended most of the administrative fine of $307,000 so that $50,000 remains.
"TitleMax is making hundreds of million of dollars a year, so it's hard to imagine a $50,000 fine substantially affecting its operations," said Jim Hawkins, a law professor at the University of Houston who specializes in the fringe banking industry.
"A lot of times this is very common for alternative financial providers like title lenders to tailor their product to maximize their return under specific state laws," Hawkins said.
The grace period payment deferment does not appear to be offered by TitleMax in other states.
Company representatives could not be reached to comment if they intend to appeal within 30 days.
However, TitleMax is responsible for a full accounting of the contracts after Dec. 18, 2014, and refunding the money to those borrowers within 120 days from the date of the ruling, said Williams.
Contact Review-Journal Data Editor Adelaide Chen at achen@reviewjournal.com. Find on Twitter: @adelaide_chen
RELATED
TitleMax, Nevada agency clash over auto title lending