Juhl promises residents easy stairwell commutes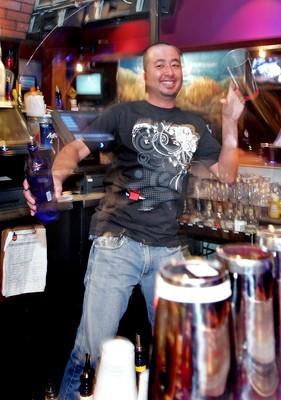 At first glance, downtown Las Vegas looked a little "shady" to Mike Taing when he moved here from Los Angeles six years ago.
It didn't deter him from buying a $420,000 unit at SoHo Lofts and an $800,000 live-work unit at Juhl, where he plans to open Chemistry, a "mixology" bar.
"I always wanted to live in a high-rise," the 28-year-old owner of Red Room Saloon on Sahara Avenue said. "I thought about New York, but it was too expensive."
The concept of live-work opportunity isn't new in Las Vegas. Several projects have hyped it, though few have delivered.
Juhl, a $170 million mixed-use development at Third Street and Bonneville Avenue, could be the exception. In a retail era of Wal-Mart and strip malls, a half-dozen local shopkeepers have chosen to establish new businesses on the street level and live above their stores. The units are connected by an interior staircase.
For Taing, walking downstairs to work beats commuting from the suburbs.
"I was looking forward to this," Taing said about living downtown. "I like the convenience. I'm from L.A. and this town was getting too spread apart."
His business partner, Rick Barcode, will live in the 1,000-square-foot condominium above the bar at Juhl. They're both "flair bartenders" who crafted their bottle-tossing and drink-pouring skills at the Red Room.
Staci and James Reza are opening a smaller boutique version of the Globe beauty salon they've operated for seven years at Decatur and Charleston boulevards.
"Our plan has always been from day one that we wanted an urban-style salon, styled after the salons you'd see in New York and London," James Reza said. "So we planned for downtown and the suburbs, probably Summerlin."
He said the $800,000 he's investing in the live-work unit at Juhl is proof of his faith in downtown.
Geri and Michael DelRosario scoured New York and Canada, visiting urban coffee shops to find the perfect theme for the one they're putting at Juhl. Geri is a real estate agent who brought several buyers to Juhl and her husband is a mortgage broker.
Artist Dawn Dillon has several showings around town and will be painting and displaying her wares in her shop at Juhl.
Jim Boone owns Wholesale Design Center, an auction house for antiques and rare finds, on Tropicana Avenue at Arville Street. He plans to open a high-end jewelry store at Juhl with unique jewelry worn at events such as the Academy Awards.
Juhl's biggest selling point is the lifestyle created for the live-work buyer, said Russ Haley, vice president and chief financial officer of San Diego-based CityMark Development.
"It's a very old concept that is being redeployed in our cities," he said. "This concept is very straightforward. You have a residence above and you have your shop below. It's a concept we kind of pioneered in downtown San Diego and it's been very successful."
Juhl's plans call for six towers from six to 15 stories with 341 residential units and 24,000 square feet of retail space. Studio, loft and penthouse units range from 600 square feet to 2,500 square feet and prices start from the $400,000s. Parking will be on the first five levels.
The project, which encompasses a city block, started construction in July and is expected to take about two years to complete. Turner Construction is the general contractor; Corus Bank is the primary lender.