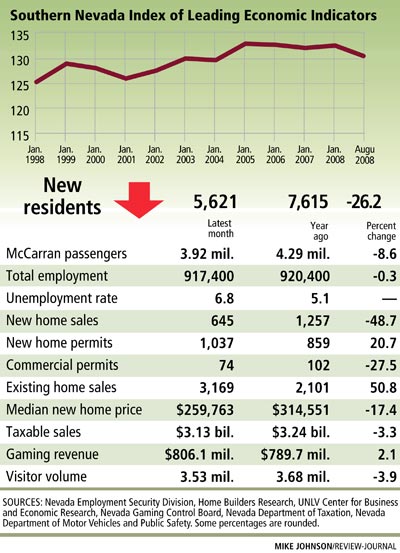 The Southern Nevada Index of Leading Economic Indicators rose modestly to 130.57 in August, the first upward movement since February, as six of the 10 data series showed gains from a year ago.
Still, the index is well below its February peak of 133.93 and is down from 133.18 in August 2007, the Center for Business and Economic Research reported.
The index foretells a weak fall and holiday season, said Keith Schwer, executive director of the research center.
"Looking ahead for the rest of the year, there's no sign of coming out," Schwer said Monday. "The current level is consistent with a recession and we see no sign of a reversal in current business conditions."
Clark County gaming revenue, which had declined for five consecutive months, came back in June with a 2.1 percent increase from the same month a year ago. Residential building permits jumped 40 percent in June and commercial permit valuation soared nearly 60 percent.
Fewer airline passengers passed through McCarran International Airport in June. The sharp rise in energy prices has played havoc with airlines, resulting in higher fares and fewer flights to Las Vegas, Schwer said. Average hotel occupancy rates have slumped below 90 percent.
The economic index, compiled by the research center at University of Nevada, Las Vegas, is a six-month forecast from the month of the data, based on a net-weighted average of each series after adjustments for seasonal variation.
The accompanying Review-Journal chart includes several of the index's categories, along with data such as new residents, and employment and housing numbers, updated for the most recent month for which figures are available.
Southern Nevada's construction industry continued to slow from the feverish pace of the past five years, Jeremy Aguero of business consulting firm Applied Analysis said in a second-quarter report for the Associated General Contractors' local chapter.
Even with unprecedented construction activity on the Strip, construction employment dropped 9.1 percent in the past 12 months to 95,600. Office and retail vacancy rates are at their highest levels in two decades, leaving many planned projects delayed or canceled altogether.
"There's just nothing (positive) to point at," Aguero said. "Much like a roller coaster, the scariest view of an economic cycle is on the way down, particularly when you can't see the bottom."
The negative factors looming over the economy continue to be the housing crisis and the credit crunch, said Kyle Nagy, director of CommCap Advisors in Las Vegas.
"Optimism seems to be returning to the marketplace thanks in large to declining oil prices and the upcoming election," Nagy said. However, this has not substantially changed lending platforms in recent months, he said.
Contact reporter Hubble Smith at hsmith@reviewjournal.com or 702-383-0491.