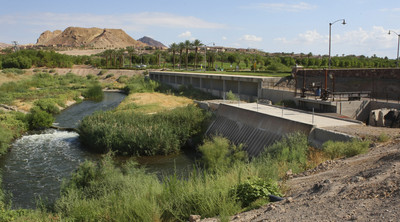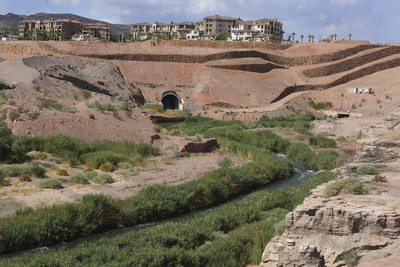 Bankruptcy Judge Linda Riegle on Monday grilled an attorney for bankrupt Lake Las Vegas for an hour Monday over a proposed $127 million postbankruptcy loan from a group led by investment banking firm Credit Suisse.
Riegle said that chances of her approving an interim $11.4 million portion of the loan on Monday were "slim and none." She noted that attorneys for creditors had not had an opportunity to explain their objections.
After consulting with his client, Lake Las Vegas attorney Thomas Patterson of Los Angeles said that the company could rely on $1.2 million cash on hand and about $500,000 in total cash at three golf courses.
Some of the money would be used to pay workers on Friday as scheduled.
In addition, the debtor wants to spend $230,000 to start repairing large pipes that carry treated sewage water under the 320-acre man-made lake at Lake Las Vegas because of fears the pipes might rupture.
"That's an item that quite frankly has been keeping people up at night," Patterson said.
Lake Las Vegas Joint Venture and four related companies filed for Chapter 11 bankruptcy on Wednesday. The community spans 3,592 acres on the northeast side of Henderson and features two hotels, a casino and 1,600 completed residences. It contains 615 acres still available for development
The development defaulted on debt and LLV Holdco LLC, a subsidiary of Las Vegas-based Atalon Group, took over ownership of Lake Las Vegas companies in January.
The new owners are seeking to reorganize the companies and their debt under Chapter 11 bankruptcy, which allows the debtor to continue operations.
Part of the plan depends on $127 million in postbankruptcy petition lending from the Credit Suisse group. But Riegle said she needed a lot more information before deciding to approve the Credit Suisse loan.
The debtor must disclose the names of the lenders led by Credit Suisse even if that causes the group to withdraw its loan offer to avoid public disclosure. While Credit Suisse was one of the lenders, none of the other lenders were identified.
In the interim, the companies intend to use cash on hand to continue operations. None of the creditors present objected to using the cash on hand, but the judge scheduled a hearing for Wednesday to give all participants adequate notice.
Riegle intends to hold a hearing on Aug. 4 to make a final decision on postbankruptcy financing and will consider a number of issues including the interest rate on the loan.
The group of lenders propose to charge Lake Las Vegas a variable rate that starts at 12 percent.
The rate includes the London Interbank Offering Rate, a variable rate that now stands at 2.48 percent, plus 7.5 percent and 2 percent due at maturity. Patterson said the LIBOR component is capped at 2.75 percent.
Riegle wanted to know more. She complained about the debtor's "fuzzy budget."
The judge also asked whether it would be proper for Lake Las Vegas to use $48 million of the $127 million to pay some of the prebankruptcy debts.
Riegle said she was reluctant to give the debtors 45 days to file more complete financial statements about their liabilities and assets.
Patterson said the assets are worth less than $675 million in loans.
Since the initial bankruptcy filing, Lake Las Vegas has reported its secured creditors, those who have collateral backing their loans.
They include Nevada State Bank, Wells Fargo Bank, General Electric Capital Corp., CIT Technology Financing Services. Others include Dell Financial Services of Austin, Texas, Carmel Land & Cattle Co. of Fort Worth, Texas, and Lake Las Vegas Marina of Henderson.
The filing didn't disclose the amount owed to the secured creditors.
Contact reporter John G. Edwards at jedwards@reviewjournal.com or 702-383-0420.