Lake Las Vegas on road to better times, but MonteLago Village still sluggish
December 28, 2016 - 9:53 am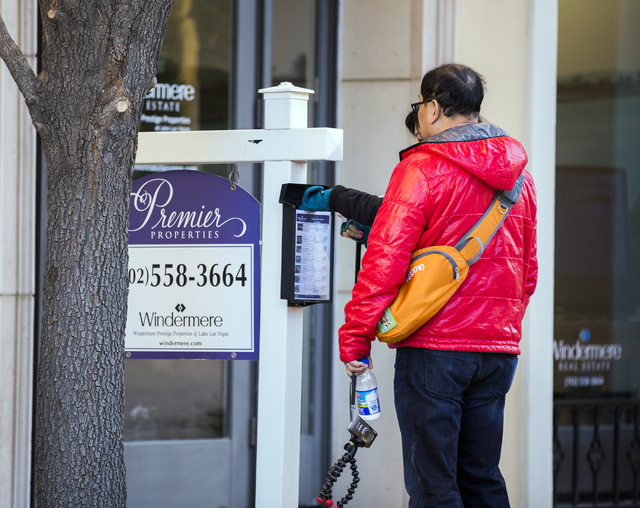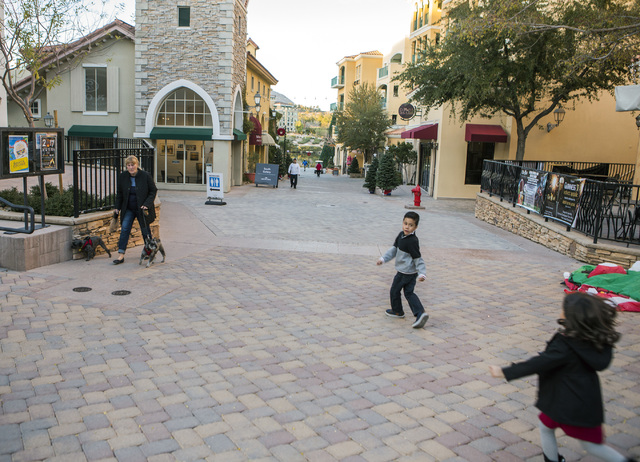 With its empty storefronts and a trickle of people walking around at times, Lake Las Vegas' retail district can be a quiet place.
MonteLago Village, which thrived before the economy crashed, has limped for years — perhaps no surprise, given that Lake Las Vegas was one of the hardest-hit projects in one of the worst-hit markets in the nation during the recession.
The opulent Henderson community is slowly coming back to life under New York billionaire John Paulson, who acquired about 1,000 acres there after the economy collapsed and who controls its overall development.
The village, as the retail district is known, is showing some signs of improvement but remains sluggish. And its owners are trying to sell for a steep discount to what they paid last decade.
The 56,000-square-foot, 5.5-acre retail property, located on the lake's south shore, is listed for $10 million. Property records indicate that landlord Pacific Capital of Roseville, California, paid $23.5 million in June 2007, not long before the market crashed.
Listing broker Rick Hildreth of Land Advisors Organization views it as a "trophy property" that, like other retail hubs in the valley, needs "some work."
More people come out when events are held at the lake, and Seasons Market, a 5,000-square-foot lakefront grocery that Paulson's group opened in June, also is drawing customers to the village.
It doesn't get nearly as much foot traffic as popular malls on the Strip, but weekends in particular can get busier, according to Hildreth. "It's not like the Fashion Show mall or anything, but it's a lot of people."
Southern Nevada retail centers have a combined vacancy rate of 8.6 percent, according to brokerage firm Colliers International. The village, however, is about 60 percent leased, Hildreth said. Some days few people, if any, are seen strolling around.
"I'm very hopeful that we can sell this thing and somebody can get this going, really going, and I think they can," Hildreth said. "I just think it's going to take a little time."
It's "not a secret" that Lake Las Vegas has struggled, and the village is simply part of that, said broker Rob Moore, senior vice president of retail sales and leasing for Sun Commercial Real Estate.
The $10 million price tag amounts to $178 per square foot, which Moore said is on par with what investors are paying for Las Vegas-area shopping centers. But the village has "plenty of risk" for buyers, as it could take them a while to fill it with tenants, he said.
The project is part of a destination resort community, he said, relatively isolated from other Las Vegas Valley residents.
"It's an anomaly in the market," Moore said.
Pacific Capital executives could not be reached for comment Tuesday.
Spread across 3,600 acres off Lake Mead Parkway east of Boulder Highway, the Mediterranean-themed Lake Las Vegas boasts mansions, luxury hotels, golfing and a 320-acre man-made lake. The village was built in 2003, according to Hildreth, and used to be packed with retailers: It reportedly was 93 percent leased when Pacific Capital bought it.
Lake Las Vegas collapsed with the crashing economy. Tourism dried up, foreclosures soared, and after two of its three golf courses closed, the greens turned brown. Even a man-made waterfall near the community's main entrance was turned off.
Paulson, founder of hedge-fund operator Paulson & Co., started gobbling up low-priced land in bulk in Lake Las Vegas in 2012; by this spring, his group had spent more than $30 million on communal upgrades. Raintree Investment Corp. is leading development efforts for him.
Still, Lake Las Vegas is far from booming, and Paulson doesn't own the village, which is a long way from its glory days. Not helping matters: The former Casino MonteLago, just steps from retailers, is locked, having closed in 2013 for the second time.
It used to be "pretty fantastic" in the village, and although events can pump in throngs of people, overall it's "really slow," said Windermere Prestige Properties owner Robyn Yates, whose residential brokerage firm has an office there.
She says the retail district is improving — "I'm very optimistic that it's getting better all the time" — but that its overall state hasn't changed too much in the past seven or eight years.
"We just need a really great buyer for the village," she said. "You know anybody?"
Contact Review-Journal writer Eli Segall at 702-383-0342 or esegall@reviewjournal.com. On Twitter at @eli_segall