Las Vegans benefit from brighter job market
August 5, 2016 - 10:33 pm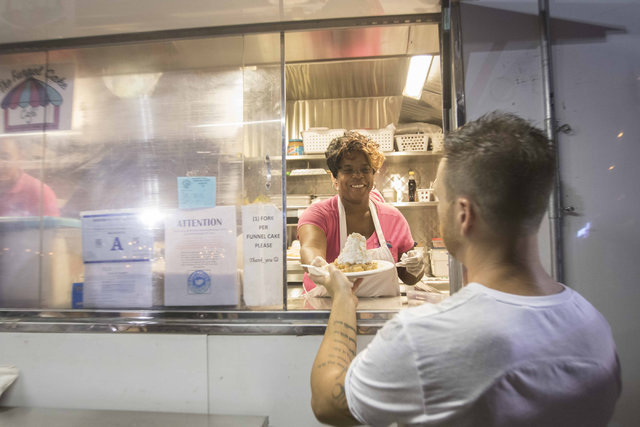 Nevada officials reported in June that the Las Vegas metro area had added more than 26,000 jobs since last summer.
The Review-Journal talked to three Nevadans who got jobs this year in order to get a snapshot of some of those benefiting from the economic recovery.
Kimberly Hopkins, 46, was born and raised in Las Vegas. She remembers the recession vividly and is all too familiar with its aftershock.
Hopkins, who has worked for small local businesses over the last two decades, said the economic downturn affected how much those businesses could hire. After working at a local market and cafe over the last 10 years, Hopkins found herself out of work more than once after employers were forced to close their doors.
In June 2011, the unemployment rate for the Las Vegas Metro area stood at 13.8 percent. By June this year, that rate had been cut exactly in half to 6.9 percent.
"Since then, I do see a lot of businesses picking up, a lot of people doing a lot more hiring," Hopkins said.
Hopkins, who recently found work as a server with the local Funnel Cake Cafe, said, "Things have really turned around a lot."
Despite a slight uptick in unemployment in June, a year-over-year comparison of the labor market shows that gains have been made overall. Over the last year, the Las Vegas metro area added 26,400 jobs, according to data from the Department of Employment, Training and Rehabilitation.
"Southern Nevada saw its unemployment rate spike above 14 percent during the economic downturn and led the nation in terms of overall unemployment," said Brian Gordon, principal with Applied Analysis.
Since that period, the local market has regained all of the jobs lost and then some, Gordon said. He added that with job gains in education, health services, retail and other sectors, the economy is more diversified than before the recession.
Ryan Dunn, 24, got a job this year as a line cook at the Hard Rock Cafe on the Strip. Dunn, who has lived in Nevada since he was a year old, said he remembers the recession.
Back then, Dunn said, "You could be completely trying and it would be hard to find (a job)."
"Now, if you're willing to put in the effort, the work's there," Dunn said.
Shannon Nakamoto, 23, recently was hired at the Shark Reef Aquarium inside Mandalay Bay. After interning for several weeks through a program with HELP of Southern Nevada, Nakamoto starts full-time Monday as a naturalist, or exhibit guide, on Monday.
Nakamoto, who moved from Hawaii in 2011, took part in the nonprofit's Workforce Innovation and Opportunity Act program for youth.
For Nakamoto, who overcame homelessness, the opportunity was about more than "just finding a job where you just go for the money." In his new role surrounded by animals, Nakamoto said he's found a job that "actually gives purpose."
Contact Alexander S. Corey at acorey@reviewjournal.com or 702-383-0270. Find @acoreynews on Twitter.