Las Vegans' credit scores up slightly but still trail US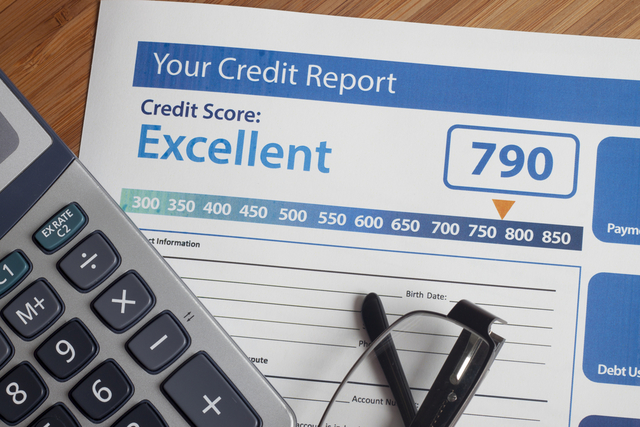 Southern Nevadans' credit scores inched higher last year but remain among the lowest in the country, a new report shows, the latest reminder of the region's weak personal finances.
Las Vegas residents have an average credit score of 640.41, according to personal-finance website WalletHub, which ranked the city in the 13th percentile of the 2,534 communities it analyzed.
North Las Vegas residents had an average score of 630.5, in the 7th percentile, while Henderson topped both at 675.85, the middle of the pack nationally.
The three cities have made slight improvements in the past year, with average scores rising about 1 percent each from WalletHub's early 2016 report on national credit scores.
WalletHub, based in Washington, D.C., and owned by Evolution Finance, says it uses a credit-scoring model from VantageScore. The point system ranges from 300 to 850 and has four categories: bad, fair, good and excellent.
Henderson's score is in the "good" range, while Las Vegas' and North Las Vegas' are both "fair."
Las Vegas' economy has regained its footing in recent years after getting clobbered by the recession, though research reports have shown that Nevada, with the bulk of its population in Clark County, has some of the weakest personal finances in the nation.
The Corporation for Enterprise Development, an advocacy group for lower-income Americans, in early 2016 ranked Nevada 48th among the states and the District of Columbia for residents' financial security. CFED reported that Nevada had some of the highest rates nationally of bankruptcy filings, unemployment and delinquent mortgages.
The Federal Deposit Insurance Corp., a banking regulator, reported last fall that rates of unbanked and underbanked households in Southern Nevada had climbed in recent years along with the share of homes using payday lenders or other high-interest financial services.
Contact Eli Segall at 702-383-0342 or esegall@reviewjournal.com. Follow @eli_segall on Twitter.