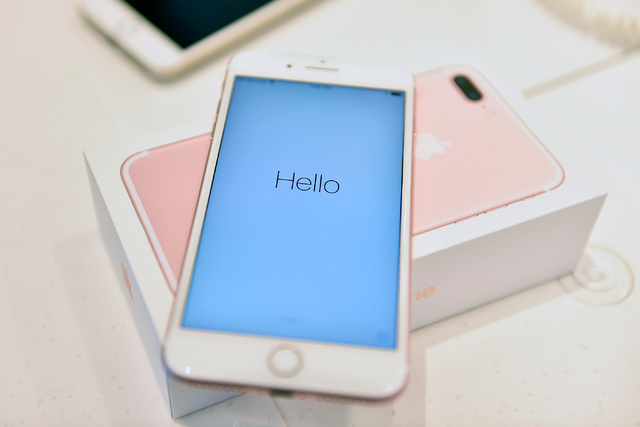 Apple is slated to release several new devices and gadgets Tuesday — the iPhone's 10th anniversary.
The tech giant is hosting what a company spokeswoman called a "special event" at 10 a.m. at its recently constructed Steve Jobs Theater inside the Apple Park campus in Cupertino, California. At least three Las Vegas Valley Apple stores will live stream the event.
"We always encourage our customers with all the excitement to come down to the store if they want to watch the event live," said Rachel Johnson, an Apple Store manager at Town Square.
Johnson said the store will live stream the event on an Apple TV displayed inside the store, and said she has "no idea" what to expect.
A huge leak over the weekend to a handful of Apple blogs — including 9to5Mac and MacRumors — though, suggests the tech giant will release three phones Tuesday: the iPhone 8, iPhone 8 Plus and iPhone X, with prices starting around $1,ooo. The new phones are reported to be equipped with features like wireless charging, more camera options and a facial recognition system.
"We don't know what exactly what they'll be announcing," she said. "We don't know anything at the store level until the announcement actually happens."
People have come to watch live streams of Apple announcements in the past, she said.
Ryan Manzon, an Apple Store specialist at the Fashion Show mall, and an employee at the Forum Shops also confirmed the stores will have a live stream.
An Apple spokeswoman did not address questions about other ways in which local stores prepare for the event, or questions about the new gadgets.
"You'll have to wait for the surprise and delight!" she said in an email.
Contact Nicole Raz at nraz@reviewjournal.com or 702-380-4512. Follow @JournalistNikki on Twitter.