Las Vegas-based Allegiant Travel Co. soars to record quarterly profits
January 31, 2018 - 4:39 pm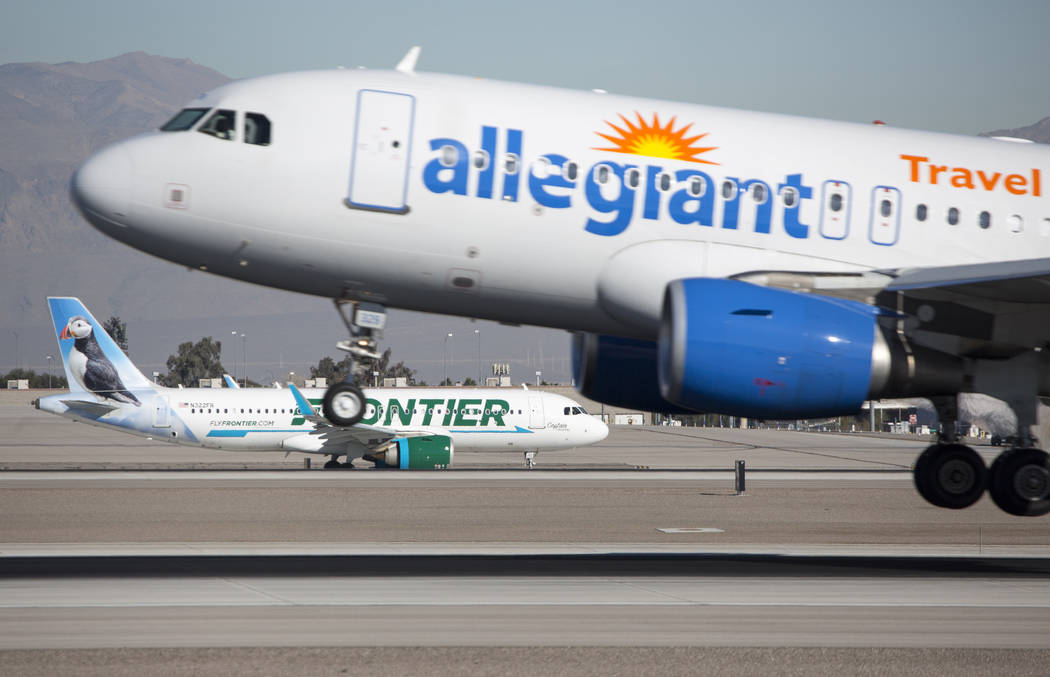 Riding a one-time tax benefit of an estimated $74 million, Las Vegas-based Allegiant Travel Co. reported its most profitable quarter, beating Wall Street analysts' expectations.
The company on Wednesday reported earnings of $82.5 million, $5.13 a share, on revenue of $378.6 million for the quarter that ended Dec. 31. Earnings nearly doubled from the fourth quarter of 2016 when the company reported $41.3 million, $2.48 a share, on revenue of $335.9 million.
Without the tax benefit, resulting from the reform of the U.S. tax code, Allegiant would have reported earnings of $43.7 million, a 5.8 percent boost from last year, and earnings per share of $2.71. Fourteen analysts had projected average earnings per share of $1.66.
It was Allegiant's 60th straight profitable quarter. The company also reported a dividend of 70 cents a share, payable March 16 to shareholders of record on March 2.
MD-80 retirements
In a conference call, executives told investors they've continued plans to accelerate the company's plans to transition to an all-Airbus fleet by the end of 2018, which resulted in a fourth-quarter write-down of $35 million, due to the accelerated retirement of the company's MD-80 jets.
The transition will result in fewer but more reliable aircraft with greater capacity.
Allegiant currently has 89 planes, but when the last of 37 twin-engine MD-80 jets is retired by the end of the year, the company will own 82 Airbus jets, 50 of them Airbus A320s with capacities ranging from 177 to 186 passengers, compared with the 166-seat MD-80s.
The Airbus jets also are newer and more fuel-efficient than the MD-80s and are expected to boost fleet reliability.
"This return to a single fleet type will allow us to maintain the same corporate model and nimbleness we have shown in the past, able to react to both economic and competitive changes," said Allegiant Chairman and CEO Maurice Gallagher.
Gallagher noted that fuel costs had spiked with oil at $145 a barrel and the company was paying $2.04 a gallon during the quarter compared with $1.73 a year earlier.
The company also reported weathering reduced traffic in Las Vegas immediately after the 1 October shooting and to its Florida destinations as a result of Hurricane Irma.
Sunseeker on track
The company also reported its 22-acre Sunseeker Resort condominium and hotel project on the west coast of Florida, near Punta Gorda, remains on schedule with advanced design and development and financing nearing completion and utility work scheduled to begin in June or July. Executives said the first of nine condominium towers would begin going up in August or September and the planned opening would occur in January or February 2020.
Allegiant shares closed down 15 cents, 0.09 percent, to $159.20 a share on above-average volume. In after-hours trading — and after the earnings announcement — shares went up $3.25, 2.04 percent to $162.50 a share.
Contact Richard N. Velotta at rvelotta@reviewjournal.com or 702-477-3893. Follow @RickVelotta on Twitter.
Allegiant Travel Co.
Fourth-quarter revenue and earnings for Las Vegas-based Allegiant Travel Co., parent company of Allegiant Air. (Nasdaq: ALGT).
4Q 2017 4Q 2016 Change
Revenue $378.6 million $335.9 million +12.7%
Earnings $82.5 million $41.3 million +99.7%
Earnings per share $5.13 $2.48 +106.9%