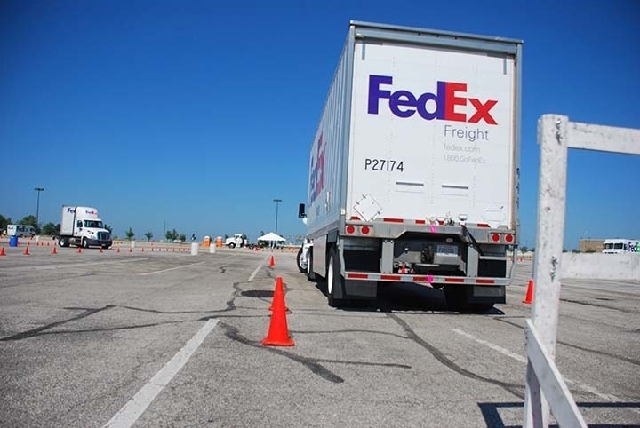 Jeff Dionne first got into truck driving for one reason: stability.
"I was starting a family and needed the income, benefits, and the longevity of the industry," he said.
That was 30 years ago. Now Dionne has another motivation — being the nation's safest truck driver.
The Las Vegas-based FedEx Freight driver is competing in the National Truck Driving Championships starting Tuesday in Salt Lake City. The event is sponsored by American Trucking Associations.
Dionne, 52, qualified for the event after winning the three-axle title at the 2013 Nevada State Truck Driving Championship in Sparks on June 22.
Dionne also earned the Grand Champion crown, given to the driver with the highest score among the winners of all classes, including ground and express drivers.
"When they handed me the grand champion title, I was like, 'Oh my gosh,'" Dionne said. "I was not expecting that at all. It was awesome"
It was Dionne's first win in six tries at the state championship.
"He was always close in other years," said FedEx service center manager Dave Rocco, who oversees Dionne's department. "There was always a curveball that got him. This time around, he put it all together and really excelled. I couldn't be more proud of him."
Dionne grew up in Southern California and became a FedEx dock worker in 1983. He soon earned a commercial driver's license and got behind the wheel.
His days begin as early as 7 a.m., and he carries anything from merchandise to hazardous materials. Dionne's route is strictly within the city limits, which comes with its own challenges, he says.
"In Vegas, we have a lot of visitors or people who may have been hanging out in the casino for too long. We have to ask ourselves the question, 'What if?' a lot. Staying safe and sharing the road with other drivers is the most challenging."
Besides a state championship, a prerequisite for a berth at the national championships is an accident-free driving record for the past twelve months. Dionne's been accident-free for more than 20 years.
"You think about what these folks do on a day-in, day-out basis, that's very impressive," Fedex Managing Director of Safety Rodney Myers said of Dionne's two decades free of accidents. "You compare that to the industry standard and it's not something you see a lot."
The two-decade streak totals more than 1.5 million miles on the road. During his 30-year career driving, Dionne has never been in a contact-to-contact accident with another vehicle. The lone blemishes on his record are five small incidents, such as hitting a fixed object.
His safety-first approach will be put to the test at the nationals championships, conventionally dubbed the "Super Bowl of Safety."
Akin to the state championship, the national competition is broken up into three parts: written exam, pre-trip inspection and a skills test.
The written test has 50 true-or-false and multiple-choice questions on safety, first aid and industry knowledge. Twelve planted defects make up the pre-trip truck inspection, during which drivers must locate the errors in under six minutes. The skills test is over an obstacle-ridden course.
"I really think his chances are good (at winning at nationals)," Rocco said. "His attention to detail is better than most. A lot of guys can drive a truck. But Jeff has taken the time to dissect the rule book and learn everything he can."
Dionne will be competing against 47 other drivers in the three-axle division. No money is on the line, only a trophy and bragging rights.
Dionne mentors many of his co-workers, some of whom were not even alive when he started driving, Rocco said. And this week's national finals may be a stepping stone for the veteran driver.
"What Jeff really wants to become is an instructor," Rocco said. "I don't want him to leave. But I know that's the right thing for him. That's what he was put on this Earth for, to instruct."
Contact reporter Eric Uribe at euribe@reviewjournal.com or 702-383-4642.