Las Vegas becoming a bike town as Interbike approaches
September 14, 2013 - 4:22 pm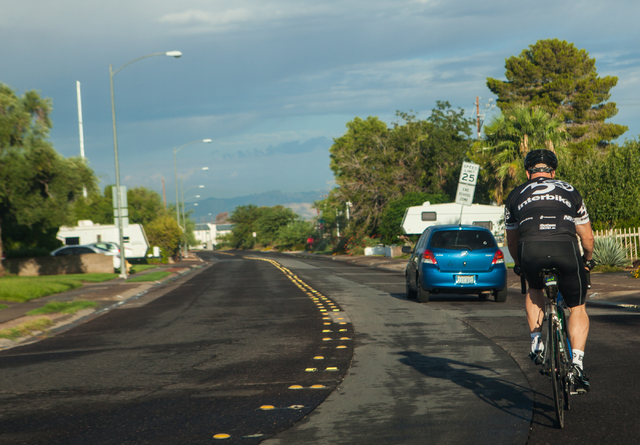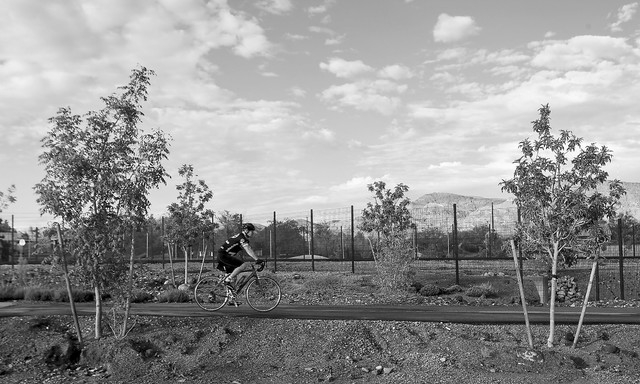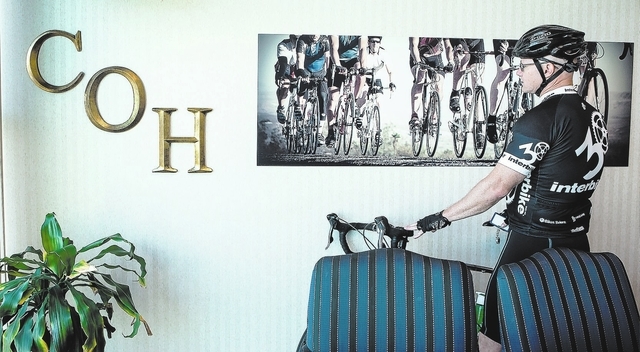 When the nation's bicycle industry gathers in Las Vegas for its annual Interbike trade show this week, America's bike companies are in for a surprise — their host area is growing into a real bike town.
Move over Portland, Ore., Seattle, Tucson, Ariz., and San Francisco. The Las Vegas metro area has picked up the pace. In recent years, Las Vegas and Henderson both have ramped up their bicycle infrastructure, service and safety efforts in hopes of drawing national recognition as bicycle-friendly communities.
The League of American Bicyclists, a Washington, D.C.-based bicycle advocacy group, recognizes cities as "bicycle-friendly" if they meet specific bi­cycle amenity criteria. The list includes having a good bike-commuter rate; crash and safety records; infrastructure such as bike lanes and bike parking; and a bike master plan.
Andy Clarke, president of the League of American Bicyclists, said cities that earn his organization's bicycle-friendly designation can use it for marketing purposes to draw businesses, tourists and new residents.
"We're seeing more and more cities across the country tout their bicycling credentials," Clarke said.
Henderson, in particular, has aggressively worked to be more bicycle-friendly under the tutelage of City Manager Jacob Snow, an avid cyclist who often commutes by bike and was the past director of the Regional Transportation Commission of Southern Nevada.
Henderson held its own "Bicycle Swap and Rally" festival in April; debuted a new McCullough Hills mountain bike trail last year; and offers 80 miles of bike trails.
Henderson also provides free bicycle valet parking at all city events; received federal money to buy bicycles for police use; and plans to beef up enforcement of the law that requires drivers of motorized vehicles to stay at least three feet from cyclists, Snow said.
The city has a big section of the popular regional River Mountains Trail, a hilly and challenging 34-mile paved loop through Henderson, Lake Las Vegas, the Lake Mead National Recreation Area and Boulder City.
Snow said being a bicycle-friendly city makes good economic sense. The New York Times last year featured the River Mountains Trail in a travel story, exposure that helps bring in more tourists.
"We are leveraging on our strengths. We're promoting bicycling for business and people like the way we have transformed the community with our parks and trails," he said. "We want to improve people's health and provide trans­portation options they might not otherwise consider. It's a real family or individual activity. It's just fun."
Cities seeking bicycle-friendly status from the League of American Bi­cyclists usually apply for recognition at the bronze level, then move up to silver, gold and platinum levels as they build more infrastructure and improve on other measures.
Snow said Henderson will go for silver recognition in light of all the city's bicycle improvements.
Meanwhile, Las Vegas has put its best wheel forward in the past year by creating a bicycle coalition of local government representatives, bike advocates and retailers to promote bicycling in the city and inform the public about the new state law on separation distance.
It may be a surprise to many, but Las Vegas already offers more miles of bike lanes than does Portland, Ore., which is considered America's most bicycle-friendly city. Sin City has 226 miles of bike lanes, compared to 183 for Portland. Las Vegas even has six miles of bike lanes painted a bright green, which helps make the bike lanes more visible and thus cyclists safer when on the street.
From July 1, 2012, to June 30, alone, Las Vegas added nearly 100 miles of bike lanes, with another 50 miles to come in the current fiscal year, said Jace Radke, Las Vegas city spokesman.
The city recently debuted a stretch of Sahara Avenue from just west of Interstate 15 to Summerlin that features an entire traffic lane reserved for bicycles and buses only.
The Las Vegas area is trying to get more people on two wheels for commuting and practical transportation. The region is already a strong recreational bicycle area. Consider the Summerlin section of Las Vegas, which is home to hundreds of road cyclists, many of whom make their early-morning western pilgrimage to the Red Rock Canyon area.
The region is also developing a mega-trail called the Vegas Valley Rim Trail, which would run along the valley's entire perimeter, said John Holman, Rim Trail project manager for Outside Las Vegas Foundation, a nonprofit facilitating the effort.
The goal is to coordinate local governments to knit together the proposed valley­wide 100-mile loop, he said.
Several trail projects are underway around the valley, which would be links in the Vegas Valley Rim Trail. For example, the regional trail that runs along the Interstate 215 beltway in Summerlin is being extended six miles north from Charleston Boulevard, where it currently ends near the Red Rock Resort.
In downtown, besides the bright green bike lanes, attractive bike lock-up racks in the shape of blue bicycles have sprouted on sidewalks to encourage people to reach downtown by bike.
"The city is developing its in­frastructure to accommodate all modes of transportation to make it safer for pedestrians and bicyclists, and we need to include wider sidewalks and more bike lanes," said Tom Perrigo, Las Vegas city chief sustainability officer who chaired the very first bike coalition in the city.
"We recognize a growing interest in cycling in the community," said Perrigo, who rides his bicycle one day a week to his city job.
He noted the city is seeking a bronze bicycle-friendly designation from the League of American Bicyclists.
The Regional Transportation Commission of Southern Nevada, meanwhile, holds its signature Viva Bike Vegas ride event on Sept. 21 and continues to offer free bicycle repair and maintenance tips at the downtown Las Vegas transit center. RTC even has a bicycle outreach staffer, Ron Floth, who promotes bi­cycling as transportation through bike education, awareness and safety programs in the valley.
The RTC is also working on creating a bike share program, which is ideal for short trips in high-activity areas such as downtown.
Contact reporter Alan Snel at asnel@reviewjournal.com or 702-387-5273.