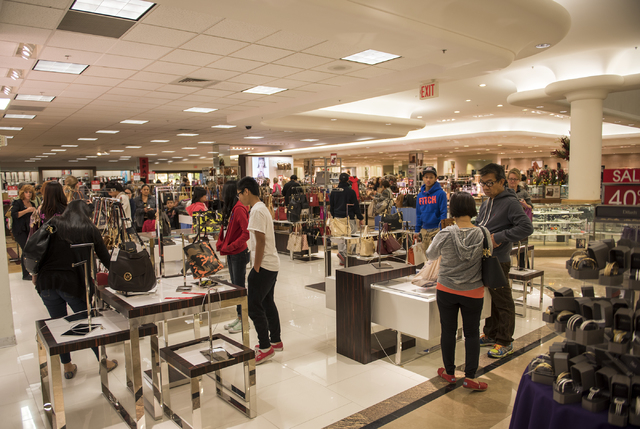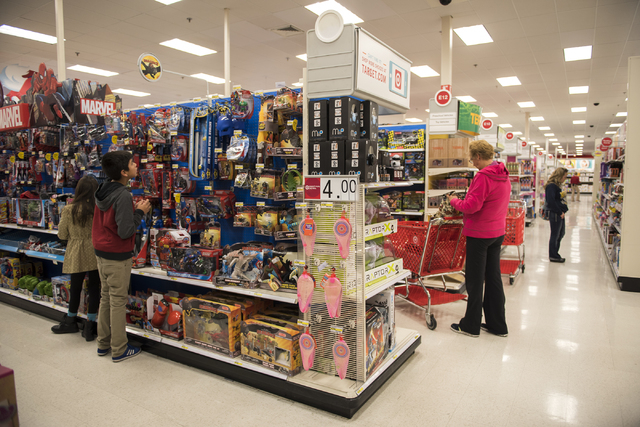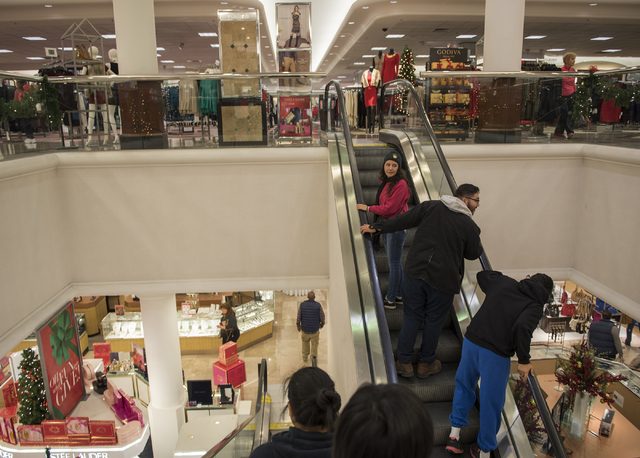 Black Friday shopping experiences were seemingly smoother this year, several Henderson-area shoppers said.
Bryan Plummer of Henderson was in search of an electronic gift for his wife at Target on North Stephanie Street in Henderson.
"I've seen a lot of great deals so far in electronics," he said. "Why not get something on Black Friday?"
Plummer added that this was the first time he's shopped on Black Friday in several years.
"I normally try to avoid the crowds," he said. "It hasn't been bad though and it's not as crowded as I thought it would be."
As Steve Hampe left Target with his wife, Stephanie, the couple had a 40-inch television in their shopping cart.
"It was my first time Black Friday shopping, and I don't know if I'll do it again," Steve said.
The Boulder City residents went to Bass Pro Shops at the Silverton before going to Target.
"It was chaos there," Steve said. "Here (at Target), it was fine shopping."
"It was pretty mellow and pleasant," Stephanie added about Target.
Henderson resident Kim Rapp shopped with her mother and daughter at Target as part of their Black Friday tradition.
"There's something for everyone," she said of Target. "It's a little busy but that's part of the experience. I love it."
International Council of Shopping Centers Spokesman Jesse Tron said Black Friday is synonymous with bargains.
"It should be called Bargain Friday," he said. "It's a better moniker."
Tron said many retailers are offering all-day deals for shoppers.
"You don't have to be one of the first five people to get in line to get a good deal," he said. "There are definitely good deals to be had from a consumer perspective."
Across North Stephanie Street at the Galleria at Sunset, Monica Medina of Las Vegas shopped with her family, searching for good deals at Dillard's.
"I saw an ad that said it's 50 percent off all clearance so I'm hoping to find some deals," she said. "So far, so good."
Medina said it's a family tradition to shop on Black Friday.
"After breakfast, we go out," she said. "This year there are less people out and it might be because many stores opened last night. I'm certainly not complaining though."
Henderson resident Hollie Donner said she began shopping at 6:30 a.m. looking for both personal and gift items.
"I shop every year on Black Friday," she said. "I'm not a die-hard though who camps out. If what I'm looking for isn't there when I get to the store, it's not meant to be."
Donner, like Medina, said last year on Black Friday was much busier.
"It was a zoo," Donner said about last year. "I think a lot of people went shopping on Thanksgiving."
At Hallmark, also on North Stephanie Street, Deborah Hargreaves was shopping with her daughter as she does every year.
"We've been shopping on Black Friday for a long time," she said. "We started at 7:30 a.m. and went to Wal-Mart, Toys "R" Us and now we're at Hallmark."
This year, Hargreaves said, has been a better shopping experience as compared with other years on Black Friday.
"Last year it was so crowded you couldn't breathe," she said. "Many people must have started on Thanksgiving instead of today."
Natalie and Chase Janik, along with their friend Steven Terrones, began shopping on Thanksgiving and had been to Toys "R" Us, Wal-Mart, Target and Kohl's before noon on Black Friday.
"It wasn't so bad last night," Natalie said.
Terrones said, "Target was really good and well-organized."
For the Janiks, this was their third time Black Friday shopping for gifts for their children.
"I've been saving up for the whole year to go shopping," Natalie said. "Black Friday is a great time to save money for the kids' presents."
Tron said 86 percent of consumers will have started their holiday shopping by the end of the weekend.
Cyber Monday, the Monday after Thanksgiving, is expected to spur more deal-hunting.
But Tron said that although Cyber Monday is another day of deals, it doesn't measure up to Black Friday.
"Cyber Monday isn't comparable to Black Friday but the overall weekend ranks high as does the Saturday before Christmas," Tron said. "Black Friday is bigger by all accounts."
Contact reporter Ann Friedman at afriedman@reviewjournal.com or 702-380-4588. Find her on Twitter: @AnnFriedmanRJ