Las Vegas businesses seek to nurture more foreign investment
Updated June 5, 2017 - 6:33 pm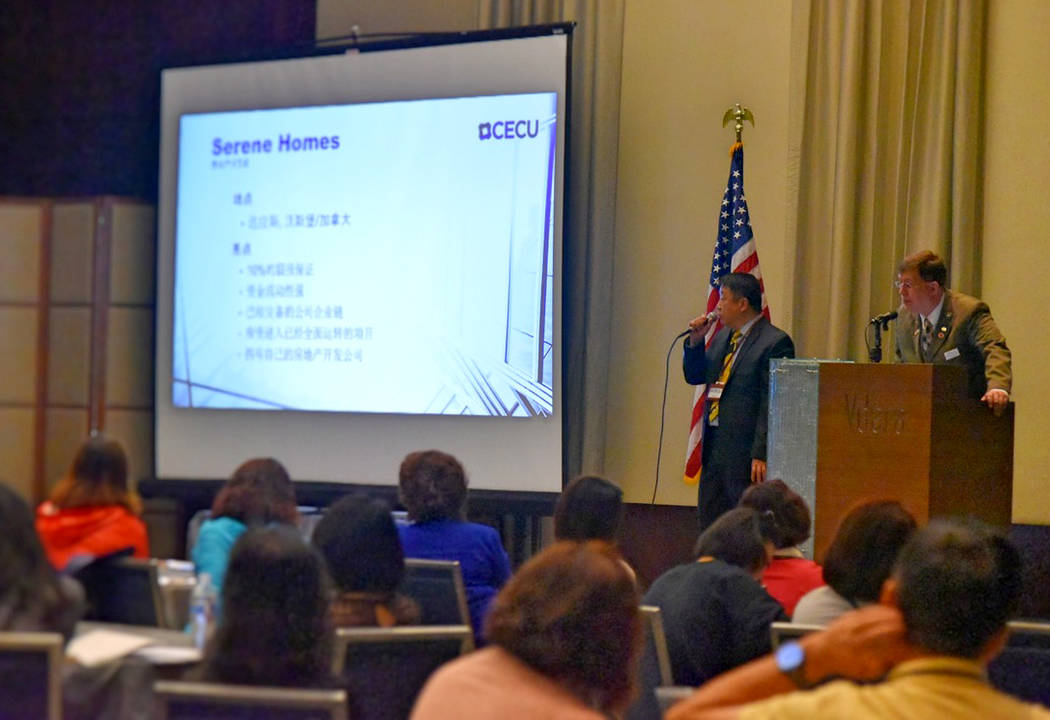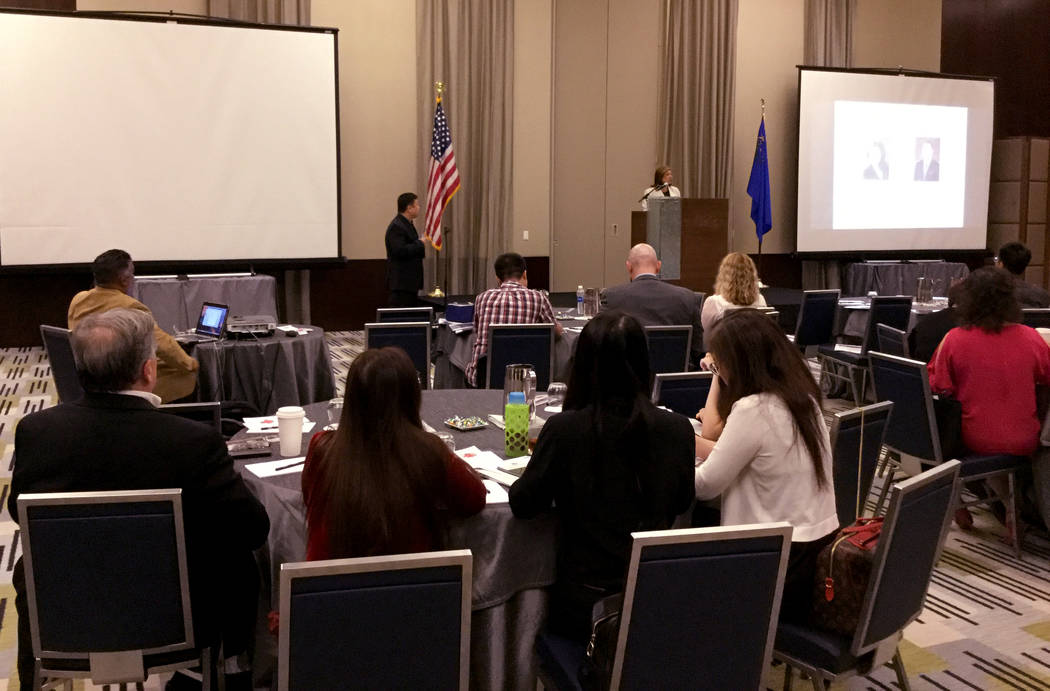 A growing number of Las Vegas-based businesses are looking to foreign investors to bring local projects to fruition.
UNLV President Len Jessup was among four locals who pitched to a group of about 65 Asian investors, 25 of them from China, at a recent event organized by the Las Vegas-based Committee of Enterprise and Commerce United. The committee, launched in November, is led by six local real estate and business investment professionals working to build an international network of investors and advisers.
Jessup said it was his first time pitching to foreign investors.
"We've done probably about 30 or 40 partnerships of different types since I've been here (2015), but it's all been domestic and mostly local," Jessup told the Las Vegas Review-Journal.
UNLV has several development projects that would benefit from investment, including the Harry Reid Research and Technology Park, he said.
Cash overflow
Why the shift to foreign direct investment — and Chinese investment in particular? Opportunity, he said.
"We're growing here in Southern Nevada, and we're looking for fuel, and the Chinese are aggressively looking for things to invest in in the United States — especially in hot innovation zones like Las Vegas," he said.
Michael Ring, director of international real estate for the committee, agreed, adding that Chinese investors are "tired" of the usual hot spots, like Los Angeles and San Francisco, because of the high costs of doing business and the already saturated market.
At the same time, Ring cited a local cultural shift in attitudes toward foreign direct investment.
"Ten years ago, Americans weren't interested in foreign investors," Ring said.
Local attitudes changed during the recession, he said, since "they (largely foreigners) were the ones who were able to come in with cash and help us get out of the slump we're in."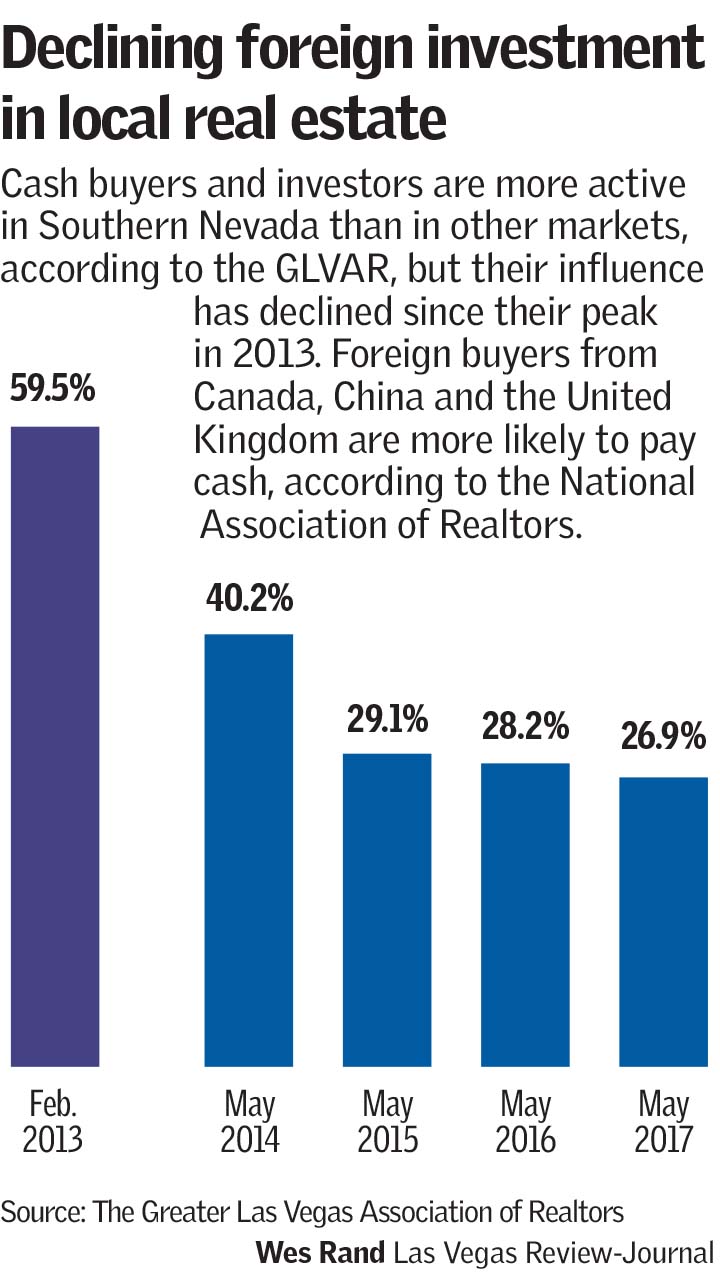 A shift
But over the past year and a half, local businessmen say Chinese investors have been focusing less on real estate and more on business opportunities.
"I think they're getting more comfortable with the U.S. and opening businesses here without physically living here," Ring said.
Hassan Chaudhry, managing partner of Las Vegas-based Global Commercial Advisors, said he thinks Chinese investors likewise have become more sophisticated in doing business in the United States.
Chaudhry, who has been in Las Vegas since 2010 and also presented at the event on Thursday, said he made his first pitch to Chinese investors about a year and a half ago.
Chinese investors are now looking at established businesses with a guaranteed return of investment, he said.
"With real estate, you can get something like a 7 percent return on your equity if you're doing it on a stabilized basis on a medical office building (for example), but what if you owned or invested into the diagnostic center, or primary care or OB-GYN? Then you are looking at returns of like 25 to 30 percent," Chaudhry said, also citing call center and franchise business operations as examples.
Contact Nicole Raz at nraz@reviewjournal.com or 702-380-4512. Follow @JournalistNikki on Twitter.
Moving money out of China
China instituted a temporary measure in the beginning of 2017 limiting foreign direct investment to $10,000 per person per year, if approved by the government. The policy changed from allowing individuals to invest $50,000 per person per year, with limited government interference.
Marketwatch recently reported that China foreign-direct investment fell 48.8 percent in the first quarter of this year.
The policy has not significantly affected local development projects with Chinese investors, according to multiple local business owners and business brokers.
Ricky Un, a broker salesperson with Las Vegas-based Go Global Realty, said the policy has inspired more Chinese investors to get their dollars into the United States and Australia faster, in part out of fear that policies will further tighten.
Michael Ring, director of international real estate for the Las Vegas-based Committee of Enterprise and Commerce United, said Chinese investors who don't already have funds outside of China are getting creative to get funds out of China.
"They may have other companies in other country that they may ship money over to and then invest from that country instead of China," Ring said.