Las Vegas Chinatown-area apartment complex sells for $77M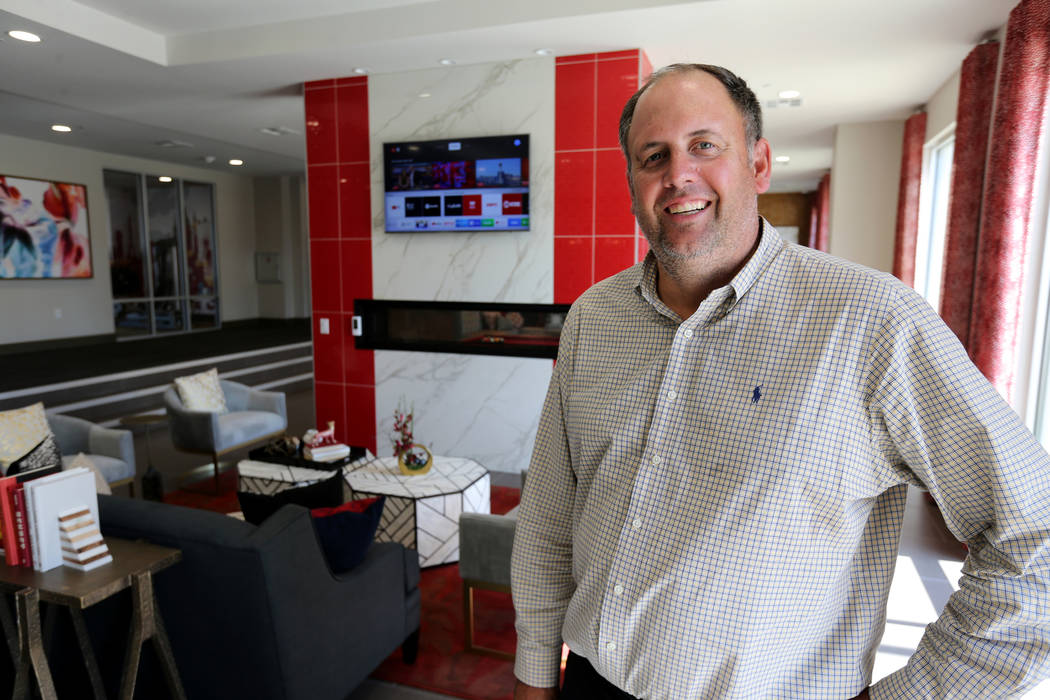 Months after the first renters moved in, Las Vegas developer Jonathan Fore has flipped a luxury Chinatown-area apartment complex for a big payday.
Fore confirmed that he sold the 295-unit Lotus, on Spring Mountain Road a mile west of the Strip, for $76.7 million to Green Leaf Partners.
The sale, which closed Nov. 7, amounts to $260,000 per unit — double the market average as tracked by Colliers International.
Las Vegas' apartment market has heated up in recent years with rising rents, lucrative investor purchases and increased development. Construction has been largely concentrated in the suburbs, although Lotus was part of a small but rising tally of urban-area projects.
Fore is by no means the only developer in town who flipped a new project — he broke ground in 2016 — as the market accelerated.
"You never go broke taking a profit," said CBRE Group broker Spencer Ballif, an apartment specialist.
Lotus, which features ground-floor retail space, a rooftop deck, a poolside DJ booth and a karaoke room, was not on the market, Fore said. But Green Leaf approached him about buying it, and he wanted to reinvest the funds in an apartment complex he's building near the Rio, he said.
Not every apartment developer in Las Vegas takes the "merchant builder" approach of building, leasing up and selling fast. According to Ballif, some developers "rarely sell anything."
But others are known for it, including Nevada West Partners, one of the biggest apartment builders in the valley. For instance, it built The Wyatt in 2015 and then sold it in 2016 for about $57.3 million, county records show.
The southwest valley complex was 96 percent leased at the time of sale, according to the buyer.
Martin Egbert, a partner with Nevada West, could not be reached for comment Wednesday.
The Calida Group, another big apartment developer in town, has also built and sold fast. According to county records, it built Elysian at Stonelake in 2016 and sold the Henderson complex last year for $84.6 million.
Calida co-founder Eric Cohen said Wednesday that plenty of merchant builders need to sell projects to put money into other deals, and that heavyweight investor groups typically provide short-term money. But groups that own projects for the long term can raise "more patient capital," he said.
ARA Newmark broker Curt Allsop said it's mostly an issue of risk tolerance, but a lot of developers like taking the merchant builder approach "in a super-hot market."
Fore, managing partner of Fore Property Co., had said that renters started moving to Lotus in April. He said Wednesday that the complex, 3616 Spring Mountain Road, was 82 percent leased at the time of sale.
It wasn't his first deal with Green Leaf. Based in Danville, California, the real estate investment company bought the 360-unit Volare in the south valley from Fore and partners for $63 million last year.
Green Leaf co-founder Mike O'Neil declined to comment on the Lotus purchase, saying in an email that "we don't talk about our real estate dealings."
Contact Eli Segall at esegall@reviewjournal.com or 702-383-0342. Follow @eli_segall on Twitter.