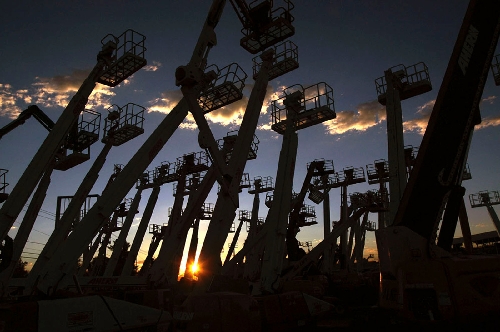 Ahern Rentals Inc. gained two more months in control of its bankruptcy case on Monday, although several creditors expressed growing unhappiness with the course it is following.
At a hearing in Reno, U.S. Bankruptcy Court Judge Bruce Beesley extended Ahern's exclusivity period until Oct. 9, while promising to bring in another bankruptcy judge as a mediator between the company and the holders of about $618 million in debt. During the exclusivity period, only the company can propose a Chapter 11 reorganization plan. Once the period expires, others can jump in with their own plans or even takeover proposals.
Ahern attorney Gregg Galardi requested exclusivity until Nov. 30, depicting it as a step en route to repaying everyone in full.
"What I think has happened is that the company has performed better than expected," he said.
But, he conceded, creditors will likely contest the terms of a repayment plan and whether Ahern can perform as promised. The extra time is needed, Galardi said, to allow the company to finish installing a financial projection program "so we can have a fair fight" if it comes to that.
Ahern, which rents heavy equipment to building contractors, was hammered by the recession and a heavy concentration in the Southwest United States, particularly Las Vegas.
As major projects such as CityCenter wound down and little new construction work followed, the company sent its equipment to newly opened locales across the country.
Operating results improved, according to company financial statements, but not fast enough to refinance the large debt load and avoid bankruptcy.
Sphere Capital LLC, the affiliate of the Beverly Hills-based investment firm Platinum Equity, argued against giving Ahern more time. Sphere attorney Robert Charles characterized Ahern's extension as part of a strategy to keep CEO Don Ahern's 97 percent ownership stake intact even as lenders potentially absorb losses or have softer repayment terms forced on them.
"What they are saying is 'trust us, we're doing projections that will support our view of the world … that Mr. Ahern will stay in control,' " Charles said.
Sphere owns $119 million in second-tier debt, so it would stand behind other lenders in the repayment line.
Other lenders said Ahern has been dragging his feet and engaged in little or no negotiation to reach agreement on a reorganization plan.
"It is always difficult when the founder or a person who is a descendent of the founder is in charge," said Judge Bruce Beesley.
One of Las Vegas's oldest businesses, Ahern rentals was founded in 1953 when John Ahern bought a gas station at the site of what is now the Stratosphere and began to sell and rent gas- and diesel-powered equipment. Don Ahern, John Ahern's son, eventually took over, while his brother Paul Ahern and son Evan Ahern also joined the ranks.
Financial reports starting Dec. 22, the day the bankruptcy was filed, and running through May 31 show a net loss of $29.5 million on revenues of $156.1 million. When subtracting items such as depreciation, interest and taxes, the company had produced $94 million in cash flow in the year through June 30, and the number had been increasing, Galardi said.
"Everybody agrees that the business is a good business, it is doing well," said Charles. "The question is what the balance sheet will look like" after bankruptcy.
Contact reporter Tim O'Reiley at toreiley@reviewjournal.com or 702-387-5290.