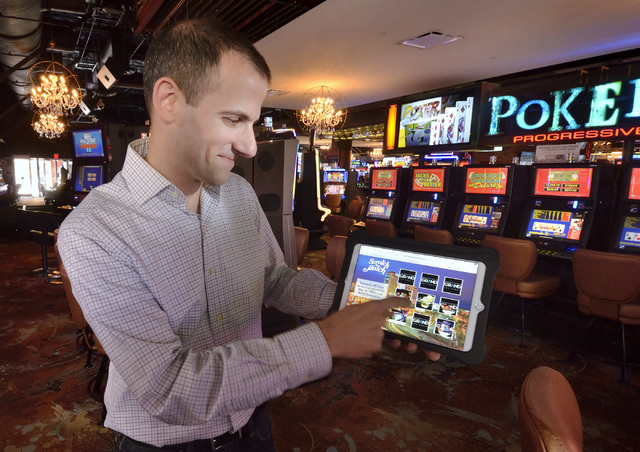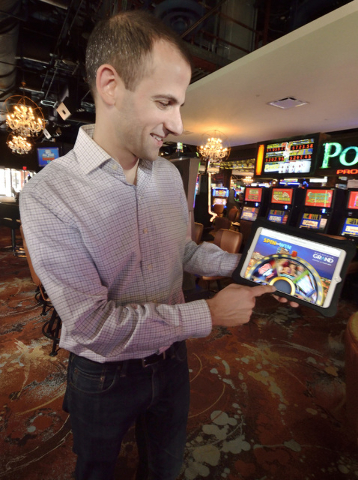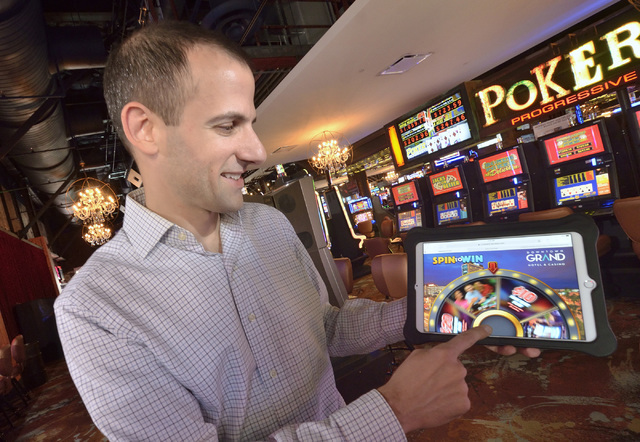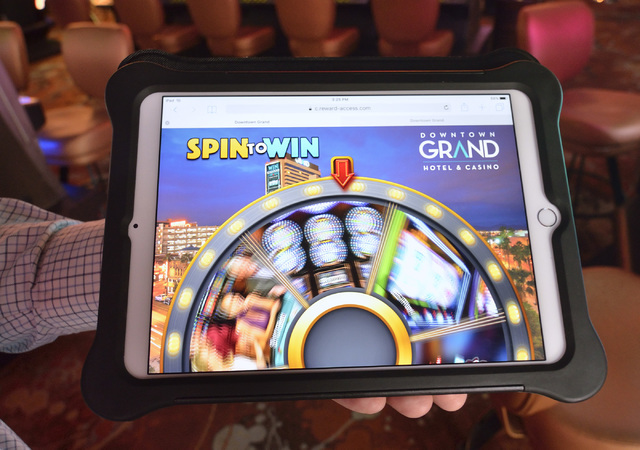 Would customers be more inclined to redeem a free offer if they won it in a game of skill?
The representatives of a technology startup are betting the public will.
Executives with OfferCraft, a Las Vegas company that had its roots in the gaming industry in 2007, have found many of its biggest successes have been in casinos, even though the concept is designed to entice customers in any retail environment.
The company's latest success story is a new relationship with SLS Las Vegas. OfferCraft and the Strip property will offer interactive games to loyalty club members to enable players to win dining discounts, credit for slot play, free hotel stays and cash prizes.
It's all in the presentation of the offer, which the company calls "gamification," OfferCraft CEO Aron Ezra said.
"Our job is to inspire a target audience to do what you want them to do," Ezra said in an interview at his office in the Hughes Center office park.
"Are you looking for more customers? Do you want to increase sales of certain products? Are you looking for more sales? The objective is to get people to want to do that and we do that by making the process more engaging and fun," he said.
Part of the secret is engaging the audience on devices with which they're familiar and comfortable — their smartphones.
Ezra said it took years of research and studying behavioral economics and customer psychology to determine methods of driving an offer to a sale. That's where Ezra's associate, chief technology officer Keith Michel, comes in.
It became his job to develop software programs that could take advantage of those behavioral economics by presenting simple games for which successful players collect a reward for winning.
Michel and Ezra studied and built experience on opposite coasts, Ezra in California and Michel in Boston, before coming together in San Francisco to form MacroView Labs. MacroView built smartphone applications and mobile websites for iPhone, Android and BlackBerry platforms.
MacroView Labs' software developments got the attention of Richard Haddrill, president and CEO of Bally Technologies, which bought the company for an undisclosed price in the millions and in the process, bringing Ezra and Michel to Las Vegas.
Working with Bally, now a subsidiary of Scientific Games, let the entrepreneurs work directly with digital gaming industry platforms through which they became more engaged with casino loyalty programs and other marketing avenues.
After three years, they were ready to develop new concepts through their new company, OfferCraft.
OfferCraft has grown to 12 full-time employees with a stable of on-call freelancers. The company is actively hiring software engineers, designers and sales and account managers.
Using their gamification and motivational techniques, Ezra and Michel developed a new client list that includes the Palms, the M Resort, the Grand Bazaar Shops on the Strip, Downtown Grand and Fabulous Freddy's Car Washes.
Many of the motivations that move client customers to accept offers are built around the idea that an offer to one customer may not be viewed as positively by another.
"So what can you do?" Ezra asked. "Maybe you can trade the offer for something you like better. Maybe you stimulate interest by adding some urgency to it."
Or, maybe you make something that was going to be given away free anyway into something you win in a skill game.
And in each interest, the company learns something about the customer and can custom-build offers that would be more appealing to that individual.
At SLS, members of the loyalty club, known as The Code, will be able to get offers by swiping their loyalty cards at a kiosk in the casino.
Ezra said OfferCraft continues to sign up casinos at a faster pace than other retail outlets, much of it because of the success stories shared among the industry. The company last month contracted with Northern Quest Resort and Casino, a tribal property in Spokane, Washington. OfferCraft offered a chance for the casino's poker players to win a spot in a highly anticipated tournament.
Northern Quest also opted to try the offer exchange component to members of the Camas Club, the property's loyalty club.
During one email campaign, 34.9 percent of the company's patrons swapped their original reward for a prize they liked better. The experience will enable Northern Quest to better engage their customers and to better tailor future offers.
"We've had lots of similar success stories," Ezra said. "We've seen engagement jump by double-digit percentages in many of them."
And another payoff to the company: Some of its clients have become so engaged in how the system works that they'll suggest ideas that Michel and his engineering team work to put into a program.
"I think that's when you know you have something people want," Ezra said, "when you provide them with what they want and they want more."
Contact Richard N. Velotta at rvelotta@reviewjournal.com or 702-477-3893. Follow @RickVelotta on Twitter.