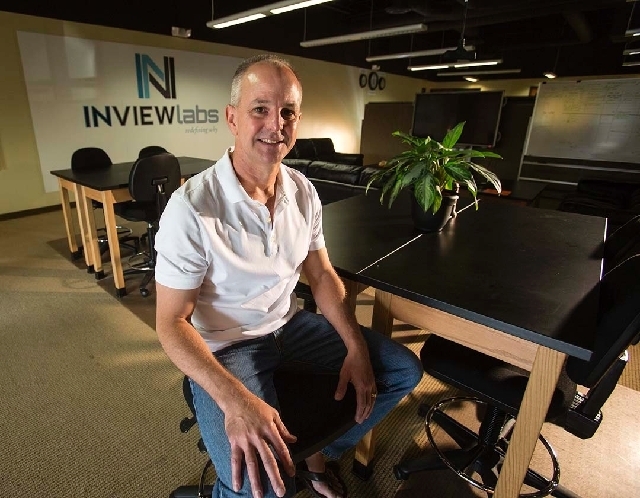 Up until a few years ago, it was uncommon for manufacturers to have 3-D digital models of their products.
Dwayne Miller, CEO of JBA Consulting Engineers, often found his company having to create models for manufacturing clients, a time-consuming task that was dragging down projects.
He thought there must be a better way.
"He thought, 'This is broken. This is backwards,' " INVIEWlabs President Gary Siroky said.
Manufacturers should have models available, and those without internal designers should be able to farm out the work to professionals.
To cater to that need, Miller and fellow engineer Ken Gardner co-founded INVIEWlabs in August 2010. It is the only company in Las Vegas that creates content for Building Information Models.
A study by McGraw-Hill Construction, released this year, found that the Building Information Models adoption rate had grown from 17 percent in 2007 to 71 percent in 2012 among architects and engineers.
In 2012, Gensler, the highest-earning BIM architecture firm, reported $484.2 million in revenue, according to Building Design + Construction. Jacobs Engineering Group was the top engineering firm with a revenue of $4.5 billion.
INVIEWlabs' offerings are three-fold: "content," or digital models of manufacturing products, software and custom programming.
On the content front, INVIEWlabs builds models for manufacturers and provides training on how to use the model to sell.
INVIEWlabs focuses on "active systems," such as air conditioning units, valves, conduits and projectors, one of which was designed for Panasonic.
Programming wise, they create websites and tech consult for companies looking to streamline workflow. They also build inventory and accounting systems, as well as software that allows different programs to communicate.
"If the customer can dream it, we can build it," Siroky said of the company at 9225 W. Flamingo Road that employs 20 people.
As software goes, INVIEWlabs has a few products in its portfolio.
Maint App allows technicians to use an app as a clipboard to immediately record and transfer their work receipts so they don't have to be manually transferred to a computer.
Unifi is the company's prize product, a digital asset management tool that integrates with AutoCAD and Revit to manage workflow.
For example, Unifi organizes components and allows designers to drag and drop items from their computers into AutoCAD and Revit rather than having to import them.
Though it was made for building professionals, Siroky said it can be used for other tasks such as organizing music libraries.
"Software in this industry is getting so complex," Siroky said. "We ask, 'How can we make it simple?'"
INVIEWlabs does some programming work for Las Vegas clients, though most of its customers are large, out-of-state manufacturers, such as LeGrande Corp., ABB Ltd., Cummins, Caterpillar and General Electric.
Contact Review-Journal writer Kristy Totten at ktotten@reviewjournal.com.