Las Vegas construction union members allege rigged elections
Updated April 30, 2018 - 9:02 pm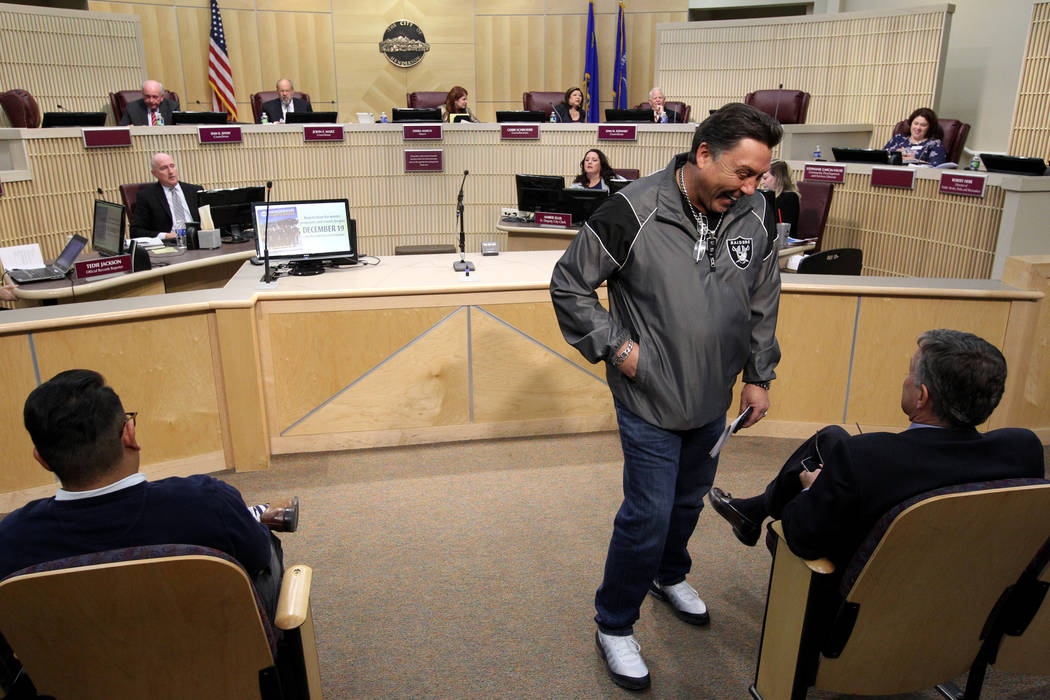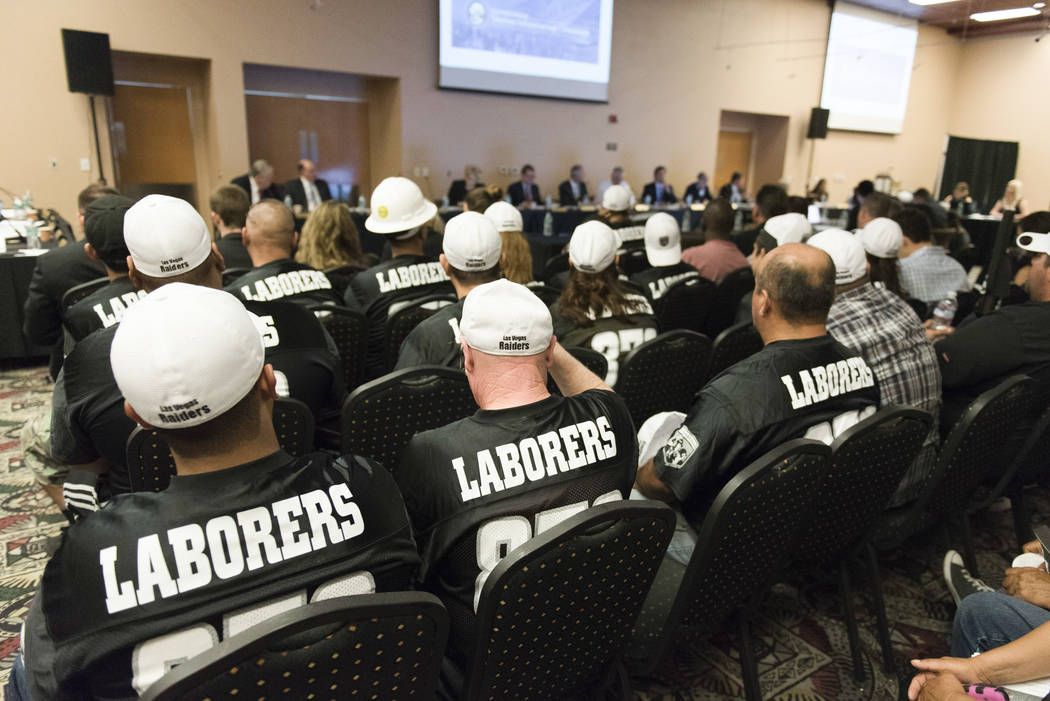 Barry Green only said he would consider challenging the leadership at his union in an upcoming election.
But in Green's view, that was enough to cost him his appointed position with Laborers Local 872.
"Everybody knows if you run against them or go against the grain, there's repercussions," he said.
While the construction worker union's elected officers deny the accusation, Green is not alone in saying union leaders bend election rules and intimidate candidates to maintain control over the 2,500-member local affiliate of Laborers' International Union of North America.
"If they find out you're against them, they'll try to find any way to keep you from working," said Francisco Flores, a union member and candidate in this year's election. "They'll pretty much make it impossible for you to survive in this union."
Green was dismissed this month as a union liaison to his employer, the Nevada National Security Site. He had held the position since August 2013.
Local 872 business manager and secretary-treasurer Tommy White, an elected official who has led the local union since 2003, said Green was dismissed because he was more interested in collecting pay for attending union meetings than he was in bringing information back to members at his work site.
"The business manager has the right to appoint job stewards and remove job stewards," White said.
Challengers disqualified
Local 872 holds officer elections every three years, but members last cast a ballot in 2003. This year's election is planned for next month.
In some years, no one has challenged incumbents. In other years, potential candidates were told they cannot run. In 2015, election judges appointed by incumbent executive board members disqualified all three challengers nominated to run, including Martin Trujillo.
Trujillo wanted to run for vice president, but his candidacy was disqualified by an election judge who required him to read aloud a passage from the union's constitution and interpret it. When Trujillo had difficulty with the task, he was declared illiterate and therefore unfit for office, according to union rules. No other candidate was given the literacy test.
In the week following his failed nomination, Trujillo was stripped of his liaison position by the union and fired by Hardstone Construction, his employer of over five years.
The Department of Labor opened an investigation and sued Local 872 in October 2015. In August, federal Judge Gloria Navarro declared the vice presidential election void.
"I believe my employment was terminated as retribution for running for vice president and to intimidate me from seeking office in the future," Trujillo wrote in a statement to investigators. "I truly believe the union wants to make an example out of me so others will not run for office in the future."
During the case, the court was worried enough about thre threat of a backlash that it ordered local 872 officials and members not to make copies of Trujillo's recorded testimony.
"A concern has arisen among the parties that the transcript or video recording of the deposition may be intentionally publicized to negatively affect Trujillo's employment, ability to participate in union leadership, and otherwise cause annoyance, embarrassment, oppression, or undue burden to Trujillo or others similarly situated," stated a protective order.
Trujillo could not be reached for comment.
A new slate
This year, Green and a handful of other Local 872 members formed Members First, a slate of candidates determined to force the union's first contested election in 15 years.
Members of the slate said the union is rife with cronyism and favoritism. They want to slash elected officers' salaries, halt political contributions and review the union's pension system.
"There are a lot of dues being spent in improper ways that we're not benefiting from," said Flores, who is running for an executive board position. "I've never been a political type of person, but the way I see it, this is about our future."
But the slate's hope for change was dampened at an April 21 nomination meeting.
Election judges disqualified four of six Members First candidates from running. Only Flores and Green, who is running for vice president, remain.
White said Local 872 follows the election guidelines laid out in the constitution handed down by its parent union.
Green and Flores met those qualifications, White said, adding that the other Members First candidates did not.
"If they would have spent the time reading the rules and realizing that rules are meant to be followed, they probably wouldn't have been disqualified," White said.
According to candidacy questionnaires obtained by the Review-Journal, election judges disqualified one candidate because he collects a union pension. Another was disqualified for being "convicted of several crimes," which the candidate disputes.
Two more were disqualified for missing roll call, a procedure in which unemployed members confirm with the union that they are seeking work.
Federal oversight requested
Members First candidates expected federal oversight of this year's elections.
When Navarro ruled in August that the Trujillo election was void, she also mandated that the Department of Labor supervise Local 872's next election.
But the department was not present at the April 21 nomination meeting. A spokesman said the department has renewed its request that the federal court bar the literacy test during the supervised election. The lawsuit is pending.
The disqualified Members First candidates have asked the Department of Labor to open a new investigation and have appealed to Local 872's parent union. Laborers' International Union of North America has scheduled a hearing for Wednesday evening.
Richard Vela, who was told he couldn't run against White because he missed roll call and turned down work, said he just wants a fair shot to run against the incumbents.
"They're scared that if we get on the ballot, they will lose," Vela said. "All we want is justice. Let the members vote on it."
Contact Michael Scott Davidson at sdavidson@reviewjournal.com or 702-477-3861. Follow @davidsonlvrj on Twitter.