Las Vegas Convention Center project construction yet to start
Updated August 29, 2018 - 8:41 pm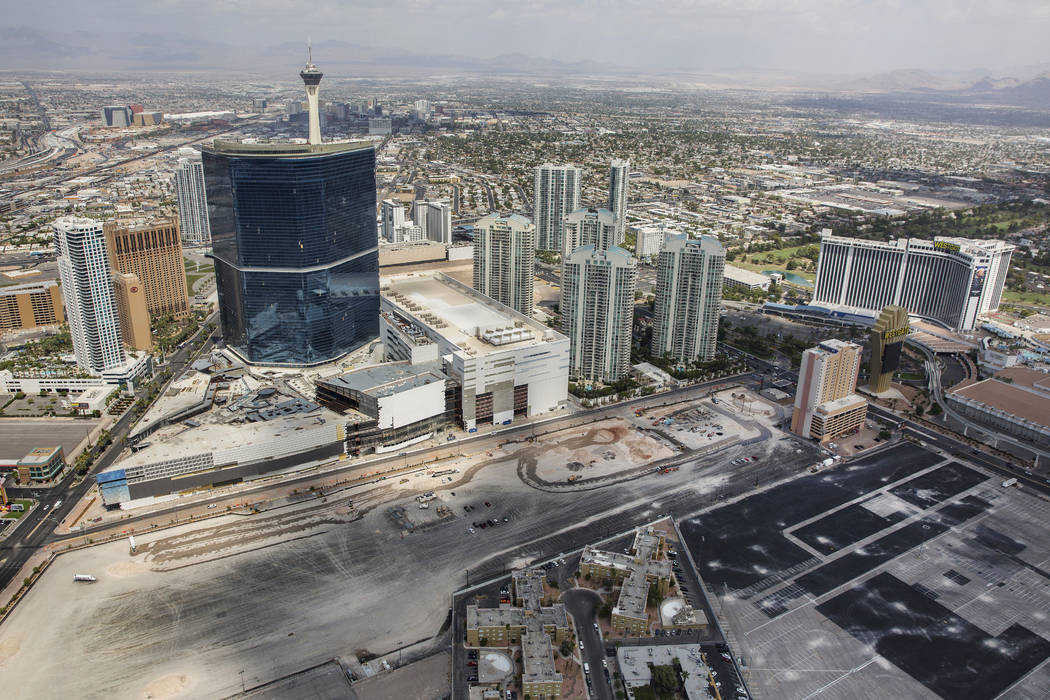 The mounds of dirt piled at the Las Vegas Convention Center site and the truck traffic in and out provide a hint of what is to come as work starts on a $1.4 billion convention center expansion and renovation project.
The large mounds of dirt on the north end of the site near Elvis Presley Boulevard are actually part of a Las Vegas Valley Water District project.
"We are installing a new pipeline in Elvis Presley roughly from Las Vegas Boulevard to Paradise and a new pipeline in Paradise roughly from Convention Center Drive to just north of Turnberry Towers," said Damon Hodge, a spokesman for the Las Vegas Valley Water District.
Jeremy Handel, a spokesman for the Las Vegas Convention and Visitors Authority, said the agency has provided the district with space on the property for the dirt during the project, which Hodge said started in April and is slated to wrap up in October.
The only work that has been done related to the expansion project has been soil testing, completed by GES Nevada. Construction on the convention center project won't start until the LVCVA board of directors completes a guaranteed maximum price with the contractor on the project. A joint venture between New York-based Turner Construction and Martin-Harris Construction of Las Vegas has been secured as the construction manager-at-risk that will recommend a general contractor.
Handel said he anticipates an agreement on a guaranteed maximum price to be presented at the Sept. 11 board meeting.
The expansion and renovation project includes a 600,000-square-foot exhibition hall with a rooftop terrace. The LVCVA is slated to complete the building by the end of 2020 in time for the CES trade show in January 2021.
Contact Nicole Raz at nraz@reviewjournal.com or 702-380-4512. Follow @Nicole0Raz on Twitter. Review-Journal staff writer Richard N. Velotta contributed to this story.