Las Vegas Convention Center to have a rooftop terrace
Updated April 9, 2018 - 6:25 pm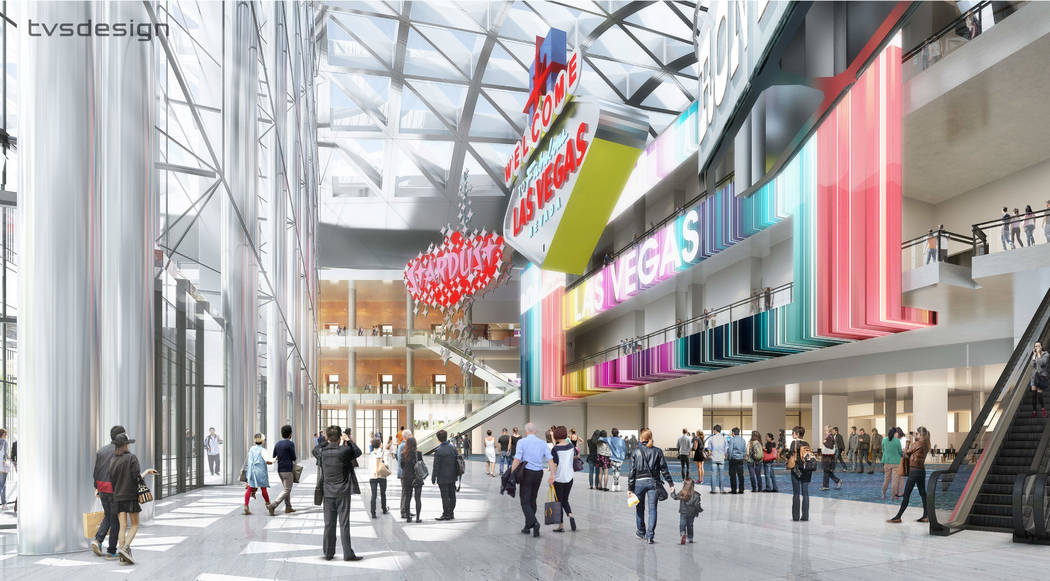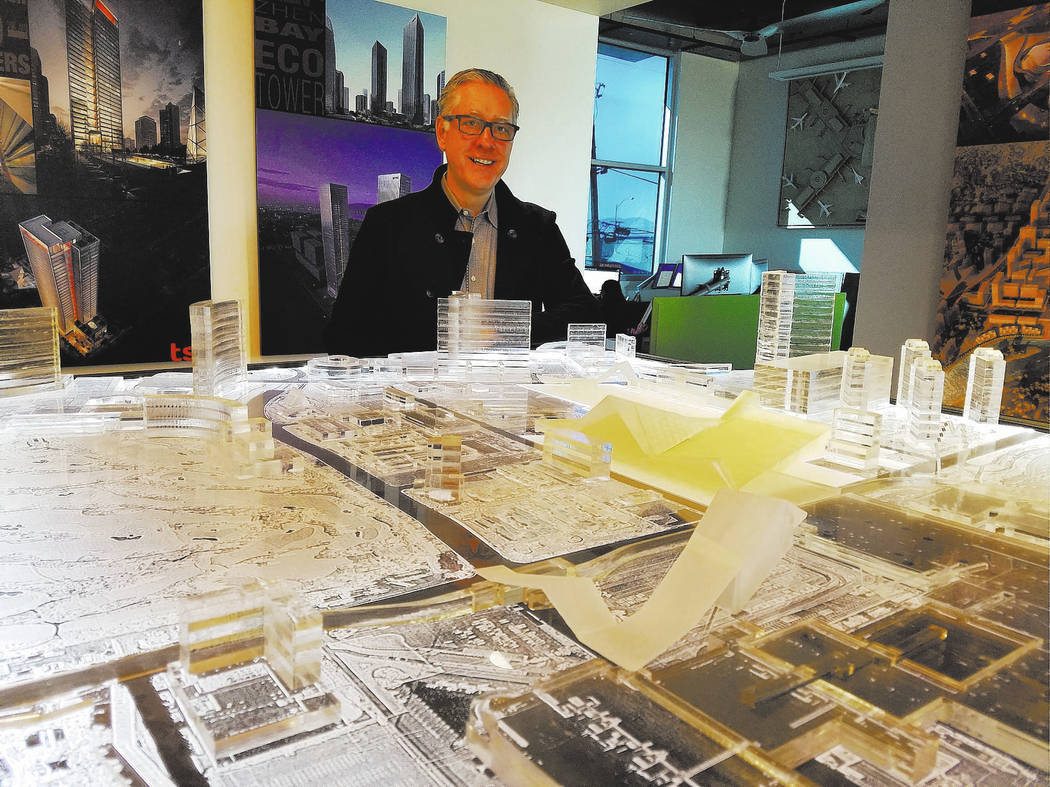 The Las Vegas Convention Center's 600,000-square-foot exhibition hall that opens in 2021 will feature iconic Las Vegas imagery, a broad welcoming entrance and a rooftop terrace for gatherings.
Robert Svedberg, principal for Atlanta-based TVS Design, which is heading a team of architects and designers known as Design Las Vegas, on Monday gave a Las Vegas Convention and Visitors Authority committee and an oversight committee supporting the $860 million expansion an early look at the schematic design phase of the project, which is about half-completed.
While the early designs aren't finished, Svedberg felt they were far enough along to give the Las Vegas Convention Center District Committee and the Oversight Panel for Convention Facilities in Clark County an idea of what's being planned.
The main entrance off Convention Center Drive will be highlighted by a broad entry with an atrium and a food court with upstairs access to meeting rooms and the rooftop terrace to the northwest and the exhibition hall to the northeast.
The new exhibition hall, to be built on land currently used as the Gold and Diamond parking lots, will extend at an angle from Convention Center Drive to Elvis Presley Boulevard with pedestrian access toward Las Vegas Boulevard.
Once designers get into the renovation of the four existing exhibition halls, architects are planning a roofline ribbon design that will serve as a wayfinding system and identify main entrances to the halls with similar broad entryways.
The interior of the new building will be dotted with Las Vegas imagery and neon tributes.
The design is being created with function, technology and a sense of place as key drivers, Svedberg said. Design teams have toured buildings in Atlanta; Nashville, Tennessee; and China for ideas and have met with LVCVA staff members, building partners, event contractors and 22 customer groups to refine their ideas.
People mover
Designers are accounting for the future installation of an unbudgeted outdoor people mover that would transport convention guests to exhibition halls on the vast campus, Svedberg said.
The LVCVA board of directors was expected to get a similar presentation from Svedberg on Tuesday.
Earlier in Monday's meeting, the two advisory groups voted unanimously to recommend that top LVCVA executives be allowed to sign off on contracts of up to $1 million on "soft cost" contracts for the project.
CEO Rossi Ralenkotter currently has authority to sign off on contracts of up to $100,000 but must get board permission for any amount larger than that.
Under a plan reviewed Monday, Ralenkotter and President and Chief Operating Officer Steve Hill would be able to approve contracts of up to $1 million on contracts associated with the project.
Project leaders are concerned that the inability of top executives to sign off on larger contract amounts could result in project delays, given that it takes several days to schedule special meetings of the board.
The board envisions Ralenkotter and Hill making decisions on paying for "soft costs" — payments for architectural, engineering and management fees, insurance and geotechnical reports.
Soft-costs budget
The expansion has a $142.8 million soft-cost budget, $82.6 million of which has been committed to the project. The last $60.2 million would involve a geotechnical report and architectural, engineering and management fees.
After reviewing the matter, the two boards recommended adding the sign-off of a third executive — Chief Financial Officer Ed Finger — on any contract up to $1 million, and the proposal is expected to be considered at Tuesday's LVCVA board meeting.
The new hall is on a tight construction timeline; executives have promised it will be completed in time for the 2021 CES show. Completion of that hall would enable a phased renovation of four other halls over two years that would enable Las Vegas to continue to host major trade shows without interruption.
Contact Richard N. Velotta at rvelotta@reviewjournal.com or 702-477-3893. Follow @RickVelotta on Twitter.
Design Las Vegas
TVS Design is working with a team of four Las Vegas designers and architects.
The companies are TSK Architects, Simpson Coulter Studio, Carpenter Sellers Del Gatto Architects and KME Architects.