Las Vegas couple's pet shop provides healthy food and treats for pups
September 14, 2016 - 10:50 am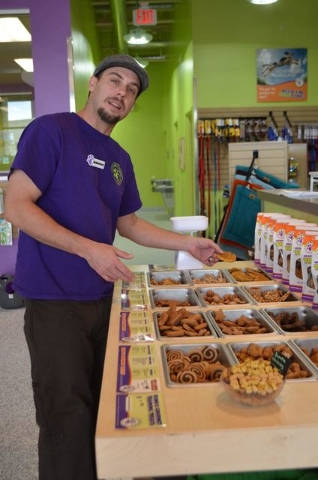 Jeremiah Richardson and Christie McLean have made it their mission to spare other pet parents the pain they've gone through.
Much of the Southwest-area couple's business at Wag N' Wash Natural Food & Bakery, 7060 S. Durango Drive, is dedicated to animal nutrition. And every day, they dispense knowledge they wish they knew before losing their dog Bruno in 2014.
"Bruno was our whole world," Richardson said. "We had him for 12½ years. We had to put him down due to pancreatitis."
The condition — common in table scrap-loving dogs who have diets high in fat — doesn't usually manifest itself until the animal is vomiting and in pain.
Richardson and McLean fought to save Bruno's life. When he stopped eating, they fed him boiled and blended chicken and rice with a syringe day and night until they were ready to accept that he wasn't going to make it.
"For us, it was very traumatic," Richardson said. "We learned a lot through our vet as we were going through it."
The couple decided to open a pet supply store dedicated to good nutrition and solutions-based retail.
Richardson and McLean signed on as franchise partners with Wag N' Wash, a national chain founded in Colorado in 1999. They considered going at it alone but realized they would get better access to factory-direct products and training with a national partner. Richardson said Wag N' Wash's corporate team tours every pet food factory to ensure product quality, and they offer enough variety to meet customer needs.
Richardson said most pet owners want to feed their pets a healthy diet, but many face hurdles.
"Pet parents often fall into two categories when it comes to nutrition. Either they don't know — they're uneducated about it, or they're tied economically and can't afford to feed a better diet," he said. "Part of what we do — part of Wag N' Wash's commitment to the community — is to bring in a variety of healthy nutritional foods that people will be able to choose from. Even at a lower price point, the food is a better quality than a lot of the stuff out there that people are feeding from the grocery store."
Richardson said food sold at Wag N' Wash is corn free, wheat free, soy free, byproduct free, chemical preservative free and filler free.
So what's in it?
"All wholesome ingredients," McLean said.
"When we're talking to pet parents about the food they feed, the first thing we want to do is look at the ingredient panel. We're huge on that," Richardson said, pulling a bag off the shelf to demonstrate. " … You've got boneless salmon, salmon meal, herring meal, whitefish meal and then green peas, red lentils and boneless flounder. So, you've got a lot of quality whole product in this bag here. No fillers. There's no cellulose; there's no starch binders — there's no artificial preservatives in there."
Richardson said they also like to talk to pet owners about how much food they're buying.
"It's not like the food is going to spoil, but it's going to go stale," he said. " It's like a stale bag of chips. You don't want that. Palatability goes down."
Richardson said people panic and think their dog hates its food or may be ill. Before rushing to the vet, he recommends owners consider food freshness and only buy what they need to last four to six weeks.
The shop includes more than just "needs." There are plenty of "wants," too.
A bakery and deli case is packed with freshly baked peanut butter pies, apple cinnamon rolls, canine cookies, puppy pizza and more. Wag N' Wash's dog meatballs, with reduced salt and sugar, are healthier than most headed for human plates. Plus, Richardson points out that the "cheese" on top is actually coconut.
"Dogs can have a bit of cheese, but they're lactose intolerant, generally speaking," he said. "Dogs love coconut, and coconut oil is really good for them."
With a few days' notice, dogs can also dive into customized cakes topped with tapioca frosting.
Then there's the bar filled with rawhides, elk antlers and more.
The shop also sells a variety of innovations perfect for Las Vegas' harsh sun. Light-up leashes and collars help pet owners who walk at night. Cooling vests can be soaked with water so they can cool pets as the water evaporates. And a full line of paw socks protects tender puppy feet from scorching pavement.
"A lot of people are like, 'My dogs will never do it; they'll never wear them,' " Richardson said. "If you can put them on your dog, and then take your dog for a walk immediately, they're going to be distracted and forget that they're even on. A lot of the products that we bring in come with a conversation."
That conversation extends to the self-wash section. A wash attendant is on hand to guide customers as they wash their dog in one of six stainless steel tubs. The Bathmaster washing system mixes soap and water in a massaging foam that gets beneath fur and down to Rover's skin. Customers choose soaps and conditioners. Drying stations in the back complete the experience.
"You can come in here, wash them and leave the mess; we'll take care of the rest," Richardson said. "Full grooming services are also offered."
"And we're not a production facility, either, so your pet stays with the same person from start to finish," McLean added.
Other than a four-year stint in Alaska where McLean studied geography and geology and Richardson worked in the gold mines, the Wag N' Wash owners have spent their lives in Las Vegas. He went to Bonanza and Western high schools. She went to Durango.
Richardson knows their new business isn't bound to be a gold mine any time soon, but they're committed.
"This is our day job," he said. "We're all-in."
Call 702-650-3663 or visit wagnwash.com.
Contact View contributing reporter Ginger Meurer at gmeurer@viewnews.com. Find her on Twitter: @gingermmm.
Wag N' Wash Natural Food & Bakery
Address: 7060 S. Durango Drive
Hours: Daily, 9 a.m. to 8 p.m.
Information: Call 702-650-3663 or visit wagnwash.com.