Las Vegas employment rate reaches new high
Updated June 19, 2018 - 10:01 pm
The Las Vegas area has passed an employment milestone.
The 2,200 seasonally adjusted jobs added during May put total employment at about 1 million, the Nevada Department of Employment, Training and Rehabilitation reported Tuesday.
The Las Vegas area saw a 2.9 percent increase in employment from a year earlier, about the same as Nevada. Small businesses are responsible for half of local employment.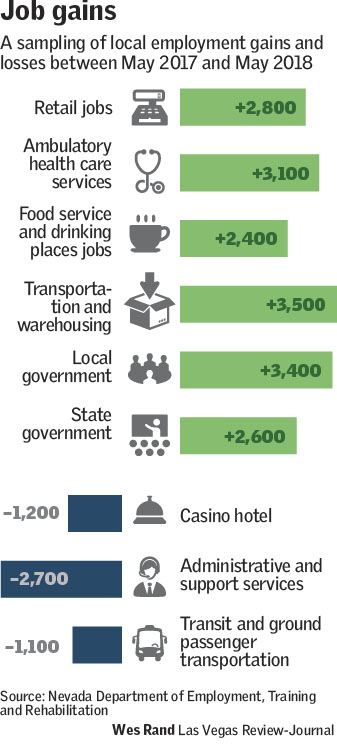 "The latest job market performance is nothing short of impressive," said Brian Gordon, principal at local research firm Applied Analysis.
About 200,000 jobs were added locally since September 2010.
Job gains in a variety of fields is the best news from the state report, Gordon said. Construction accounted for 14 percent of new jobs and represented 6 percent of positions valleywide, half the share a decade ago.
This reflects more diversity in the jobs available, Gordon said. "Maintaining a diversified balance in terms of new jobs will be important for the economic profile of the community."
However, 30 percent of the area's jobs still center on hospitality, suggesting more diversity is needed, said Michael PeQueen, partner at wealth management firm HighTower Las Vegas.
About 1.1 million people in the valley are considered part of the labor force, which excludes children, the elderly and people with disabilities who can't work.
In the metropolitan area, unemployment is at 4.4 percent, or 48,200 people, the lowest rate since March 2007. The rate was at 5.2 percent this time last year.
PeQueen said he wonders how much lower unemployment can go and what effect the rate will have on wage growth and, ultimately, inflation. Outside influences that could hurt local employment include interest rate increases to curb national inflation, an international trade dispute and higher energy prices shrinking tourists' travel budgets.
"It is possible that we could see Nevada's unemployment rate fall below 4 percent, as it has at the national level," PeQueen said, "which would likely lead to competition for workers and result in higher wages."
Reno and Carson City, meanwhile, reported 100 new jobs each for May. Reno's unemployment is at 3.3 percent. Carson City is at 4.2 percent.
Clark County posted an average weekly wage of $938, below Carson City's $1,000 and Washoe County's $969.
The Clark County average weekly wage grew 3.3 percent from a year earlier.
Contact Wade Tyler Millward at 702-383-4602 or wmillward@reviewjournal.com. Follow @wademillward on Twitter.
Local employment gains between May and May of 2017 include:
— 2,800 retail jobs
— 3,100 ambulatory healthcare services jobs
— 2,400 food service and drinking places jobs
— 3,500 transportation and warehousing jobs
— 3,400 local government jobs
— 2,600 state government jobs.
Local employment losses between May and May of 2017 include:
— 1,200 casino hotel jobs
— 2,700 administrative and support services jobs
— 1,100 transit and ground passenger transportation jobs