Las Vegas Events has offer to extend NFR past 2014
December 9, 2013 - 1:01 pm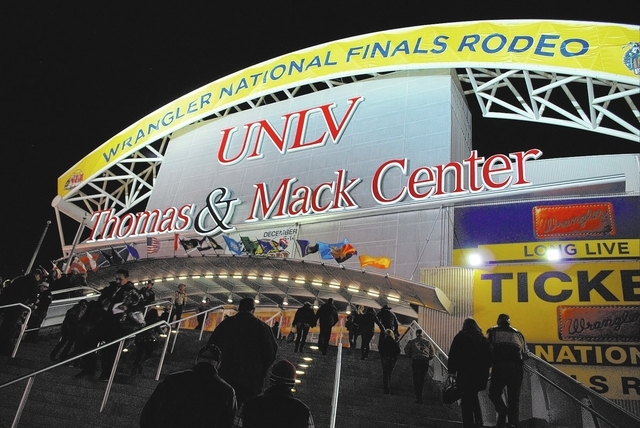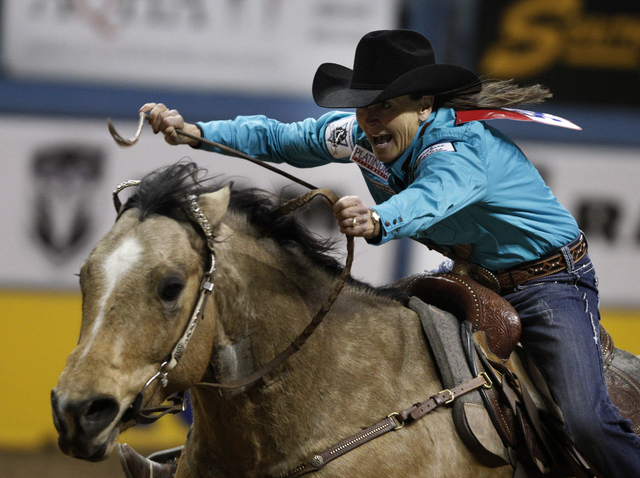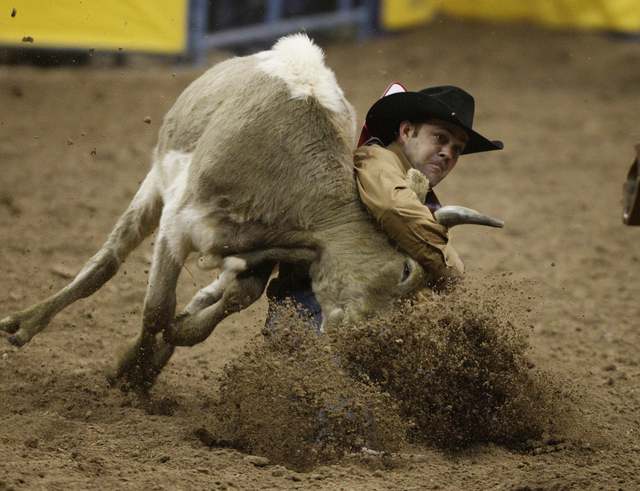 Las Vegas Events, the nonprofit organization marketing and promoting the popular National Finals Rodeo, has an offer on the table with the Professional Rodeo Cowboys Association to keep the prized event in Las Vegas beyond 2014.
Las Vegas Events President Pat Christenson said the offer includes a $15 million commitment, covering everything from year-round marketing/promotions, event production and hotel accommodations for contestants to leasing a venue, providing Cowboy Christmas/Fanfest and free transportation for arena spectators for the 10-day Super Bowl of rodeos.
Las Vegas Events and the Professional Rodeo Cowboys Association last extended their partnership in 2007, Christenson said. Under the current deal, 2014 is the last year of the extension. The NFR, which has been in Las Vegas for 29 years, has attendance of 175,000 at UNLV's Thomas & Mack Center, which is sold out during the rodeo run.
"The offer we made to them is higher than what they are getting now," Christenson told the Review-Journal Monday. "It's not that we're saying, 'Re-up for what you're getting in the past.' We're waiting for the PRCA to vote and accept it. The ball is in their court."
A spokesman for the Colorado Springs, Colo.-based Professional Rodeo Cowboys Association said discussions are ongoing between the two sides.
"We're still in negotiations," said Jim Bainbridge, PRCA senior public relations coordinator. He declined further comment.
There's a chance that PRCA Commissioner Karl Stressman might address the topic at his annual NFR press conference Tuesday.
The Las Vegas Events offer was made amid talk that Dallas and Oklahoma City would like to lure the event from Las Vegas. But Christenson said it would be difficult for any other city to match Las Vegas' offer.
"A lot of cities would like this event," Christenson said.
"But another city would have to start from scratch without the infrastructure that we provide with Fanfest, Cowboy Christmas, sponsorships from 40 hotels," he said. "We have customized this experience in Las Vegas. The demand of the ticket has grown from not only the NFR competition (at Thomas & Mack Center), but there's an overall western and country lifestyle experience that we have here."
Christenson noted there are 16,000 season tickets sold for this event — and another 10,000 on a waiting list.
The proposed deal also allows for both sides to consider using the new 20,000-seat arena being built by MGM Resorts and AEG on the Strip for the NFR, Christenson said. The new arena, slated to be built behind the New York New York resort-casino, is scheduled to open in 2016.
"The new MGM arena is a potential (venue). We got to listen to what MGM has. Both venues (Thomas & Mack Center and MGM's arena) have to considered as a future home of the NFR," Christenson said.
Alan Snel can be reached at asnel@reviewjournal.com or 702-387-5273. Follow Snel on Twitter at @BicycleManSnel.