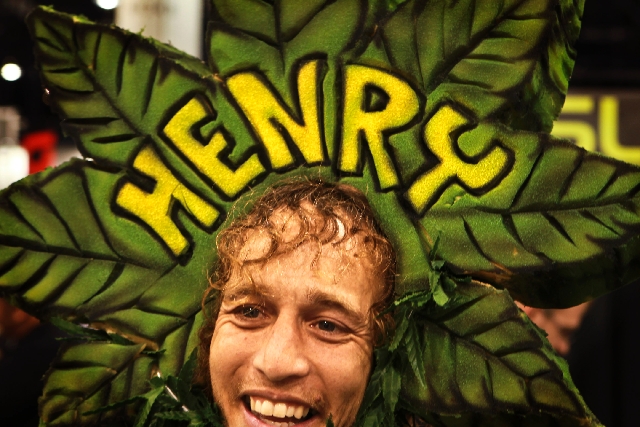 Just next to the huge MAGIC apparel show in the North Hall of the Las Vegas Convention Center, there's a small expo targeted at a very niche audience.
From Wednesday to Friday, smells of Nag Champa incense permeated the 210,000-square-foot space, while water pipes, electronic cigarettes and rolling papers were pervasive. Tattooed masses walked among the 540 exhibitors, while others watched glassblowers — including Adam Villareal wearing a Superman T-shirt and red cape — create new pieces.
Champs Tradeshows bills itself as the "premier counterculture B2B expo since 1999." President and majority shareholder Jeff Hirschfeld hosts the show twice yearly in Las Vegas, and once annually in both Atlantic City and Denver.
Champs has been coming to Las Vegas since 1999, when it first took over 7,000 square feet in the Gold Coast's convention area with 34 booths. This year, about 4,000 buyers registered to attend Champs, and overall show sales were up 30 percent over 2012.
Hirschfeld said that perhaps more so than ever, things are looking up for his industry. With states beginning to legalize marijuana, businesses targeting smokers have been booming.
"Eventually, we feel more states will legalize. And once you legalize, that brings more people in it and more people have ideas," Hirschfeld said.
One aspect new to Champs this year was the artisan section, with products designed to attract a woman's eye. The area was filled with colorful bags from India, glass-blown jewelry, artwork and leather goods.
"In the smoke shop industry they're basically catering to males, 18-40. They don't really capture the female market as well as they could be," Hirschfeld said.
Also different this year was the variety of retail shops coming to Champs. The show producer said a larger variety of retail outlets — not just head shops — are coming to Champs and purchasing more items than in the past.
"Ten or 15 years ago they would never dream of putting us in but now they're putting in some of the more mainstream items from here," Hirschfeld said.
Perhaps one of the items that could easily be carried in a boutique is the glow-in-the-dark, colored contact lenses offered by UGW-Express, a distributor of Color Vue lenses.
"We have a lot of traffic and I've been surprised that we have a lot of international orders," said Moe Alshammari, who was working at the booth.
"This is the first time we have orders from the outside and it's because the MAGIC show is bringing people over here."
Down the way, Landon Long was peddling his Vapor Penz electronic cigarettes.
"Unfortunately the market is flooded with a lot of different stuff," said Long, the company president and CEO.
To help his company stand out, Long said he focuses on creating a quality product with more upscale packaging than you would perhaps see with other brands. Vapor Penz comes in sleek black, with a touch of mint green detailing here or a touch of cherry red there.
This was the first time Vapor Penz has come to Las Vegas, and Long said so far Champs has been good to the brand: "We're seeing a solid mix of qualified buyers, not just looky-loos looking for samples."
Longtime exhibitor Nathan Albright, who owns Phoenix-based Desert Distribution, agreed that people came out to buy this week. Albright's company manufactures hand-blown glass water pipes, ranging from 12 to 24 inches.
"I've actually sold quite a bit today," he said. "A lot of people have placed orders. Champs always does a good job."
Desert Distribution's overall sales for 2013 thus far look better than 2012, which Albright described as "rough."
Contact reporter Laura Carroll at lcarroll@reviewjournal.com or 702-380-4588. Follow @lscvegas on Twitter.