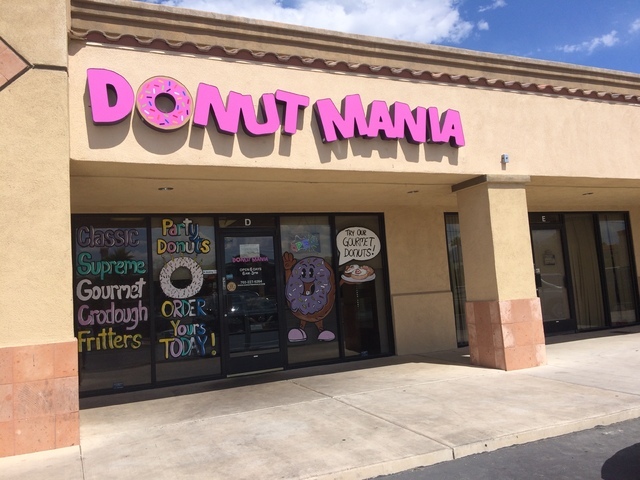 Step through the door, and take a whiff — that's when all good intentions and thoughts of counting calories go out the door. Welcome to Donut Mania.
The shop at 4460 S. Durango Drive, which opened in February 2015, is dominated by display cases. To say the shop is tiny is an understatement: There's not even room for a table to sit and sip your coffee. But with doughnuts like these, who cares?
Donut Mania is the brainchild of Wayne Linsk, who has been a scratch baker for more than 30 years. He worked for a supermarket chain and independent markets, setting up and running their bakeries. When he left, he said he took his recipes — he pointed to his head — with him.
The business has gained such a following that the family opened a second location in Henderson at 725 S. Green Valley Parkway this year. It has perfect placement, Linsk said.
"That one is in between a dentist office and a fitness place," he said. "And they're going to open a Starbucks nearby soon."
Local residents attest to its ability to produce doughnuts worth regular patronage.
"They use quality ingredients, they're always fresh, and they're delicious," patron LaDon McPike said. "They're the best doughnuts in town."
He said he found it while driving by and, being a "fan of doughnuts," decided to give it a try. A Marine for 23 years, he now volunteers to help the homeless and takes them extra doughnuts if the shop doesn't sell out.
The Linsk family hails from Philadelphia and arrived in Las Vegas in 2004. They followed Wayne's parents, who moved to Las Vegas in the 1980s. He has been making doughnuts since he was a young man, working at one supermarket or another, always in charge of the bakery.
"I remember being at the swim club at the community pool, and whenever he'd get off work, he would always bring cookies or chocolate chip muffins or whatever, and we would devour them," said Wayne's son, Steve. "And on birthdays, having access to him and going, 'This is what I want on my cake,' and he could create it the way you wanted."
Steve recalled being child of 10 or 11 on summer break and waking up at 4:30 a.m. to go into the supermarket bakery with his father. His job was to help bag cookies and breads and ice the cakes. Now, he helps make doughnuts at the shop east of Summerlin.
Wayne said he had the vision for his own doughnut shop years ago but never got around to doing it. Then he decided it was time to "stop setting up bakeries for everybody else" and start doing it for his own family. He found a partner, but things never got off the ground.
"So I found this place, and they ended up doing it with their family instead, and I didn't want to do that," he said, adding that he didn't want to name names. "I thought it was going to be me and this other person. It didn't work out. So, instead of doing it with their family, I did it with my family. We all sat down and worked it out, and this is what we came up with."
The family — Steve, 27, is the middle child and a ramp worker for Southwest Airlines; Tyler, 16, attends Palo Verde High School; Jennifer, 33, is a nurse at Summerlin Hospital; and wife, Joy, helps as she can but has a day job as a billing clerk — was on board with the proposition immediately, and each one contributed funds to get it started.
"Knowing what he was capable of, it sounded like something that we could make happen," Steve said of his father.
In addition to the two current locations, Wayne Linsk said he hopes to open a Donut Mania in Summerlin or the northwest valley. "Right now, we're content with the two," he added.
The shop's top-seller is a strawberry cream doughnut, followed by banana cream and then the Nevadan, a custard-filled doughnut with toasted coconut and maple icing.
Another favorite with patrons is The Samoa, made like the Girl Scout Cookie with hard chocolate on the bottom and dulce de leche on top.
"This is something I've always wanted to do," Wayne said. "I just couldn't financially do it at the time. Then we found this place and worked out a great deal, and here we are today. "They're things that I used to do in the baking business — cakes, muffins, all that. If you go to the (supermarkets) now, it's totally different from when I was there. They're bringing a lot of frozen in. They're not from scratch."
Being his own boss means Wayne now wears multiple hats. He lost a baker a couple of months ago, so guess who came in at 3:30 a.m. to make the doughnuts?
Items are made in the southwest location then taken to the Henderson store for "finishing," which means adding icing and decorating.
"I want consistency in the dough," Wayne said on why everything is baked in one place. "I give extra toppings. It's all eye appeal. So, when you see my doughnut versus someone else's, it's eye appeal."
Tyler said he comes in after school for a couple of hours each week. What has he learned? "There's a bunch of stuff that happens (behind the scenes) that you don't realize unless you're part of the business," he said.
Wayne, 56, is looking forward to retirement. Once two more storefronts are open, he said, "then I can sit back on a beach in Hawaii. Maybe in five years. That's my goal. I'll still be the owner, but I'll let the kids run it."
Summer hours are from 6 a.m. to 3 p.m. (or when they sell out) Tuesday through Sunday. Visit donutmanialv.com.
To reach Summerlin Area View reporter Jan Hogan, email jhogan@viewnews.com or call 702-387-2949.
Donut Mania
Address: 4460 S. Durango Drive (702-227-6264); 725 S. Green Valley Parkway in Henderson (702-260-6434).
Hours: Summer hours are from 6 a.m. to 3 p.m. (or when they sell out) Tuesday through Sunday.
Visit donutmanialv.com.