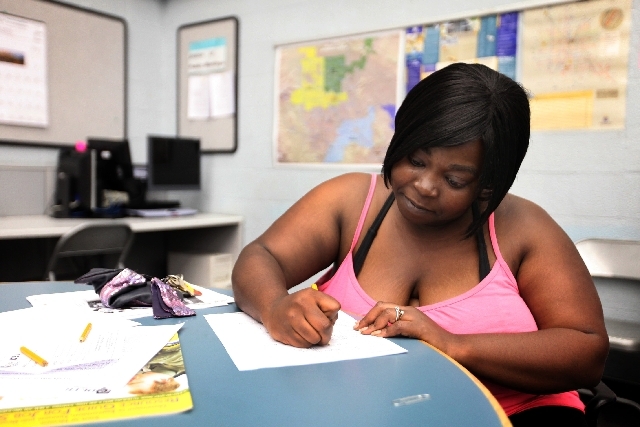 Nevada and Las Vegas went from labor pains to labor gains in April, as the work force grew and unemployment fell.
Those twin trends may not stay in lockstep, though. As job markets improve, the trickle of people back into the labor pool could turn into a flood, and that could keep state jobless rates above national averages at least into 2015, economists said Thursday.
"When the labor market really starts improving, people return to the labor force," said Steve Brown, director of the Center for Business and Economic Research at the University of Nevada, Las Vegas. "So even as we add jobs, the unemployment number could be a little sticky coming down."
Start with those new workers. From March to April, the Las Vegas labor pool grew by 1,200 people, to 993,600 workers, the state Department of Employment, Training and Rehabilitation said in its Thursday jobs report. It was the fourth straight month-to-month gain, and a huge swing from April 2011, when 14,000 locals fled the labor market. Statewide, 1,800 people joined the work force in April, for a total of 1.38 million.
Bill Anderson, chief economist with the employment department, said the expanding labor pool "might be a positive signal that job seekers are becoming a bit more confident about their prospects."
That hope comes amid modest job growth. Nevada's employers expanded their jobs base by 2.2 percent year-over-year in April, about half a point higher than the national average and better than most other states, Anderson said. The Silver State added 22,700 jobs year-to-year, and 5,600 positions from March to April, more than enough to offset new job seekers.
That's why unemployment fell in April. Nevada's rate slid to 9.6 percent, down from 9.7 percent in March and 11.5 percent in April 2012. Joblessness in Las Vegas also came in at 9.6 percent, compared with 9.8 percent in March and 11.3 percent a year earlier.
In all, 132,400 Nevadans, including 94,900 Las Vegans, were out of work and looking in April, down 27,000 from a year ago.
Nearly every major sector added jobs statewide, spurred in part by improved consumer spending. Leisure and hospitality grew the most, with about 9,000 new jobs year-to-year. Trade, transportation and utilities, including retail, added more than 5,000 positions. And construction ranked third for jobs created, at roughly 3,000 positions. Still, the state has restored just 24 percent of the jobs it lost in the recession, compared with 54.9 percent across the Mountain region, the employment department said. Construction in particular is well off of its highs, dropping from nearly 150,000 workers in 2006 to about 50,000 today.
"Gaining back some of the ground we lost in the latest recessionary cycle continues to be a slow and methodical process," said Brian Gordon, a principal in local research firm Applied Analysis.
The latest jobs report also said the Silver State still faces plenty of obstacles on the road to recovery, including a nation-leading ratio of underwater homes. More than half of Nevadans owed more on their home in the fourth quarter than it was worth, according to real estate research firm CoreLogic. Plus, if you include discouraged workers who have quit looking for jobs and underemployed part-timers who would rather work full-time, the statewide jobless rate averaged 19.6 percent in the first quarter. At the recession's depths, that rate was 23.1 percent.
That slow downward slog in joblessness has observers predicting above-average state and local unemployment for several quarters to come, especially if more of those discouraged workers return to the labor force to find jobs.
The employment department forecast 23,000 new jobs in 2013, for 2.1 percent growth. As long as the national economy sustains its current "modest" expansion, annual statewide job increases should rise to 30,000 or more in 2014 and in 2015, Anderson said. On a jobs base of 1.13 million, those numbers would push unemployment down to 8 percent by early 2015.
Beyond 2015, don't expect another boom, Anderson said. Rather, look for Nevada to add jobs a little more quickly than the rest of the country, with a small dip in expansion here and there.
"A decade down the road, if we take a look back, I think we'll find we grew at an above-average pace," Anderson said.
Nationally, joblessness was at 7.5 percent in April. Nevada has led the nation for joblessness in virtually every month since May 2010.
Contact reporter Jennifer Robison at jrobison@reviewjournal.com or 702-380-4512. Follow @J_Robison1 on Twitter.