Las Vegas one of tougher cellphone markets to design, expert says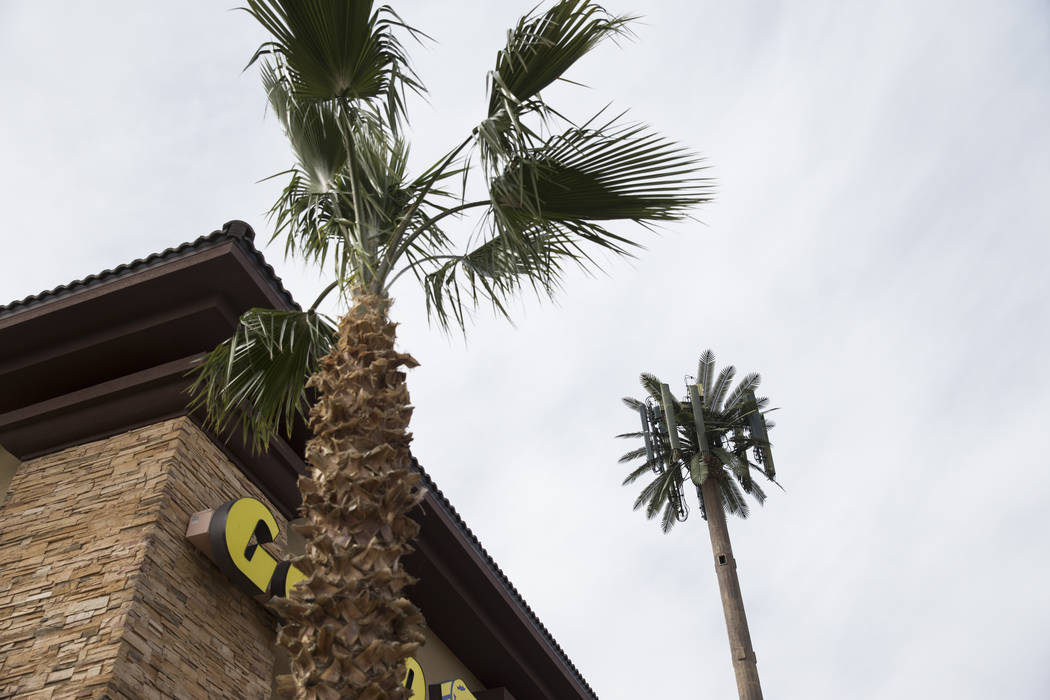 People who use cellphones indoors pose problems for cellphone companies and tower builders.
The change came with 4G technology going mainstream, said Billy Zarn Jr., a Phoenix-based business development director for network infrastructure provider SAC Wireless.
Twenty years ago, a majority of cellphone calls started from outdoors. Companies prioritized cell towers to cover phone calls made at street level rather than inside buildings.
The race to the next generation of cellphone technology, 5G, will help with voice calls with the addition of more cell sites, he said.
In 2016, Clark County handled 230 requests for new cell sites small enough to go on existing street poles. There were 84 requests for new small cell sites from 2006 to 2015.
Buildings made of brick and cinder block are the toughest for the radiowaves responsible for phone calls to penetrate, said Sina Khanifar, OpenSignal co-founder and CEO of Laguna Hills, California-based RepeaterStore.
Certain window glass coatings, made in part with metal, are environmentally friendly for keeping heat trapped inside a building.
But they have the negative side effect of making a tough barrier for people making calls while inside the building, said Khanifar, who said he's consulted with apartment complexes and commercial building owners in the Las Vegas area.
Owners of buildings housing multiple people need to consider cell site distribution as a utility, like distributing water and power, he said.
On the Strip, crowds of people are not the challenge for improving cell phone coverage, Zarn said. The lights, the digital signs, the New York-New York roller coaster — all these and more create obstacles for the waves carrying outgoing and incoming calls. This causes dropped or poor-quality calls while customers are on the move.
Zarn put Las Vegas on par with the hilly streets of San Francisco and downtown New York in difficulty for radio frequency.
"Vegas is one of the harder markets for an RF engineer to design for," Zarn said. "Especially down on the Strip."
"The unfortunate part is: You can't see an RF wave," he continued. "You can only utilize propagation software to predict what the coverage looks like and how it behaves in a given environment."
Contact Wade Tyler Millward at (702) 383-4602 or wmillward @reviewjournal.com. Follow @wademillward on Twitter