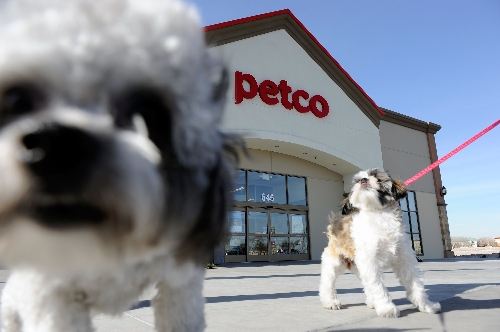 Petco and Staples opened in the Green Valley Crossing shopping center and Winco Foods is about to open two new grocery stores in the Las Vegas Valley, suggesting an upturn in the retail market that could extend to three consecutive quarters.
Vacancy rates for Las Vegas' 44 million square feet of retail space fell to 11.7 percent in the fourth quarter, down from a high of 11.9 percent in the previous two quarters, but up from 10.9 percent a year ago, brokerage Colliers International reported.
The encouraging news is that the valley is seeing positive net absorption, or more retail space being occupied than vacated, Colliers researcher John Stater said Wednesday. Net absorption was 119,287 square feet in the fourth quarter.
"There's still customers to be had here," Stater said. "Population is still growing. In the case of Winco, they don't have a presence here and they wanted to expand their operations into Las Vegas. We're going to get some new companies, up-and-coming companies that weathered the storm."
Burger King, Dollar General, Steak 'n Shake, Chase Bank, Firehouse Subs and Pita Pit are all expanding in Las Vegas. Chili's has closed restaurants, but that's attributed to a heavy debt load, not poor business, Stater said.
Asking rents fell to $1.38 a square foot in the fourth quarter, down 3 cents from the previous quarter and 16 cents cheaper than a year ago. The North Las Vegas sub-market saw the steepest drop of 19 cents a square foot, while downtown rents decreased 17 cents. Retailers in the southwest market pay an average of 7 cents more.
There are so many empty storefronts around the valley because most retail tenants are looking at rents of $1 a square foot, and if they can't get it from their current landlords, they'll go somewhere else, said Kevin Jacobson of KW Commercial in Las Vegas.
"I know an owner in Green Valley that was getting $2.35 a square foot, and now the tenant wants $1 a (square) foot. Sometimes the owner is not in a position to renegotiate to $1. "It's a challenging time for commercial property owners," he said.
Companies with a good business plan can find affordable startup or expansion space in Las Vegas, Stater said. Values have been reset, so investors and end-users are buying retail properties at distressed prices, he said.
Distressed sales of lender-owned properties leveled off in 2011, but Stater said he expects an increase this year.
"I'm hearing that a lot of notes are coming due in 2012, so there's going to be another surge of foreclosure sales," he said.
Distressed retail space totaled 4.2 million square-feet in the fourth quarter, a modest decline from the previous and year-ago quarters. Stater counted 18 distressed retail properties totaling 1.53 million square feet that sold for an average of 90 cents a square foot in 2011.
Ron Opfer of Coldwell Banker Premier Realty said most of his commercial real estate deals are lender-owned or distressed assets.
"That's because the value of commercial property has dropped so much since 2007, that unless you paid cash for your commercial investment, you can't sell the commercial property because the note against the property is worth more than the property itself," he said. "Buyers want deals, and deals come from distressed and bank-owned properties more often than private individuals."
Contact reporter Hubble Smith at hsmith@reviewjournal.com or 702-383-0491.