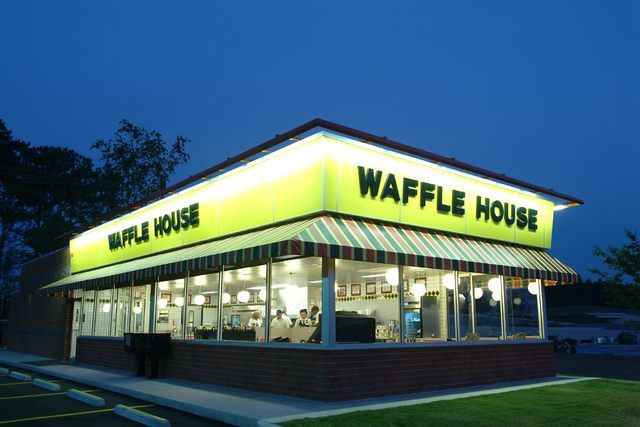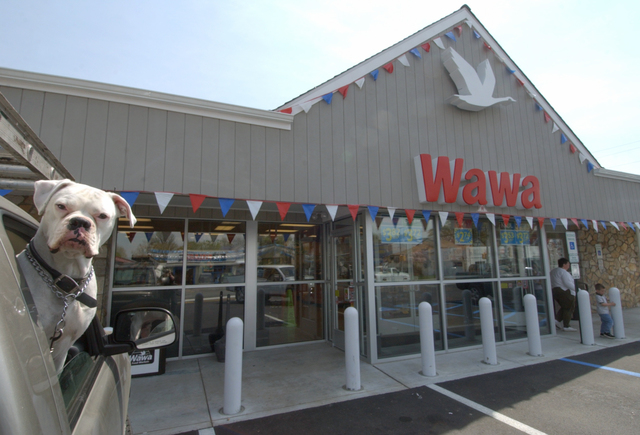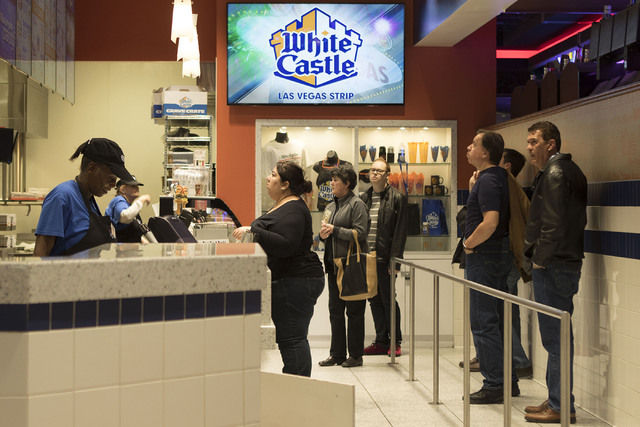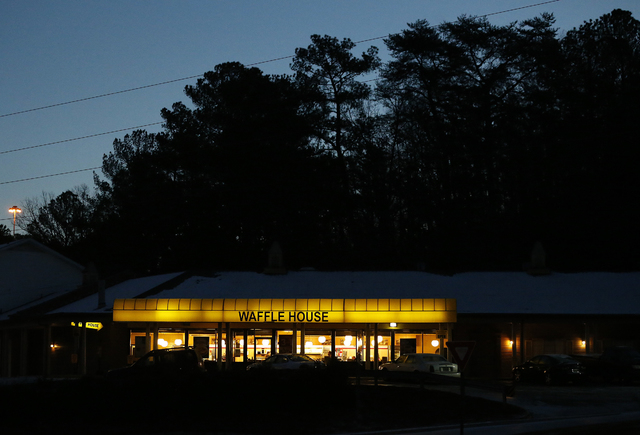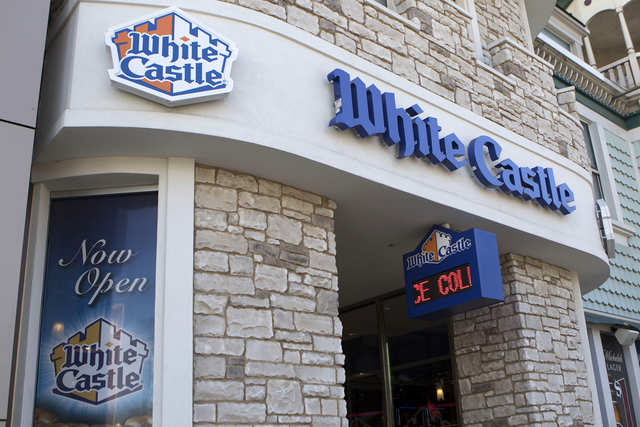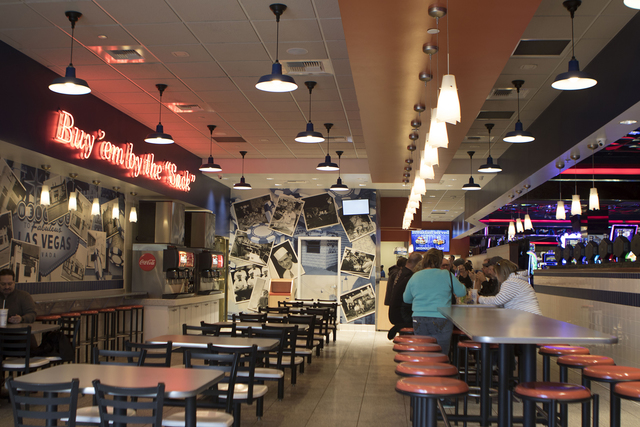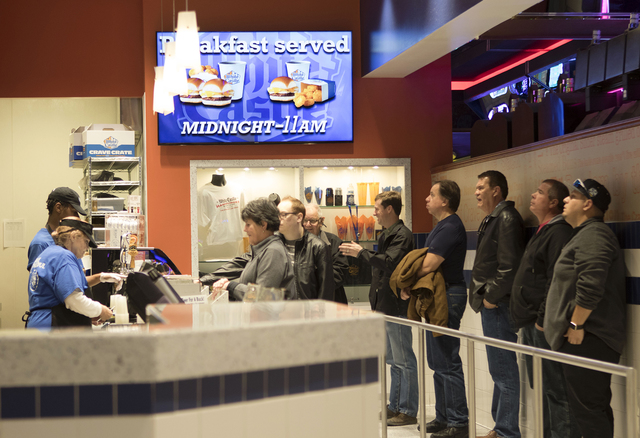 When he and his mom moved to Las Vegas about 17 years ago, a younger George Milligan lost one of his favorite restaurants: the burger chain White Castle.
He and his mom went regularly back in Long Island. She'd buy a 10-burger special with and a side of chicken rings for Milligan.
"I would beg my mom to take me there," said Milligan, a 24-year-old events promoter in the valley.
Milligan finally got a local taste of White Castle in January 2015, when the chain made a rare leap westward from its traditional markets in the Midwest and Mid-Atlantic.
On Thursday, locals and visitors familiar with the Chick-fil-A brand of chicken fast-food restaurants, concentrated in the Southeast and Mid-Atlantic, lined up for the chain's southern Nevada debut.
And still, Las Vegas has room for new retail and restaurant brands. Sticking with fast-food brands, the closest Waffle House locations to the valley are in Phoenix and Denver.
The Georgia-based chain of 24-hour diners has its largest concentration in the Southeast and would make sense in a 24-hour city like Las Vegas, Waffle House vice president of culture Pat Warner said.
However, he said the privately held company does not discuss growth plans and could not say whether the valley is on the company's list for future expansion.
For Waffle House, it's not simple enough to say the chain has 25 states to go in the country, Warner said. The company has found success in small footprints, filling in available pockets in areas where a Waffle House already exists.
"We're not looking to conquer the world," he said.
After about 17 years with the company, demand for Waffle House in new locations has become more apparent in posts aimed at the company on social media websites. Las Vegas is a regular mention in tweets to the company, Warner said.
Waffle House's brand loyalty comes from a combination of longevity and repeated quality, he said. Founded in 1955, the business has lasted long enough now so that customers today who bring their children to a location are repeating what their parents did when that customer was a child. That customer's children, Waffle House hopes, will continue the family tradition.
The brand even has loyalty among people who didn't grow up with Waffle House. A strong presence as an Interstate 95 road stop has ensured that travelers to the Eastern half of the country will encounter a location. At that point, the hope is the food quality and convenient hours makes that patron into a loyal customer, Warner said.
Last spring, Warner and his team headed to New York for a Waffle House-related segment TV show host Stephen Colbert did on "The Late Show."
Even surrounded by the offerings in Times Square, passers-by would still ask his team when they'd get a local Waffle House. The experience was eye-opening, Warner said.
"We're flattered that people love our brand that much," he said.
When a retailer does its homework on branching into a new market, it will take five factors into consideration, said Jeff Mitchell of Virtus Commercial.
The retailer will ask:
■ How easily can we deliver products to this new market and manage the local workforce?
■ Will this new market like our product?
■ What are the demographics in terms of density and incomes?
■ Do we have enough money to risk this expansion?
■ What competitors will we face?
The tourists of Las Vegas can make the valley feel like a safer bet for a retailer looking for a new market. The retailer at that point is catering to people who already are repeat customers while giving the brand face time with a new group of customers among locals and any visitors from the opposite coast.
"It can be misleading," Mitchell said. "But it can also be very successful."
While nostalgic transplants may demand a familiar brand in their new home, that doesn't always translate into sustained success, Mitchell said.
"The pie is only so big," he said.
A brand could run into the trouble chasing a customer base of only people like George Milligan, the local man happy to have White Castle break into Las Vegas.
When Milligan eats at the restaurant at Casino Royale on the Strip, it doesn't feel the same as when he visits Long Island.
Selfie-taking tourists and long lines make Milligan wish the company would open a local spot elsewhere.
"It isn't the same feeling," he said. "Everything back East tends to have a hometown feel to it. Not so much here in Vegas."
Contact Wade Tyler Millward at 702-383-4602 or wmillward@reviewjournal.com. On Twitter: @wademillward
What have we missed?
Here are a few stores currently missing from the Southern Nevada landscape. If you can suggest others, please drop an email to wmillward@reviewjournal.com using the subject line MISSING RETAIL.
■ Bojangles: fast-food (nothing west of Kentucky and Alabama)
■ Grocery Outlet: supermarket chain (formerly Canned Foods; only in-state ones in western Nevada)
■ Whataburger: fast-food (closest is in Arizona)
■ Wawa: convenience stores (Mid-Atlantic and Southeast)
■ Portillo's: burger chain (in Southern California and Arizona)
■ Potbelly: sandwich shop (in Utah and Arizona)
■ Publix: grocery chain (nothing west of Tennessee)