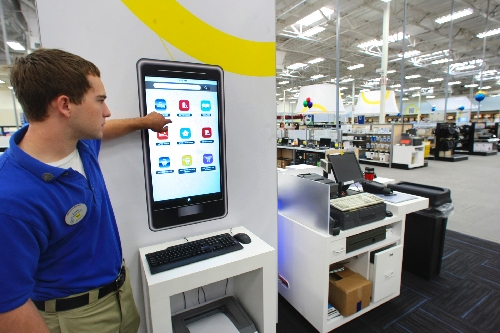 Best Buy wants to get closer to you.
Beginning Saturday , the retailer will pilot a new concept at stores in Las Vegas, Pittsburgh and select shops in New Mexico. The redesign aims to bring customers closer to the technology it sells.
"There's so much potential in all the devices and people don't really understand all the possibilities," said Carolyn Aberman, senior manager of public relations for the company.
Inside the remodeled stores, consumers are met by a runway that travels up the center. The strip is home to three tables that focus on iPhone applications, Android functions and the 4G experience. At the kiosks, customers can learn what cell phone applications are available, how Google television works and which wireless router options are on the market.
"It's an important strategy for us to be able to do this," Aberman said.
Each station is manned by at least one employee to help customers.
"They can use us as a human search engine," said employee Trever Hoffman.
Employees now will be armed with wireless devices, from which they can search for product information and check out customers using a mobile point-of-sale system. Each of the redesigned stores is equipped with Wi-Fi.
Every department now features an oversized barcode that is plastered to the adjacent wall. Customers who download the store's cell phone application can scan the barcode and download department-related coupons or advertisements straight to their handheld device.
In addition to the three central tables, five interactive stations with bar stools and white countertops are placed throughout the retail store. Each of these is designed to demonstrate a different technology, and employees in charge of the areas can tailor their demonstrations to their store demographic. For example, Robert David Lodge plans to feature home automation possibilities at the Summerlin location where he works.
The five stations revolve around mobile phone technology, gaming, home theater, wireless photography and broadband choices. Large touch screens also are displayed throughout the stores for customers who need to search for in-store items and conduct side-by-side comparisons. Also, the Geek Squad department now features private consultation booths.
The remodeled Best Buy stores are scheduled to begin offering free in-store technology workshops after Saturday. Along with the redesign, the company created positions called "store interactive technology specialist" for each location. The specialists are charged with training fellow employees on store demonstrations and overseeing the interactive stations.
Aberman said Las Vegas was chosen as one of a few locales to test the new stores because of its ability to attract locals and tourists. The Maryland Parkway location, in particular, attracts international visitors, so it's a good way to test the new store model on a variety of demographics.
"We know this market is a really strong market," Aberman said.
Travis Morgan, a Best Buy computer specialist, has worked at the store for eight months and said the demonstrations may increase retail sales, but more so will add to customers' curiosity.
"It's a little like a technology playground," Aberman said.
Twenty-seven Best Buy stores nationwide have been remodeled. Aberman declined to disclose the cost of the remodeling.
"It's really a significant makeover," Aberman said.
Contact reporter Laura Emerson at lemerson@lvbusinesspress.com or 380-4588.
Las Vegas area Best Buy locations
6455 N. Decatur Blvd., Las Vegas, NV 89131
2050 N. Rainbow Blvd., Las Vegas, NV 89108
10950 W. Charleston Blvd., Las Vegas, NV 89135
3820 S. Maryland Parkway, Las Vegas, NV 89109
6950 Arroyo Crossing Parkway, Las Vegas, NV 89113
611 Marks St., Henderson, NV 89014