Las Vegas technology boom sputtering but still alive
August 20, 2016 - 12:53 pm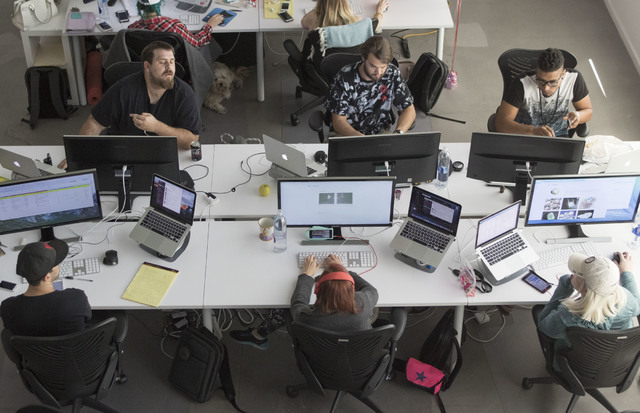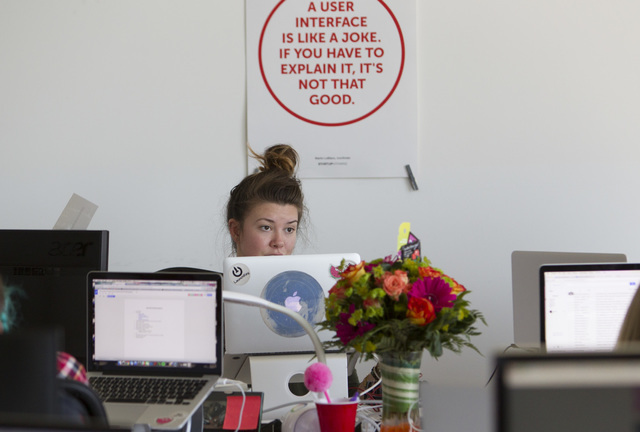 The Las Vegas startup scene has not blossomed into the thriving tech hub many envisioned four years ago, but the scene is still reaping the benefits from a bid to make it one.
In 2012, it seemed like Las Vegas was gearing to become a techtopia in the spirit of Silicon Valley. Zappos CEO Tony Hsieh pumped $350 million into revitalizing downtown Las Vegas, hoping it would become "the co-learning and co-working capital of the world."
For the Downtown Project, Hsieh set aside $50 million each for small businesses, tech companies and arts/education. Another $200 million was devoted to property deals.
Today tech companies remain in downtown. But the startup community is more segmented than in other cities and has a smaller pool of technical talent — issues that are preventing Las Vegas from maturing into a tech magnet such as Denver or Austin, Texas.
A TRICKLE OF TALENT
Although downtown has branded itself as the startup hotbed, the Switch-funded Innevation Center in southwest Las Vegas houses 90 companies, most of them startups. Work In Progress, a workspace-sharing business that accommodates startups recently opened a second location in Summerlin.
Spread throughout the valley, the startup scene has had numerous success stories such as Influential, which connects brands to people with large social media followings; WiseBanyan, which helps people to invest and manage stocks and bonds; and DroneSmith Technologies, which helps people develop drones. But, successful startups in Las Vegas have had to overcome a talent problem.
"When I first came to Vegas (in 2013), I was very hopeful with what was going on with the Downtown Project, what's going on with Switch, that there would be a lot more technical talent that would come here that compete with the technical talent in Silicon Valley and New York," said Damien Patton, CEO of Banjo, a Silicon Valley startup that has an office in Vegas.
But not enough talent permanently relocated, and there isn't enough homegrown talent to meet demand, he said.
"The talent has to move into Vegas, and you're competing against a lot of other marketplaces right now that are booming with tech," Patton said.
WHERE'S THE MONEY?
Las Vegas also lacks access to high-level funding.
"If you could complain about something (in the local startup scene), funding is just not very well-organized," said Dan Steele, COO of Influential, which has raised $9 million to date.
"All of my funding came from out of state," Steele said. "When you're outside of a market that doesn't traditionally have VC (venture capital) money … you're going to have somewhat of a hard time."
The venture capital arm of the Downtown Project was originally called the Vegas Tech Fund and was intended to attract and fund local tech companies. The fund has since rebranded as VTF Capital and its website states that 75 percent of its investments are outside Las Vegas.
"I've personally brought some of the large venture capitalists from Silicon Valley down here, and I can tell you right now those VCs, which will remain nameless, they won't come back," Patton said. "They come down here, they look at the startups and they know — are they going to put their $5, $10, $15, $20 million behind this team? Or are they going to put it behind a team in the other areas that they already know will have competition driving innovation?"
Startup leadership in Las Vegas has deemed the city an attractive place to have a second office, with its lack of state income tax and lower cost of living, but it's difficult to be based out of the city.
In short, the vision of the Downtown Project did not come to fruition, and "I don't see another tipping point coming along," Patton said.
STARTUP SCENE GROWING
Still, the local startup scene has come a long way since 2012.
"I didn't even know there was a startup scene here then," said Heather Wilde, chief technology officer at Las Vegas startup Roceteer. Wilde moved to Southern Nevada in 2012 while working for digital note-taking app Evernote.
"There were just a couple of meetups, and a couple of people meeting over coffee every now and then. It was just people like me, that had moved to Vegas because it was convenient … Now there are people who have actually moved here to start their businesses and have made a home here," Wilde said.
Ever since, the number of Las Vegas startups has grown although it trails other emerging tech scenes such as Denver or Boston. The exact number of startups in Las Vegas is unclear. But several sites that track them, such as AngelList and Mattermark, show an uptick.
"What is it going to take to get the same kind of hype that we saw in 2012? It's going to take one big success. It's going to take one of our local startups moving to the next level," said Janet Runge, associate director of UNLV's Center for Entrepreneurship.
"Things happen in fits and starts," Runge said. "We take a few steps backward and a few steps forward, but we're moving forward."
BUILDING AN INFRASTRUCTURE
Local entrepreneurs hope state investments in education and technical training will create and attract talent — and draw venture capital — that Las Vegas needs to become a more vibrant startup scene.
Meanwhile, efforts are sprouting up to support, unite and grow the community.
"It's starting to be like popcorn," Runge said. "Every week I hear about a new program."
New accelerator programs, such as the Redflint Experience Center which is opening Oct. 13, are beefing up or coming to town. The program could help bridge casinos and startups.
Also, a team is working on developing a Las Vegas Community Tech Fund.
"It's a big pool of money we're going to try and take to use to help aggregate and establish a true technology community here in Las Vegas," tech fund President Lori Nguyen said.
"We hope to start launching some other programs by the first of the year."
UNLV student-run Rebel Venture Fund and The Mill accelerator in downtown are also working to supply mentorship and funding, although limited, to startups.
Contact Nicole Raz at nraz@reviewjournal.com or 702-380-4512. Follow @JournalistNikki on Twitter. Contact Alexander S. Corey at acorey@reviewjournal.com or 702-383-0270. Follow @acoreynews on Twitter.