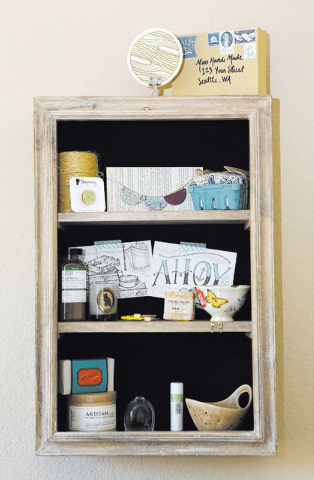 If you can dream it, there's probably a box subscription for it.
Among the most popular monthly subscriptions are Birchbox beauty samples, BarkBox dog products and healthy snack foods, though the variety extends to gifts as specific as black socks and fishing lures.
"Subscription commerce" isn't new — it goes back to the days of milk delivery — but it has regained popularity as it has expanded into e-commerce with services such as Netflix.
More recently, box subscriptions have gained favor for being inexpensive and interest-tailored.
Subscriptions start at $10 per month and top off around $60, with exceptions.
Birchbox, one of the first and most popular companies to sell box subscriptions, reported that a quarter of its 2012 sales came from boxes.
For $10 for women or $20 for men, the company delivers cosmetics samples with a larger goal of driving customers to the website to buy full-size products.
Birchbox projects its sales will triple in 2013, with 50 percent of subscribers turning to the website store.
In Las Vegas, entrepreneur Lauren Thorp is participating in the trend with her own twist. She describes her company, Umba, as "Etsy meets Mary Kay." Umba, which caters to women ages 25 to 45, is Etsy-like because it sells handmade goods, and it's Mary Kay-like because it organizes at-home parties, hosted by "Umbassadors."
Thorp said Umba Box was her company's foray into the market.
"I started it out of my personal frustration finding things on Etsy," she said. "I had been a longtime shopper on Etsy and used to love everything."
Once the website became more popular, Thorp noticed the quality of products decline. Where Etsy was once a discerning vintage and handmade e-commerce marketplace, it was becoming clogged with commonplace items.
Thorp was combing Etsy for bridesmaids necklaces and found herself on results page 200-something, when she thought there must be a better way.
Her mind wandered to the CSA, or community-supported agriculture club, she subscribed to, which delivered fresh, locally grown produce.
"I kind of had a light bulb moment," Thorp said. "What if, instead of community-supported agriculture, we did community-supported art?"
In late 2011, Thorp put together a basic website, collected emails and asked for payment through PayPal.
She left home for two hours, and when she returned she had 30 orders.
Thorp put together the first shipment herself but soon after outsourced to a fulfillment center in Florida.
In 2012, Thorp began fundraising and joined the accelerator 500 Startups in Mountain View, Calif. She started talking to VegasTechFund, a current investor, in late 2012 and moved to Las Vegas last March.
Umbabox sells two tiers: a limited- edition box that costs $50 per month and can be ordered only in three-month subscriptions, and a $25 box that can be ordered in month-to-month, three-month or six-month subscriptions, or a discount for 12-month signups.
Boxes might contain jewelry, letterpress posters, throw pillows or bath products.
"We try to pick things that are universal," Thorp said.
She describes Umba's style as "vintage with a touch of modern and touch of whimsy. Really clean lines, really well made, with bright colors. We really love colors. The more, the better for us."
Like Birchbox, Umba considers boxes a less significant part of its long-term business plan, which relies more heavily on Web store sales and social-shopping parties.
The Umbassador program, central to its business, lets independent sales reps buy starter kits and show products at home.
"We really want to try to bill it as they're launching their own business in partnership with us," Thorp said.
Liz Cadman, founder of www.mysubscriptionaddiction.com, estimates there are 400 box subscriptions available in the United States, and more abroad.
Cadman, who lives in Pittsburgh, started her site in summer 2012 because she wanted to read reviews of boxes before subscribing but couldn't find any.
So she started it herself.
Her developer husband built a directory for the site that includes a recommendation engine that suggests subscriptions based on interest and a directory where users can keep track of boxes they have or want.
According to Cadman's site, Birchbox is the No. 1 most-subscribed-to box, followed by makeup boxes Ipsy and Julep Maven.
The most popular categories are makeup, nail polish, healthy snacks, baby and toddler products, and women's clothing.
Other trends include meal boxes and celebrity-curated boxes, Cadman said.
Hello Fresh sends ingredients weekly for three meals, and Quarterly Co. sells boxes from fashionista Nina Garcia and Bill Nye the Science Guy.
Cadman subscribes to 65 boxes and has a wish list of 15.
Her favorites are Birchbox, Ipsy and Top Sugar cosmetic boxes, which sometimes send full-size products.
"I joke that Birchbox was my gateway," Cadman said.
For her husband, she favors Bespoke Post, which includes barwear and dopp kits. For her dog, she subscribes to BarkBox.
"It's always fun to open the box with him," Cadman said. "Now he thinks every box is for him."
Contact Review-Journal writer Kristy Totten at ktotten@reviewjournal.com.