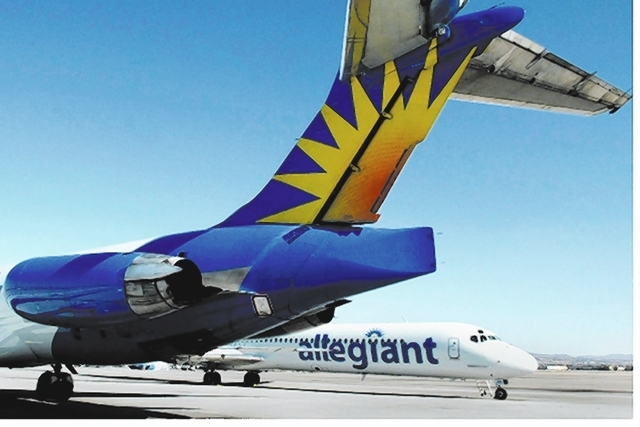 Would you buy a used car from Allegiant Travel Co.?
Soon you can.
Allegiant Air's Las Vegas-based parent, which has grown from nothing to $1 billion in revenue since 1999 by connecting small and midsized towns with major vacation spots, offered a peek at this intriguing sidelight in its fourth-quarter report.
The company reported signing a three-year deal with rental car giant Enterprise Holdings Inc. to sell vehicles from its fleet.
How an airline intends to sell cars remains to be seen. Top executives declined to be interviewed for this article, but did provide responses to written questions.
Company executives on Jan. 29 told analysts very little about the deal, which President Andrew Levy called one of a couple of "very small new startup ventures." CEO Maurice Gallagher Jr. said he was "excited about the opportunities."
It's unlikely the company and its Allegiant Air unit plans an extreme makeover. The basic strategy remains the same: Avoid direct competition by taking on routes other airlines don't want; sell cheap seats but also charge for a long menu of fees and packages; vary the schedule widely by day and by season to fit demand; avoid new planes and the debt needed to pay for them.
As executives like to say, this formula has produced 11 straight years of profits in an industry that frequently creates work for bankruptcy attorneys. Also, the cash flow has paid for share buybacks that help boost the market price and for dividends that make Wall Streeters smile.
Still, as Allegiant prepares to celebrate the 15th anniversary of its first flight, from Fresno, Calif., to Las Vegas on Feb. 28, 1999, the Enterprise contract highlights a business model in flux.
a FAST start
For more than a decade, Allegiant grew at a rapid clip to become McCarran International Airport's No. 5 carrier by passenger count. In 2013, however, passenger numbers dipped slightly, to 2.25 million, and may not rebound much in the near future.
Airline executives have said that higher fees and rents McCarran charged to help pay for Terminal 3 have swayed their scheduling decisions. Many of the small-town airports Allegiant favors, such as South Bend, Ind., and Minot, N.D., charge less than half of McCarran's fees. Even in big metropolitan areas, such as Phoenix and Orlando, Fla., Allegiant has chosen less expensive secondary airports.
Florida, in the near term, will "continue to grow much faster … than in the Western U.S.," Levy told analysts. The current course will see about half of Allegiant's available seat-miles flying from there by midyear, "and that is up quite a bit from two or three years ago when the network was more biased to Las Vegas and Phoenix."
The company attributes the shift to "a lot of competitive movement in the Eastern markets recently, as well as many untapped opportunities." Southwest Airlines, in particular, has halted service to several cities covered by its subsidiary, AirTran.
"(Las Vegas) is a very dynamic market, so we anticipate there will be more opportunities to grow in the future," Allegiant said.
The company will closely watch Southwest as federal restrictions on its use of Dallas' Love Field end in October, raising the possibility the competition will add nonstop flights from Las Vegas to Dallas and drop flights that now stop in places such as Albuquerque, N.M., or San Antonio. Those markets aren't on Allegiant's route map, but could be.
Allegiant, which started as a nonunion company, also faces mounting challenges from labor unions that represent about half of its workforce. Since December 2010, three employee groups representing pilots, flight attendants and dispatchers have voted for union representation.
Allegiant's labor disputes have sometimes played out on Las Vegas streets, onboard flights or in emails questioning airline safety sent to industry analysts.
The airline and its workers now appear stalemated over several compensation and work-rule issues, plus Allegiant's refusal to deduct union dues from employee pay. The Transport Workers Union, representing flight attendants, in January delivered a proposal during negotiations overseen by a federal mediator, according to union Vice President Thom McDaniel. The company's response wasn't positive, and the mediator adjourned the session with no further talks scheduled.
Allegiant executives have declined to respond point-by-point to sometimes-detailed accounts issued by the union.
"It is not uncommon for unions to use a number of public tactics in an effort to put pressure on management," according to the statement.
Talks with the pilots, members of the International Brotherhood of Teamsters, continue. But the Teamsters in November sued in federal court, claiming violations of an existing agreement covering such matters as pilot seniority, monthly minimum disability pay and flight bid rules.
The union has asked the court to scrap a new pilot scheduling system, Merlot, that went live at the start of the year to handle complex new federal rules regarding pilot shifts and rest times.
Allegiant, in court papers, argued the agreement with the Allegiant Air Pilots Advisory Group, which the Teamsters displaced in 2012, never was a full-fledged contract.
If court-ordered to unplug Merlot, Levy said in court papers, "We would likely have no choice other than to terminate flight operations until an alternate, reliable system could be created and then approved by the (Federal Aviation Administration)."
That would force cancellation of about 5,000 flights and displace close to 800,000 passengers per month for the three to six months needed to bring in a new system, he said.
clashes with unions
At the heart of the disputes is Gallagher's unchecked disdain for unions and the company's reliance on low-cost, flexible operations.
"Allegiant and its top executives have made no secret of their anti-union animus …," the Teamsters said in court papers. "Allegiant and its top executives have engaged in a pattern and practice of obstruction throughout the contract negotiations with the (Teamsters) in an effort to sap the pilots of their desire for union representation."
In its statement, Allegiant counters, "All of our employees are well compensated and well treated, but the aviation industry is heavily unionized and any nonunion employees are aggressively pursued by unions.
"We would have preferred to continue to have a direct relationship with employees, but now that we have unions in place, we will work with them to get contracts in place that meet the needs of employees and the business."
Gallagher has attributed some of the negotiating bottleneck to the airline's operating style, which includes wide variations in flight schedules, looks different from other airlines' slates and requires a customized contract. Union leaders have said they would take Allegiant's differences into account.
Other areas of aviation evolution include:
■ Flying to bigger cities. Among the recent additions are Austin, Texas; Cincinnati; and Islip, a Long Island suburb of New York City.
Allegiant's approach in serving smaller markets has meant the airline rarely encounters head-to-head competition. But executives recently said they would broaden that strategy to include flights no one else offers. For example, Islip has other service, but no nonstops to southwest Florida. Allegiant offers one.
■ Flying to Hawaii. In what Levy has labeled an experiment, Allegiant started service between Los Angeles and Honolulu in October. Besides connecting two major tourist destinations, the route pits the company against the rest of the industry. Even it if works, according to the statement, "it shouldn't be interpreted as a major shift in the business model" because it is tailored to the long-range capabilities of the six Boeing 757 jets Allegiant owns.
Serving Hawaii has been a bigger challenge for Allegiant, given the added expense of obtaining federal approval for over-ocean flights and use of planes too big for many of its mainland routes. Allegiant started flying from Honolulu to 10 cities in 2012, pruned service to three less than a year later, and bumped it back up to 11 routes for the most recent winter high season.
The airline said its Hawaii business has "seen significant improvement in the past year" by combining cities — Las Vegas and Los Angeles — that can support year-round flights with smaller cities that make financial sense only seasonally.
■ Rising costs. Allegiant executives frequently say low-operating costs let them offer ticket prices that beat the competition even after including extra fees for things such as carry-on bags, seat assignments and onboard sodas. Yet following the fourth-quarter report, several analysts highlighted rising expenses.
"We believe (Allegiant) has become a 'show me' story in regard to cost execution," Raymond James &Associates analyst James Parker wrote.
On Jan. 30, the day after the earnings report, the stock, which trades on Nasdaq, closed down 8.6 percent, at $91 a share, after sinking as much as 18.5 percent, to $81.19, during the day.
The company attributes rising expenses to short-term or one-time factors such as charters needed to cover the delays in putting its Airbus planes into service and ventures such as Enterprise car sales.
"Our long-term cost structure has not changed," the company said in its statement.
■ Continued movement away from charters. In its early years, charters sometimes accounted for more than half of the airline's flying, but that business has dwindled as planes were put into service on more regularly scheduled routes. In January, charters accounted for less than 2 percent of the airline's 597,000 passengers.
Charters will remain just a sliver of the business and limited to special events such as the college basketball tournament, the airline said.
■ New add-ons. This is nothing out of the ordinary, as Allegiant and Spirit have led the industry in promoting a la carte travel. Still, Allegiant has several additional fees in the pipeline.
The airline already sells access to expedited security screening in Honolulu, which most airlines reserve for frequent fliers. It also will start selling a "giant seat," the equivalent of other airlines' domestic first-class but without free food and drink, to passengers on its 757s.
Boarding-pass printing at the airport will carry a fee starting in May, and travelers will see more refinement of baggage charges. While other airlines charge a flat rate per checked suitcase, Allegiant is venturing into varying the price in step with demand, much as is done with tickets.