Latest from CES: Companies raising the 'wow' factor to stand out
January 5, 2017 - 4:33 pm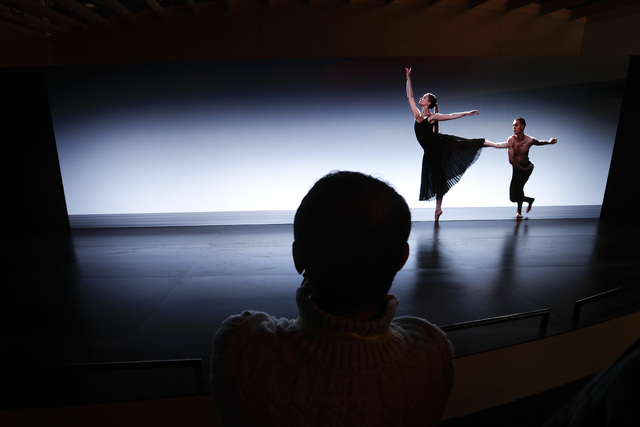 Companies are upping the "wow" factor trying to stand out as the CES show formally opens in Las Vegas.
Samsung, one of the largest exhibitors at the show, is offering demonstrations of its boat racing, air show and other virtual-reality experiences in chairs that move around. Hyundai is offering VR demos for people to experience what it's like to ride in an autonomous car.
Also drawing crowds are flashy concept cars like the Toyota Concept-i, with doors that flip up and a 3-D display inside.
Polaroid is showing off its Cube+ Wi-Fi camera with a bizarre display of rotating — but fake — monkeys wearing the camera. Camera images are displayed in a live feed above. It's a nod to the monkey-shaped stand that Polaroid sells for the Cube.
On the TV front, LG wowed with an OLED 4K display tunnel, which people enter to see the new technology.
One of the longer lines on the floor was at MyCharger's Power Up bar — which offered a free MyCharger along with what appeared to be green beer. It's actually regular Sam Adams in a green dye-infused cup.
CES takes place over several, sprawling venues in Las Vegas. About 175,000 visitors are expected by the time it closes Sunday.
———
Beauty brands L'Oreal and Karastase want to make bad hair days a thing of the past.
The two companies teamed up with tech company Withings on a Hair Coach brush that uses a microphone, gyroscope and other sensors to monitor how fast and how hard a person is brushing.
An accompanying app recommends how to brush for optimal quality and minimal breakage and split ends. It can also take into account hair-influencing factors like heat or humidity and even discern if hair is wet or dry.
The "smart brush" has been garnering buzz at the CES tech show in Las Vegas.
Vincent Nida, worldwide general manager at Paris-based Kerastase, says one of the top beauty queries online is consistently about taking better care of your hair.
The battery-powered brush starts collecting data when a user begins brushing. The smarts may seem like overkill considering the price of the brush — $200. By contrast, Amazon sells brushes for as little as $1.
But Nida says you're getting a high-quality brush "even if you don't have batteries or you don't connect it to your cell phone."
The Hair Coach brush is due out in mid-2017.
———
Sometimes, it takes incentives to persuade people to change their habits.
Mobile payment services such as Apple Pay and Samsung Pay still aren't widely used, in part because it isn't difficult for shoppers to pull out a plastic card at the cashier. Samsung tried to address that by offering points for each transaction, regardless of the amount spent — redeemable for gift cards and Samsung products.
At a CES panel Thursday, Samsung executive Nana Murugesan said that since the launch of Samsung Rewards in November, daily usage of Samsung Pay has nearly doubled, while the number of users who make purchases almost daily more than doubles each week.
The company hasn't specified the number of users and transactions, though analysts say it's still a small compared with cash and cards.
———
T-Mobile says unlimited plans will be the only option for new customers even though they are more expensive than some of its old, limited plans.
The company had said in August that it was phasing out its other plans in favor of just an unlimited plan. On Thursday, T-Mobile said those limited plans won't be sold anymore starting Jan. 22. Existing customers can keep their current plans.
While some existing customers could switch over to the $70-a-month unlimited plan and save money, others would pay more. Most customers who just pay for one or two lines or who have a lower-data plan — 2 gigabytes per line — would save money by sticking to what they have.
And T-Mobile's unlimited plan isn't exactly unlimited. If the network is busy, T-Mobile may slow speeds on customers that used more than 28 gigabytes.
———
Who needs a keyboard? Dell is introducing a new way to interact with your computer.
The Dell Canvas 27 is a 27-inch glass surface that sits flat on a desk in front of a monitor. The touch surface is where a keyboard would normally be. Various widgets are available to manipulate items on the monitor. The Canvas also comes with a pen for sketching and creating.
Dell envisions people using the device to edit photos and video, work on music and even work with financial tables. The goal is to replace clutter generally found on a desk. Instead of working with paper on a desk, just use the touch surface.
The device launches in the spring and is expected to cost less than $2,000 — or around $3,000 with the monitor included.
Lenovo has a similar concept in last fall's Yoga Book. It's a laptop that replaces the keyboard with a touch screen for both typing and doodling. But the screen is smaller, measuring 10 inches diagonally.
Dell announced the Canvas at the CES gadget show on Thursday. Tom Holland, star of "Spider-Man: Homecoming," also stopped by to introduce two Dell products — a tablet and a gaming laptop — that will appear in the movie.