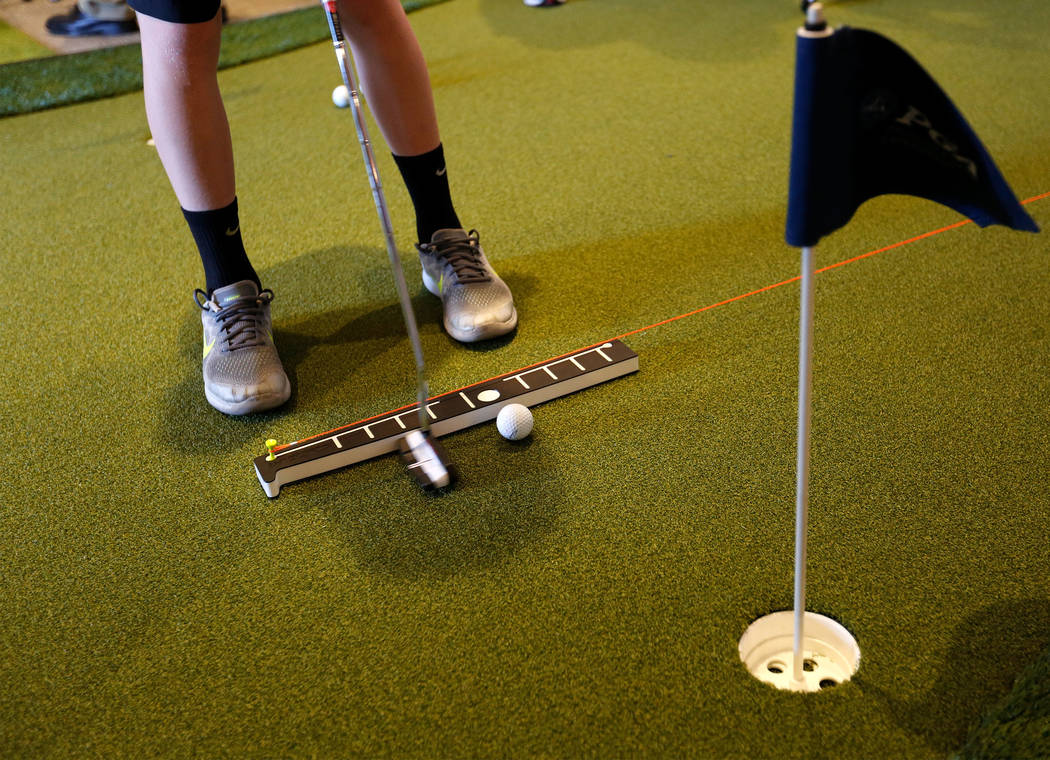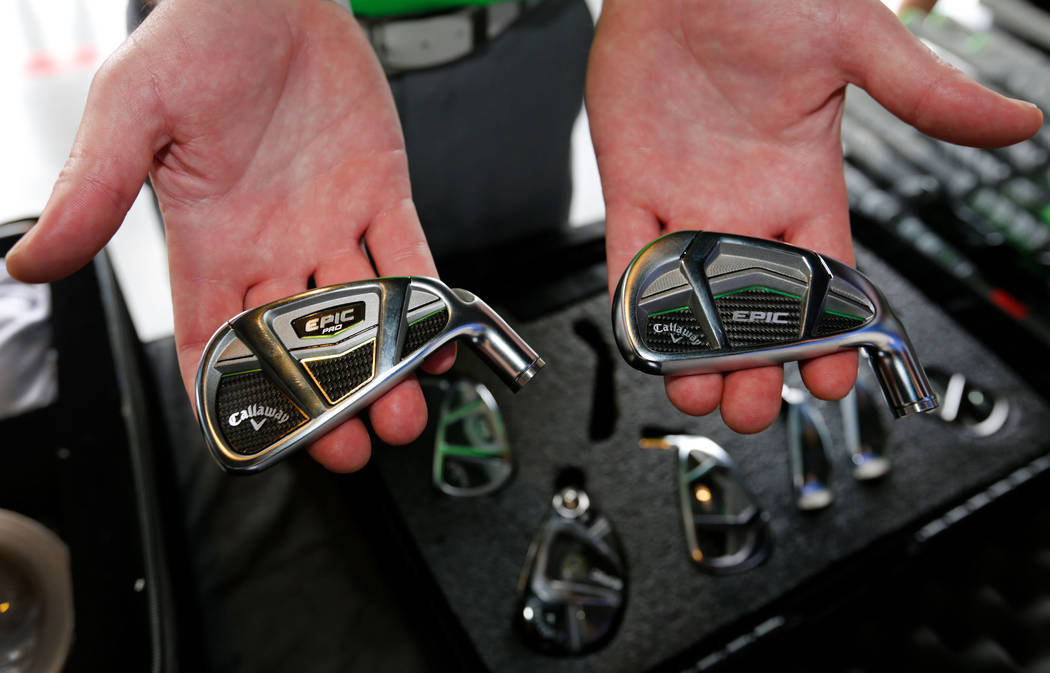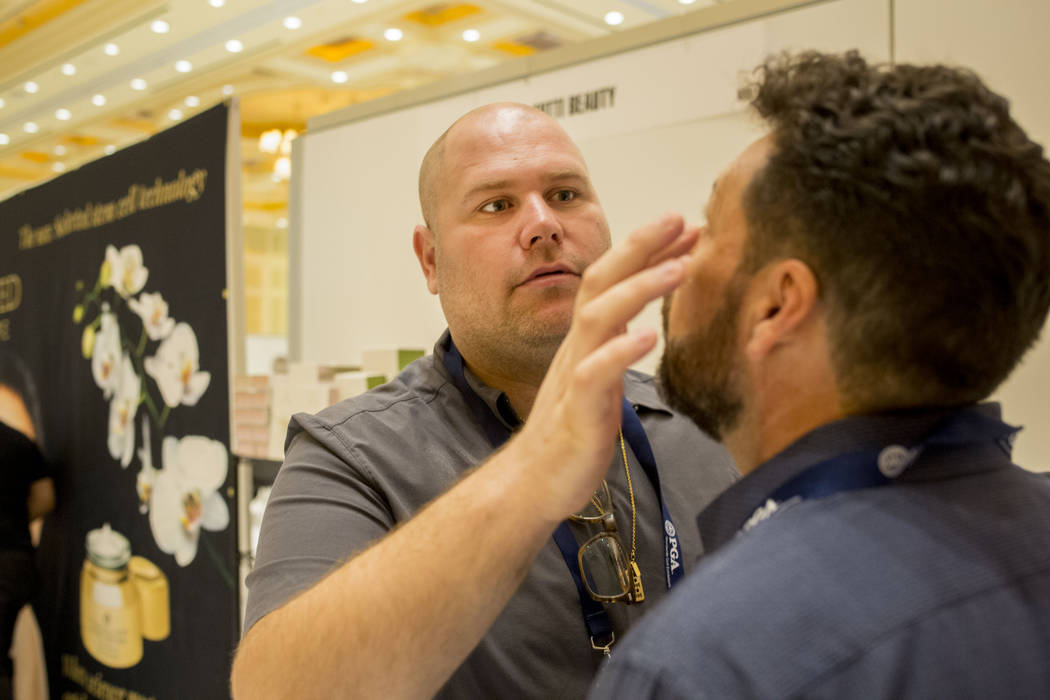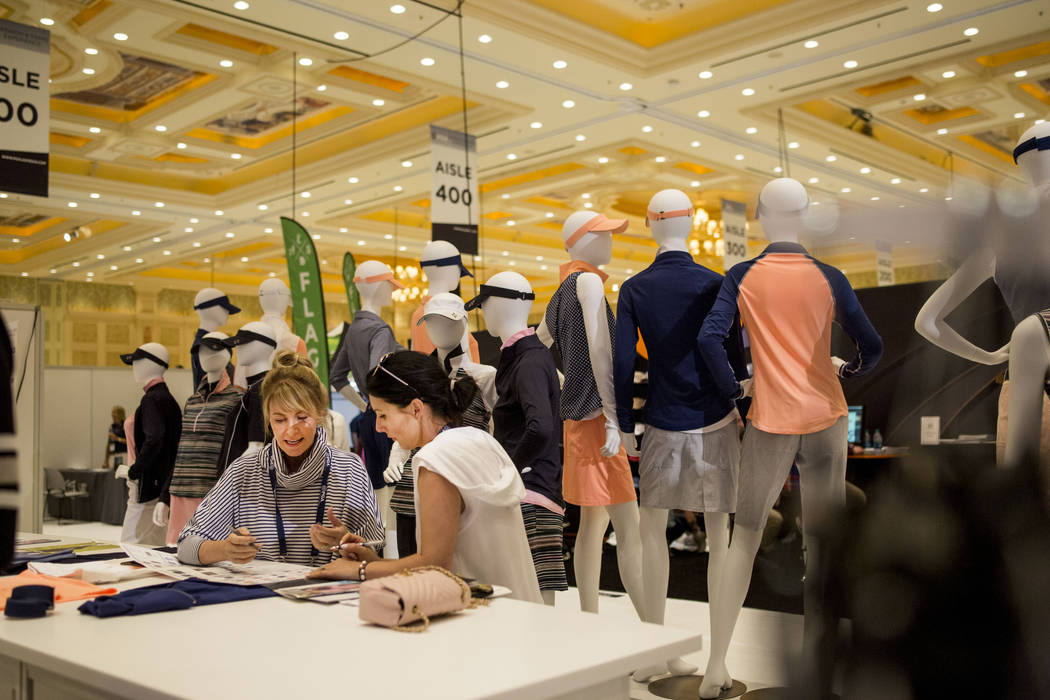 Jason Klinedinst lined up his shot, brought his putter back and sank three shots in a row on the temporary green set up in a demonstration room at Topgolf Las Vegas.
The manufacturer, from a town about an hour south of Harrisburg, Pennsylvania, tested the surface of a green that was set up for him and his fellow exhibitors.
"There's a break right there," he said. "It's making the balls go to the right."
Klinedinst and his group of about five had traveled to the valley to introduce the golf industry to Inputt, a pair of ruler-looking devices meant to help golfers improve their aim.
Their mission: win over any wandering resellers and professional golf instructors who could help spread the Inputt name.
"Anybody can learn with this," Klinedinst said of his product.
Companies big and small
The group was among about 4,000 people attending the PGA Fashion and Demo Experience. The trade show united equipment makers, clothiers, country club executives and professional players to scout the new and up-and-coming.
Companies like Callaway and Titleist showcased new club heads.
PGA of America President Paul Levy said the industry, as a whole, is still experimenting with data.
Large companies and startups have formed to find new ways to capture data about a golfer and use that to better his or her performance, Levy said.
Jenna Kim of SelfieGolf explained the ways people could use her company's clasp made to hook smartphones to alignment sticks or a club and golf bag.
The Inglewood, California-based company was marketing the device to golfers who want to film themselves then watch the recording to critique their form. Younger golfers could also shoot video to share on social media, she said.
SelfieGolf debuted the product during Christmas and wanted to attract wholesalers wandering Topgolf, she said.
Topgolf is located behind the MGM Grand with its entrance off Koval Lane.
Kim also showed off a new product, a spinning top also used to fix turf torn up by golf club strikes to the ground. The top is meant to capitalize on the craze surrounding fidget spinners, she said.
Products like those are helpful for bringing in kids, a needed demographic in golf, said Las Vegas local Jason Van Ryn, who manned the Callaway booth.
Callaway demonstrations was a part–time gig for Van Ryn, who said he previously attended the PGA expo as an attendant. He usually did demonstrations at golf clubs.
"Both sides are fun," Van Ryn said.
Representatives from different clubs ogled over the new club heads that Van Ryn displayed.
One of those gawkers, Neil Bhakta, searched for new products to stock his shop at Riverside Country Club in Carlsbad, New Mexico. The store could use new apparel options for its about 250 members, he said.
He'd come to the PGA expo before and treated the event as a vacation. He planned to play some golf and poker while in the valley, he said.
"It's always a good time," he said.
Grabbing attention
In a ballroom at The Venetian, Tal Minke flattered and flirted his way into dabbing beauty products on the skin of PGA attendants.
Minke wiggled his glasses on his face to grab attention. Guessed people's hometowns. Complimented bags and clothes.
"The product is good; trust me, I'm vegan," he called out to a woman. Then quietly: "Actually, I'm vegetarian."
Minke hailed from Israel but now calls Atlanta home. He was at the convention, he said, to help a friend with sales for Tutti Beauty.
Tutti Beauty was one of a handful of beauty and jewelry exhibitors at the fashion side of the PGA expo with Las Vegas addresses but staffed with heavily accented hawkers.
Tutti Beauty's address places the company at a shopping center near the intersection of Flamingo Road and Decatur Boulevard.
Minke said he only planned to work for his friend for a few more months to raise money for his own business. Tutti Beauty is a frequent convention exhibitor and didn't limit its target audience to golfers, he said.
Suddenly, Minke got a hit. A man walking close by the booth was no match for Minke's charm. Soon, the salesman dabbed moisturizer on the man's face. He blew it dry with a handheld fan.
The man left thanking Minke. The salesman resumed his post, waiting for the next wandering eye.
Contact Wade Tyler Millward at wmillward@reviewjournal.com or 702-383-4602. Follow @wademillward on Twitter.