Laughlin continues to pursue resumption of regular flights
September 20, 2013 - 11:34 am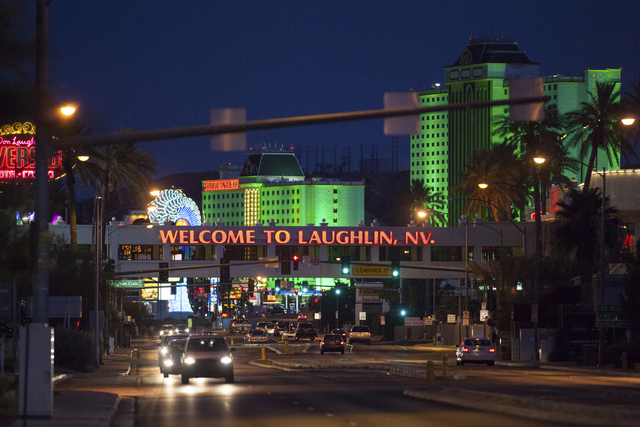 Anyone scanning the departure board at San Diego International Airport on Sunday night might have thought that Laughlin business leaders had finally achieved a years-long dream.
Listed for 9 p.m. was a US Airways nonstop flight to the Colorado River resort town, which has seen its fortunes slide for more than a decade. Many tourist industry leaders have placed a high priority on persuading an airline to restart scheduled service for the first time since 2001 as a badly needed stimulus to visitor counts and hotel occupancy.
As it turned out, the San Diego flight was just a charter, although US Airways does not typically land at the Laughlin/Bullhead International Airport at all. The quest for flights not tied to the Harrah's or Riverside casinos still has no clear end in sight and may soon face another hurdle.
Earlier this year, airport officials thought they were on the verge of inking a deal with Frontier Airlines for flights to its Denver hub, but that evaporated in late July when the airline went up for sale. The immediate prospects do not look encouraging.
"We are continuing to turn over all the rocks we can and contact as many airlines as possible through our consultant to garner some interest," said airport Director David Gaines. "We are talking to a carrier and hopefully we will have something by the end of the year."
However, he acknowledged, many airlines are loath to take a chance on unproven markets.
"For small communities, it is a tough nut to crack," Gaines said.
On top of that, Dec. 31 looms as the deadline for using the $500,000 Small Community Air Service Development grant from the federal government. The money is designed as a revenue guarantee for an airline so it does not lose money on a route.
Although the grant has already been extended twice, Gaines does not expect a third reprieve given the budget-cutting mood of many members of Congress. If the grant disappears, Gaines said community and airport leaders would have to rework their strategy for attracting an airline.
Various businesses and the airport authority officials have pledged another $865,000, mostly in marketing spending rather than cash, to bring the total incentive package to nearly $1.4 million. They also brandish a consultant's study that concludes Laughlin, combined with Bullhead City, Ariz., across the Colorado River, could support profitable flights.
Once a boomtown, Laughlin has seen nothing but declines for a dozen years, almost exactly coinciding with the loss of regular airline flights after Sept. 11, 2001. The 2.1 million visitors recorded last year by the Las Vegas Convention and Visitors Authority is less than half the 1997 peak. Through July, the count has dropped another 2.2 percent compared to 2012.
Local leaders attribute that problem to the rise of tribal casinos, snagging customers who once drove from the Los Angeles and Phoenix areas. Further, as room rates dropped in Las Vegas in the past few years, Laughlin lost some of its attractiveness as an alternative for the budget-minded.
Charter flights have also stalled, with the 225,000 passengers passing in and out of the airport last year marking an 8.5 percent decline from the 2008 peak.
Against this backdrop, better air service emerged as a keystone to find new markets and revive the economy.
"We think we are going to succeed," Gaines said. "We can't give up until there is nothing left to fight for."
Contact reporter Tim O'Reiley at 702-387-5290 or at toreiley@reviewjournal.com.