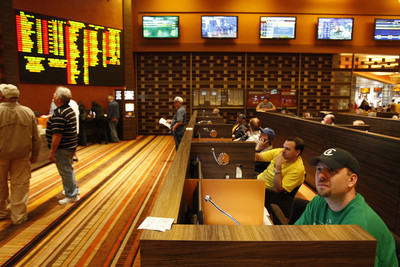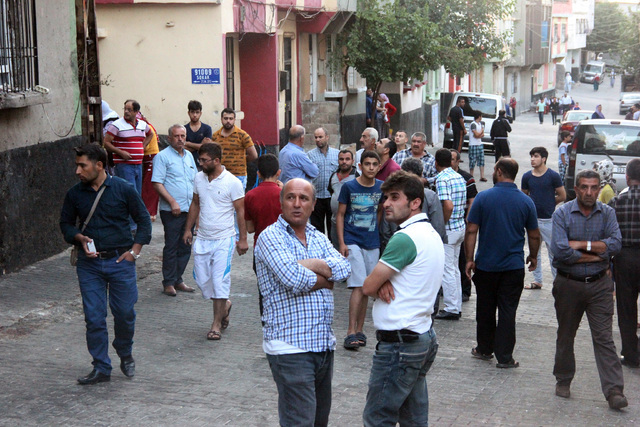 TRENTON, N.J. — From March Madness brackets to Super Bowl pools to illicit back room wagers, people bet on professional sports every day. But they can do it legally only in four states, and only two states offer state-sanctioned sports wagering.
With Atlantic City casinos in a financial free fall and New Jersey's budget in shambles, a state lawmaker filed a federal lawsuit Monday against the Justice Department that seeks to overturn a U.S. ban on sports betting. The casinos and their political allies say letting people bet legally on sporting events would let all 50 states in on a lucrative revenue source.
State Sen. Raymond Lesniak, D-Elizabeth, said sports betting already exists, and will continue to whether states tax it or not.
"As Captain Renault said to Rick, 'I'm shocked — shocked — to find that gambling is going on in here!' " he said, quoting from the movie "Casablanca."
"Gambling is going on here, sports gambling," Lesniak said. "Rather than supporting thousands of jobs, economic activity and tourism, the federal ban supports offshore operators and organized crime."
Estimates of illegal sports betting in the United States vary widely, but range as high as $380 billion a year, according to the National Gaming Impact Study Commission.
A consultant hired by one of the lawsuit's plaintiffs, the Interactive Media Entertainment & Gaming Association, estimated that sports betting could become a $10 billion-a-year industry in New Jersey by 2011 if it were permitted in casinos, at racetracks, online and by telephone. That could generate nearly $100 million a year in tax revenues for the state, said the group's CEO, Joseph Brennan.
Brennan may want to check in with Nevada, however, before spending the extra tax money. The Silver State is the gold standard when it comes to legal bookmaking. Yet Nevada generates just an estimated $7 million in revenue for its general fund from the practice, said Frank Streshley of the Nevada Gaming Control Board.
In 2008, $2.6 billion was wagered on sports in Nevada, with casinos winning $136 million, he said.
On the off-chance that Lesniak succeeds, there isn't much for Las Vegas to worry about, said Anthony Curtis, publisher of the Las Vegas Advisor.
"If anything, it would probably be positive," Curtis said. "I wouldn't sweat it."
Curtis said most Las Vegas visitors don't travel to Nevada just to bet on sports. And the ability to bet on sports closer to home wouldn't necessarily make it less fun to do while in Las Vegas.
However, he said, legalized betting would probably catch on in many places.
"People really, really love betting sports," he said.
Legalizing sports betting in more places would also likely boost sports leagues, which generally oppose betting on events.
"That is why people watch their games to conclusion," Curtis said.
Jay Kornegay, executive director of the race and sports book of the Las Vegas Hilton, said the only way widespread, legal sports betting would hurt Nevada is if it were available in California.
"We just have a huge drive-up market from California," Kornegay said.
Boyd Gaming Corp. spokesman Rob Stillwell, whose company operates the Borgata in Atlantic City, wouldn't comment on the lawsuit's merits.
"As operators in both Nevada and New Jersey, we are obviously interested in the prospect and plan to follow this issue very closely," Stillwell said.
Lesniak's lawsuit, filed in U.S. District Court in Newark, seeks to overturn the Professional and Amateur Sports Protection Act. The 1992 law restricts sports betting to the four states that met a deadline to sign up for it: Nevada, where Las Vegas sports books determine the odds for sporting events across the country; Delaware; Montana; and Oregon.
The law carved out a special exemption for New Jersey, giving it a chance to decide if it wanted legal sports betting. The state failed to enact a law that would have done so, and the exemption window closed.
The lawsuit argues that the U.S. law is unconstitutional because it treats four states differently than the 46 others.
It names U.S. Attorney General Eric Holder and Ralph Marra Jr., New Jersey's acting U.S. attorney, as defendants. A U.S. Justice Department spokesman said the government will review the lawsuit but declined further comment.
Professional and scholastic sports leagues vehemently oppose legalized sports gambling, arguing that the integrity of the games must be free of suspicion. They cite a long history of gambling-induced scandal, from the 1919 Black Sox, who threw the World Series at the behest of gamblers, to numerous college point-shaving schemes.
Joe Browne, the National Football League's executive vice president, said the league supports the ban and would be keeping tabs on the lawsuit.
"We do not believe it is in our best interests to have outside parties — whether casinos or local governments — using our games, players and coaches as betting vehicles," Browne said.
Review-Journal writers Benjamin Spillman and Howard Stutz contributed to this report.