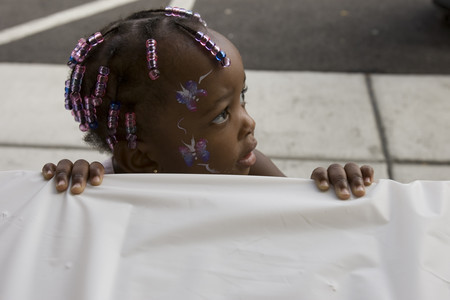 Members of the National Medical Association will leave more than money in Las Vegas during their convention this week.
They'll also leave some health and fitness knowledge with people in Las Vegas neighborhoods where quality medical advice is scarce.
The NMA, as it is known to members, was founded in 1895 when black doctors weren't allowed in the American Medical Association and sets aside time during every annual convention to promote good health in the community where the group is meeting.
On Saturday the group hosted a health fair and "Walk a Mile With a Child" event at the Academy of the Healing Arts near downtown Las Vegas.
The events were free and open to the public and aimed at encouraging health, fitness and positive mentoring relationships between adults and kids.
Doctors from the NMA, who come from around the country, volunteered to answer health questions and give screenings.
"We practice as one community, we care about the nation," Carolyn Barley Britton, president of the association, said of the organization's volunteer efforts in communities where it convenes. "We just don't come and keep our eyes on ourselves."
The difference this year is the group is meeting in Las Vegas, a place that was ground zero for a national debate over whether meetings and conventions in popular resorts are legitimate business expenses or unnecessary junkets.
There was plenty of discussion about the importance of meetings and conventions to the Las Vegas economy, which generated $8.5 billion in spending in Southern Nevada last year.
Everyone from cooks and cabbies in Las Vegas to President Barack Obama weighed in with their 2 cents on whether meetings, or junkets, to use a pejorative that was common in the conversation, were worthy spending in tough times.
People who called them junkets tended to characterize meetings in Las Vegas as examples of frivolous spending at a time when workers are losing their jobs and companies are closing their doors.
Las Vegas boosters emphasized that the meetings create and maintain jobs in Las Vegas, keeping thousands of residents afloat.
There was little — if any — mention of community outreach by the National Medical Association and countless other convention groups that donate time and money to Las Vegas charities.
The woodworking industry held a convention in Las Vegas last month and donated a cabinet shop to the Animal Foundation, an open-admission animal shelter.
And organizers of the International Consumer Electronics Show, the biggest annual convention in Las Vegas, make contributions to recycling efforts at local schools.
"That's a wonderful, positive aspect that should be showcased," said Holly Spoor, resource development director for Opportunity Village, a 55-year-old organization that helps people with mental disabilities.
Opportunity Village recruits conventions to provide tasks for clients, such as filling gift bags, to develop work skills. And it invites visiting business travelers to volunteer at events.
"I don't know what we would do without it," Spoor said of help from visiting conventions.
The Las Vegas Convention and Visitors Authority, which tracks data on conventions, doesn't maintain a comprehensive account of convention and business traveler contributions to Las Vegas community organizations.
Reggie Burton, president of Las Vegas-based public relations consultant company Reggie Burton Communications, said tracking and publicizing community contributions from conventions is important to help offset the "AIG effect."
That's the term Burton used to describe spending by the firm at the center of the collapse of financial markets on frivolous parties, even as the unraveling economy generated outrage that encompassed all kinds of corporate and government meetings, to the detriment of the Las Vegas economy.
"I believe it's a good idea for any organization to communicate its community involvement whenever possible," Burton said. "Creating a positive image while conducting a business meeting helps everyone involved, including the group, the hotel and the community."
Contact reporter Benjamin Spillman at bspillman@reviewjournal.com or 702-477-3861.