Light Group makes off-Strip restaurant foray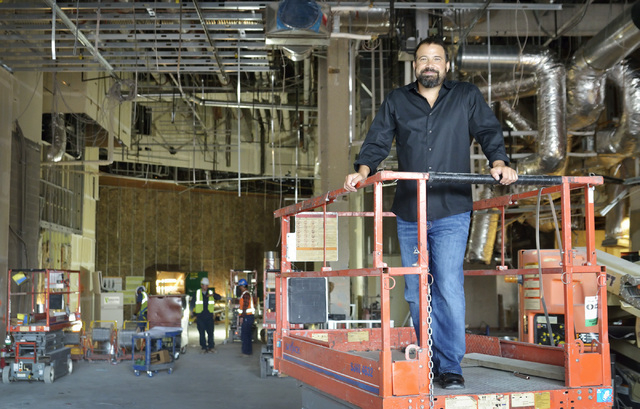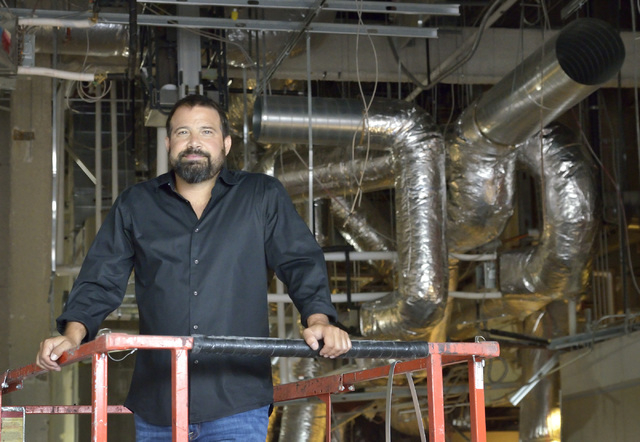 Andy Masi walked around the restaurant construction site at Red Rock Resort on a weekday morning. Construction workers were smoothing concrete outside while Masi checked out the rehab work inside.
Opening a restaurant off the Strip is a new frontier for Masi, CEO of The Light Group, a Las Vegas-based restaurant company known for its upscale Strip hotel restaurants like FIX and Yellowtail in Bellagio, Red Square and Diablo's Cantina in Mandalay Bay, and STACK at The Mirage.
Now, Light Group is branching off the Strip to open new dining destinations in an effort to also capture a piece of the local resident market.
Light Group plans to open Hearthstone Kitchen & Cellar, a "rustic American" concept, at Red Rock Resort in Summerlin in October. Hearthstone will take over the 5,400-square-foot space previously occupied by the former Hachi restaurant, a Japanese/sushi-theme eatery. Hearthstone will be sandwiched by Lucille's Smokehouse BBQ and Mercadito Mexican restaurant along Red Rock Resort's revamped restaurant row.
"The tourists and locals are two different markets," Masi said Thursday at Red Rock. "The locals are looking for easy access and don't want to be clobbered with prices. They can park and go right into the restaurant without having to go through the casino. Locals can also be discerning. A Vegas local can have access to all the great chefs. They're a different customer."
Masi said expanding to Green Valley Ranch is also a possibility but noted the focus is on making sure Hearthstone works well in Summerlin.
"It's one step at a time," he said. "We want to focus on getting this right."
Not only is Light Group expanding in Las Vegas, it's also opening a new restaurant in the Los Angeles area. Light is opening a Yellowtail Sunset restaurant, which features Japanese cuisine, in West Hollywood, Calif., in the fall.
Close to home here in Las Vegas, Masi said he's expanding into the local market because the Las Vegas economy is recovering and there's demand by local residents for flavorful, unique dishes with craft beer and good wine at reasonable prices in a closer, more accessible neighborhood setting than the Strip.
"We look to what the market is, what the trend is and what people are looking for. We have an incredible local population that wants great wine and great food at moderate pricing and something in their neighborhood. This is something Vegas needs," Masi said. "We felt Vegas was back on track."
Masi also said working with Station Casinos, the Las Vegas-based hotel-casino chain that owns Red Rock Resort and markets to local residents, has helped him with local demographic and market data. Masi said he has worked with Station officials for the past two years on finding a suitable off-Strip location for one of his brands.
"We love to work with Station. They know the local market better than anyone," Masi said. Red Rock's restaurant site rehab work is part of a $35 million overall improvement project.
Masi said his seven-figure Hearthstone project will include two wood-burning ovens, with the most of the food roasted or baked in those ovens.
Darren Tristano, executive vice president of Technomic, a Chicago-based food industry research firm, said it's not a common practice for restaurant companies that specialize in serving tourists to expand into the local market in an attempt to reach local residents.
But as long as Light Group differentiates between the tourist market versus the local resident demo, the non-Strip restaurant properties should do well, Tristano said.
"There's definitely advantages to it. When you operate in a certain city, you can better understand what locals are looking for and you adapt to that consumer," Tristano said. "The tourists will be the large volume but entertaining the locals will help improve the numbers."
In the case of the West Hollywood location Yellowtail, Masi explained there was a "unique opportunity on Sunset Strip."
Masi added, "It was a great chance to expose our Yellowtail brand in Los Angeles. Sunset is an incredible marquee property. It allows us to expand our brand."
Light Group's portfolio includes 25 food and beverage venues.
Contact Alan Snel at asnel@reviewjournal.com or 702-387-5273. Find him on Twitter: @bicyclemansnel