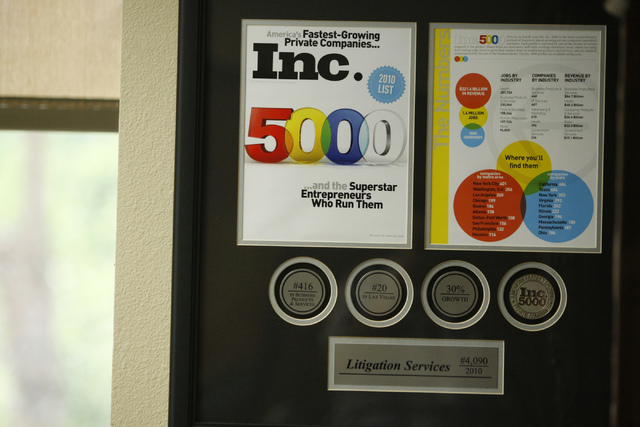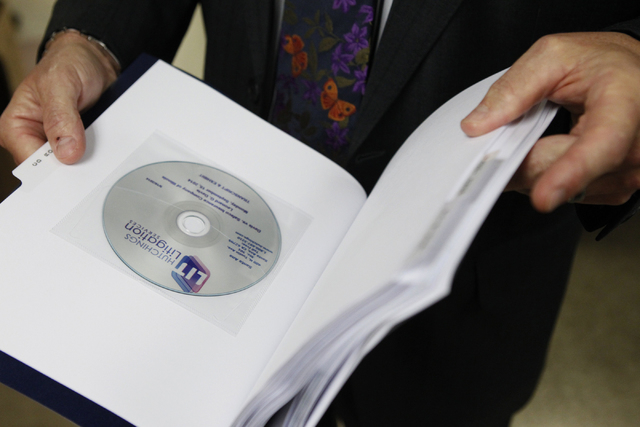 Ken and Monice Campbell, owners of Litigation Services in Las Vegas, have a difficult time explaining what they do to people they meet at cocktail parties.
People ask the Campbells if they are lawyers or if they sue people. Ken Campbell, CEO of Litigation Services, will invite those people to their office to see what his company really does.
And no, the Campbells are not lawyers, and they've never sued anyone.
"The extent of our legal advice is 'there is no such thing as a good trial or a bad settlement,' but we stay out of litigation," he said.
What Litigation Services does offer is everything attorneys need to handle complex litigation, including document services, an Internet repository, depositions, court reporting, legal videography, meeting rooms and even a full-service kitchen cooking up lunch.
"We talk about efficiencies and cost management approaches," Campbell said. "For a lot of businesspeople, this is a unique message when it comes to law."
The Campbells' message is resonating as Litigation Services has seen 280 percent growth over the past three years, earning it a spot on the 2014 Inc. 5000 List of the fastest-growing, privately held companies in the United States. Litigation Services is ranked 1,526 on the national list, No. 80 among top business product and service companies, and No. 7 in Nevada.
Litigation Services revenue grew from $8.8 million in 2010 to $33.6 million in 2013. During that time, Litigation Services added 65 jobs at its offices in Las Vegas, Reno and Carson City, and in Los Angeles, Orange County, San Diego, Riverside, Palm Springs, Sacramento and San Francisco in California. It also has offices in Salt Lake City and Detroit with plans to expand.
"The award means a lot to our employees," Campbell said. "It's something they can see. We are kind of in an invisible industry, and it really is encouraging to them and a real reward to see the fruit of their labor."
Litigation Services has built its growth based on what the Campbells call the Three Ps — positioning, that is what does the market want; process, building a course of action to achieve that competitive positioning; and people, the heart of it all, Campbell said.
"The transaction for a business like ours is between employees and customers," he said. "So, for us, there are only two things that matter — engaged employees and engaged clients. We'd like to have a group of evangelical employees that cannot imagine not working here, and a group of enthusiastic clients that cannot imagine litigating without us a partner."
Patrick Byrne, a partner with the Snell &Wilmer law firm in Las Vegas, may be one of those clients. He praised the Campbells for the culture of personal service offered by Litigation Services ­­— citing everything from an eye on technological innovations to its catered lunches. He also appreciates that when he uses Litigation Service's offices outside Las Vegas he gets the same high-quality service.
"I use Litigation Services exclusively for two primary reasons — fantastic personal service coupled with constant technological innovation," Byrne said. "(The Campbells) go out of their way to make the experience as comfortable as possible.
"On the innovation front, they are constantly embracing and pushing the latest technology in an industry — court reporting — that has historically avoided such change. They were first in town to offer real-time reporting, including remote participation. They have expanded their services outside of traditional court reporting into document retention and trial presentations, using the latest cutting-edge technology.
"They have taken a business in an industry that was highly fragmented and concentrated both in terms of services and geographic scope."
The Campbells started Litigation Services in 1999 to provide technology-based litigation support services to law firms and corporate legal departments. Campbell's background is in sales and marketing, and he has an eye on technology.
Monice Campbell, president of Litigation Services, has been a court reporter since 1989. She started her own court reporting business in 1994 before meeting her husband and starting Litigation Services. She still serves as a court reporter in complex litigation cases.
Campbell points to one complex case that helped shape Litigation Services' business model. In the Las Vegas Club case, Campbell said about 12 to 15 attorneys would be meeting on the third floor of a casino and a deposition would grind to a 3½-hour halt while they were trying to find something. Meanwhile, the billable-hour clock was running.
Dan Carvalho with Rogers, Mastrangelo, Carvalho &Mitchell in Las Vegas said he likes using Litigation Services because of the "personal concierge" services offered by the company and that he can get documents without having to stop a deposition.
"I used to dread having to leave my office to take a deposition as my staff and file contents were left behind," Carvalho said. "Litigation Services changed my thought process on conducting depositions outside of the comfort of my own office. …
"In the case I was working on they kept a working exhibit binder for reference from the inception of the case. If I needed a document, or duplication thereof, it was done with a smile.
"One day I needed several documents I had on a flash drive reproduced for multiple attorneys during a deposition when the documents became relevant. Within five minutes all counsel had everything they needed."
Campbell also noticed that in the late 1990s many law firms were clinging to older technology, refusing to see that the Internet would change the business world. He said he knew only one paralegal using Microsoft Word in 1999.
"In 2000, we knew the Internet would dramatically change the practice of law, but not a lot of people were excited about that," he said. "I mean who wants to have a world we are all comfortable with reinvented and challenged. It was inevitable that it was going happen, and Sept. 11 just accelerated it. The original document destruction at the World Trade Center Towers was catastrophic."
The legal profession will never offer a truly paperless office because the courts need hard copies of court transcripts and other legal documents, but those important papers are stored in computer servers.
The Great Recession also dramatically changed the legal world as many corporate law firms started looking for ways to trim budgets, Campbell said.
"For the first dozen years of this business, most of our work was what we call 'law-firm direct' that one segment where we serve law firms who serve corporate clients," Campbell said. "In the midst of the recession, corporate America stood up and said we feel like we are in a room with no lights. We get these invoices and cannot see what happened. So they reached out to companies like ours to establish corporate-direct relationships."
Campbell said that transparency and accountability are major initiatives in corporate America. Instead of just showing their clients a bill, Litigation Services uses the Internet to offer portals to clients so they can have real-time access to their data and can manipulate it into a way that makes sense to them.
Litigation Services success may come from an unexpected source — its kitchen, which is operated by Monice Campbell's mother, Bonnie Bradley, and Sandy Pike. Lunch is offered to clients who are handling any number of complex legal proceedings, and twice a week, they feed staff members.
The "legal soup kitchen," as the Campbells affectionately call it, is seen as a tension-reducing amenity that can bring civility back to a case.
"Since we started this business, the kitchen has … become sort of like what happens at a family gathering where everyone ends up in the kitchen," Monice Campbell said. "As we've continued to grow the business and try to keep it like a family, it centers around the kitchen. It's home cooking … it's pot roast and meatloaf. I've seen guys on $500 million cases asking what's for lunch. It's just something to look forward to, and it's just amazing how everyone ends up in the kitchen."
As far as the future goes, the Campbells have plans to blanket California. The company has seven offices open or being built in California, which Campbell said is the largest legal market in the country.
"We have 13 offices in five states, and we intend to grow that," Campbell said. "People tell us we are No. 6 in the deposition industry nationally, and I think we are higher than that in the corporate-direct market — probably No. 3 or 4.
"We are not finished yet. Our goal is to expand the footprint and carry it forward."