Local businesses divided on Senate jobs bill
February 24, 2010 - 3:23 pm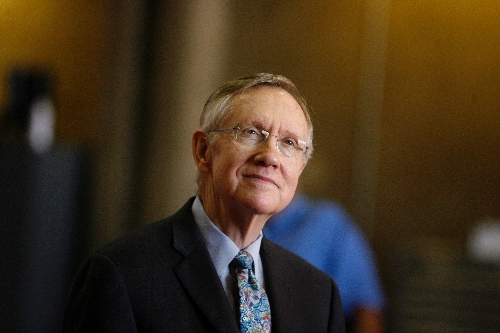 Local businesses disagree on whether a new jobs bill that passed the Senate on Wednesday will boost economic expansion.
The Hiring Incentives to Restore Employment Act offers $15 billion in tax credits, payroll-tax relief and bond-interest payments for schools and energy projects, and $20 billion for highway and mass-transit projects.
Senate Majority Leader Harry Reid, D-Nev., pushed hard for the bill, returning to Las Vegas this month to promote the legislation.
After the bill's passage on a 70-28 Senate vote, Reid released a statement saying the act could create and save more than a million jobs nationally, though The Associated Press reported that economist Mark Zandi of Moody's Economy.com pegged the economic impact at about 250,000 new positions.
"The road to recovery is a long one, and today's progress is just one step along the way. But it is an important step and a step in the right direction." Reid said Wednesday.
Nevada Sen. John Ensign, a Republican who has said he is uneasy about continued government spending to boost the economy, voted against the bill.
"The American people are sick and tired of Congress busting the budget and labeling their spending sprees 'jobs bills,' " Ensign said in a statement. "Congress needs to cut government spending and reduce taxes and regulatory burdens on business so that the private sector will create jobs and hopefully spur this downturned economy."
The bill would cut payroll taxes for companies that hire anyone who was out of work for 60 days or more, and it would provide a $1,000 tax credit for every new worker retained for at least a year. Businesses also could write off up to $500,000 in capital purchases.
Nevada business executives shared mixed opinions on the bill.
At a Reid-hosted local press conference discussing the jobs bill on Feb. 18, Sean Stewart, legal counsel for the Southwest region of Aggregate Industries, said the construction sector remains "mired in a depression," with unemployment at 20 percent.
Stewart, whose company owns Southern Nevada Paving, said highway funding in the jobs bill would help reverse the building industry's slump. It would revive the state's broader fiscal health as well, he said, because every $1 billion in construction spending generates $2 billion in gross domestic product for Nevada.
Also at the media event, William Ramsdell, president of building-efficiency consultant and renewable-energy company American Solar Electric, said he might hire two new employees thanks to the bill, which he said would save him about $6,000 per year on payroll taxes for each new staffer.
The Las Vegas Chamber of Commerce released a statement Wednesday applauding the law.
"Businesses are struggling, and this bill will help encourage job growth by giving tax breaks to businesses that hire the unemployed," chamber Chairwoman Kristin McMillan said in a statement.
But Michael Moffitt, owner of Las Vegas home-remodeling company Granite Transformations, called the bill "a joke" that fails to give businesses in his situation serious motivation to hire.
The payroll-tax holiday would yield Granite Transformations just $80 per worker a month — chump change compared with the more than $1,200 a month the company pays entry-level employees. Nor does a $1,000 tax credit on his 2010 or 2011 return help Granite Transformations now.
"I can't imagine any business that's going to go out and hire people for that," Moffitt said.
Besides, Moffitt said, it makes no sense for him to hire as long as consumers, nervous about the country's future, sit on the sidelines rather than spend on home improvements.
"My business is predicated on what people want to do, and they're still scared of what the economy's doing," he said. "We have all these other hidden issues about health care, and we have all the infighting between Republicans and Democrats. People tell me that's what's holding them back from buying. I don't have any faith in the economy turning around, and this is not helping me get that faith."
Andy Matthews, a spokesman for free-market think tank Nevada Policy Research Institute, called the jobs bill "gimmickry" that would win points for politicians but fail to address the nation's economic challenges. It would also leave taxpayers on the hook for more government waste, he added.
A Feb. 18 report from the Congressional Budget Office, a nonpartisan agency that scores legislation for its budgetary effects, found that the bill would add $4.5 billion in lost revenue and direct spending to the deficit in fiscal 2010, and $6 billion in 2011. From 2010 to 2015, the act would increase deficits by $11.4 billion, but from 2010 to 2020, the legislation would reduce the deficit by $1.1 billion.
The bill must now go to the House of Representatives, which passed its own $174 billion Jobs for Main Street Act in December.
Contact reporter Jennifer Robison at jrobison@reviewjournal.com or 702-380-4512. Stephens Washington Bureau Chief Steve Tetreault contributed to this report.